Jovetic can personify Pellegrini's City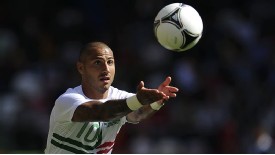 GettyImagesRicardo Quaresma: An example of a player who is good on YouTube, not so impressive in the flesh.
In football, we're all accustomed to what is often referred to as the "highlights player." It's a rather derogatory, uncharitable description of a footballer who looks brilliant when you watch a five-minute edit of a game's best moments, but is completely underwhelming when you see him across 90 minutes.

Frequently, this is a limited, goal-poaching striker or a creative midfielder who is overambitious with his passes, conceding possession readily (missed by the highlights), but creating a fair few chances (shown by the highlights).

A personal favourite "highlights player" was Norway winger Morten Gamst Pedersen, currently preparing for his tenth season for Blackburn Rovers. In his first couple of Premier League campaigns, Pedersen was the perfect highlights player – he scored a succession of stupendous long-range strikes and clinical volleys, he was a free-kick and corner-kick taker, so always seemed to rack up the assists – and he was blond. As Simon Kuper and Stefan Szymanski reveal in "Soccernomics," a statistical study of football, blond players are more likely to get noticed by scouts, simply because they're rarer and stand out more. Over a longer period of time, however, it became clear Pedersen wasn't anything special – hence why he's remained at Blackburn.

However, the "highlights player" has given way to a new type of footballer – the "YouTube player." These days, once a club is linked with an exotic new transfer target, the first port of call is YouTube, to check out a three- or four-minute video of their skill set. Inevitably, it's almost exclusively comprised of mazy dribbles, extravagant tricks and goals, goals, goals.

Watch a compilation of Ricardo Quaresma and he looks like the best footballer you've ever seen – some rated him more highly than Cristiano Ronaldo in their teenage days at Sporting Lisbon – yet over the course of a season he's hugely inconsistent. Having failed to impress at Barcelona, Inter and Chelsea among others, he's now playing in Dubai before his 30th birthday. You can prove anything with a short video clip, as 1990s British football comedy Fantasy Football once showed.

The second port of call is statistics. The use of numbers within football has increased dramatically in recent years, within both clubs and the media. Within minutes, you can long on to WhoScored.com and find, for example, that Steven Gerrard assisted more league goals than Xavi Hernandez last summer. Goals and assists remain the strongest currency for attacking players.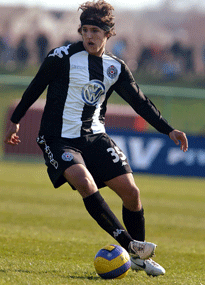 GettyImagesStevan Jovetic has delivered on the early promise he showed as a teenager at Partizan Belgrade.
Yet, quite obviously, YouTube compilations and statistics don't tell the entire story – it gives an inaccurate snapshot of a player, often misleading compared to their contribution over 38 games. Some players, the Quaresmas of this world, are flattered by the brief glimpse. Others, on the other hand, are underrated as a result.

Manchester City have signed a perfect example of the latter in Montenegro international Stevan Jovetic. He was highly rated as a teenager – he made his debut for Partizan Belgrade at just 16, then cost Fiorentina £8 million at 18. At that time, a Russian club offered Jovetic a staggering deal that would have resulted in him earning significantly more than in Florence – but Jovetic, with a wise head on surprisingly broad shoulders at that age, rejected the move to continue his dream of playing in Serie A, his favourite league.

You can discover some decent compilations of Jovetic on YouTube, no doubt, but they won't perfectly summarise his particular qualities. Jovetic scores some fine goals, but he has never been about the spectacular, and he's unlikely to bamboozle an opponent with unnecessary showboating. Jovetic, from the moment he arrived in Serie A, has been about the sensible, the measured, the intelligent.

It always seemed particularly incongruous given Jovetic's appearance. He was an amazingly slender, fragile forward when he first joined Fiorentina, and when complemented by his ludicrous moptop and his childish grin, you always expected glimpses of talent between moments of frustration, where he demonstrated his immaturity.

Not so: Jovetic was immediately calm and efficient with his use of possession. He would receive the ball, play a pass, move into space, and repeat the process. Initially, it seemed Fiorentina had paid massively over the odds for a player afraid to attempt the spectacular – Jovetic took 25 appearances before he scored in open play – but the more you watched him, the more impressive he was.

By 2010, he was being linked with a move to Barcelona and Real Madrid. At that stage, he'd scored just eight goals in 58 Serie A appearances – two of them penalties – hardly the statistics of a potential world-beater. Yet the interest was genuine, because those clubs had scouts watching him regularly, observing his spatial awareness and his intelligent link-up play.

A serious cruciate ligament injury that summer delayed a transfer by one, two or maybe three seasons. He took a an entire season to recuperate, then followed that with an injury-interrupted 2011-12 campaign – it took last year to demonstrate that Jovetic had fully recovered, and was ready for a move away from Florence.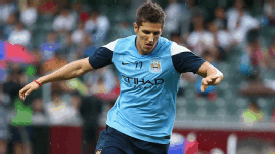 GettyImagesUnder Manuel Pellegrini, Stevan Jovetic could flourish still further.
His stats have improved – 27 goals in his last 58 league games – and his haircut is less remarkable, more in keeping with the image-conscious modern footballer. The injury doesn't seem to have hampered his game – after all, Jovetic was never about a turn of speed – his brain is still sharp, and despite growing into Fiorentina's star player, he remains an unselfish link-up man, perfect for dovetailing with Sergio Aguero or Alvaro Negredo.

"I like to play behind the striker, or on the left side," Jovetic said at a news conference earlier this week. "But the coach is the one who decides, and what he thinks is best for me, I can do."

Jovetic has matured even further, and although still only 23, many forwards significantly older will envy his decision-making ability. The undisciplined but extravagant Mario Balotelli characterised Roberto Mancini's Manchester City – the cool, understated efficiency of Jovetic will sum up Pellegrini's spell.