The evolution of Mark Hughes' Stoke City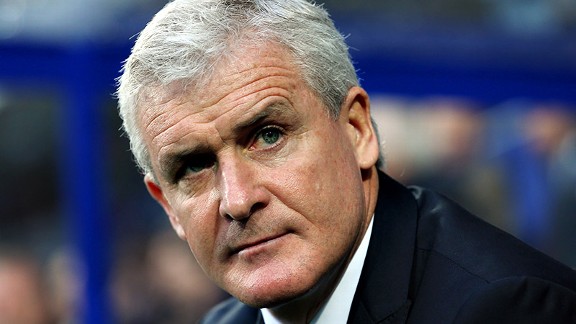 Julian Finney/Getty ImagesMark Hughes is improving the Stoke defense in order to make them a more attacking side.
Considering Stoke City are traditionally considered on the opposite end of football's ideological spectrum to Barcelona, it's peculiar that their new manager, Mark Hughes, once represented the Catalan club in his playing days.

But whereas "the Barcelona way" has become a clearly identifiable concept, Hughes isn't exactly a subscriber to tiki-taka. While managing Blackburn Rovers in 2007, the Welshman was criticised for being overly defensive by Arsenal's Cesc Fabregas, who at that time was between his spells at Barca. "When we shook hands at the end, Fabregas asked me a question which I thought was disrespectful," said Hughes. "He asked me if I had played for Barcelona and when I said yes, he shook his head as if in disbelief. Then he said, 'Well, that wasn't Barcelona football.'"

- Whittaker: Trial and retribution

That's a slightly harsh reflection of Hughes' successful four-year spell at Ewood Park, where he embraced the attacking flair of Craig Bellamy, Morten Gamst Pedersen and David Bentley -- and had an excellent eye for a new centre forward, with Benni McCarthy and Roque Santa Cruz both excellent purchases. Besides, Hughes also favoured the hugely underrated Turkish international Tugay Kerimoglu at the base of his midfield -- a player famed for his searching diagonal balls. When asked if he wished the veteran Kerimoglu was a decade younger, Hughes' response was simple: "No, because if he was, he'd be playing in a Barcelona shirt!"

The Blackburn spell remains the best barometer of Hughes' preferred playing style. At Manchester City and Queens Park Rangers his squad was subject to an amazing array of new arrivals, making it difficult for him to impose a clear ideology, while at Fulham he remained only a season and largely stuck to Roy Hodgson's strategy of two banks of four, and breaking quickly down the flanks. It seems Hughes isn't quite the anti-football coach Fabregas suggested, but neither is he Zdenek Zeman.

There's a consensus, of course, that Stoke want to move away from the long-ball football favoured by predecessor Tony Pulis, although it's interesting that Pulis himself was supposedly planning to reinvent Stoke as a more positive football side. He spent six months writing a dossier on his envisaged future for the club -- inspired by the work of Athletic Bilbao and Bayer Leverkusen -- before presenting it to chairman Peter Coates, who ultimately decided to appoint a new manager. It's bizarre to hear Pulis say "I was interested in the way Marcelo Bielsa trained and worked [Athletic Bilbao's] lads," as even he had become aware of the limitations of long ball.

Hughes, then, is a halfway house between Stoke's previous style and their future aspirations, and on paper, this seems an intelligent option. Certainly, Hughes' sides have generally been physical in the centre of the pitch, and while Stoke fans insist their reputation as tough tacklers is undeserved, the club had the worst disciplinary record in the Premier League last year, partly because they committed more fouls than any other side. That high foul count, in turn, was partly because their average possession count was so incredibly low, meaning their players spent long periods of time chasing it back. The tough tackling wasn't completely separate from the obsession with long balls -- Hughes will embrace the former while attempting to change the latter.

Forward Cameron Jerome, who was frustrated at his lack of opportunities under Pulis, has already spoken positively of the change in style under Hughes. "It's a new method and a new way of thinking. The place is vibrant and everyone seems to be happy with a spring in their step," he says.

"It's not just the players, I think the staff are happier and everyone seems to be taking to their new roles. The manager has different philosophies to the old manager. As a forward, this is going to suit our game more than it would a defender's ... you are always going to have to work hard on a football pitch, but to hear the manager wants to play more attacking football is better for the forwards."

Although a significant restructuring of a club's identity is generally preceded by a significant overhaul of the playing staff, Stoke's transfer window so far has been relatively quiet. Two technically skilled defenders -- Dutch international Erik Pieters from PSV, and Barcelona youngster Marc Muniesa -- have both arrived. That is no coincidence, for the evolution in Stoke's football will be most apparent at back -- last season, the back four had terrible pass completion rates of around 65 percent. Although this is somewhat forgivable considering Pulis' instructions, it's difficult to imagine how they'd cope when Hughes requests more patient build-up play.

In truth, Stoke's central midfielders have always been technically capable -- the likes of Glenn Whelan, Steven N'Zonzi and Dean Whitehead had pass completion rates comparable with the likes of Yohan Cabaye and Frank Lampard last season, because they were accustomed to spreading the play calmly from flank to flank.

In the final third, Stoke might not require a significant change. Peter Crouch is the archetypal "long ball" forward, but that didn't stop him playing a decent role in a technical Tottenham Hotspur side. In the final stages of the 2009-10 season, for example, when Spurs sealed a Champions League place, Spurs' play was based around the calm midfield passing of Tom Huddlestone and Luka Modric, then the wing play of Gareth Bale and Aaron Lennon, who both concentrated upon crossing the ball.

Spurs were considered arguably the Premier League's most attractive side -- and while Stoke don't boast that calibre of individuals, the point remains -- you can base your play around crossing and a big centre forward and still be playing "good football." The major difference was in the build-up play, which was considerably more refined than Stoke fans are accustomed to.

Therefore, Hughes' job is a little complex -- to improve his side's attacking play, he must reinvent the defensive part of the side. In itself, that already demonstrates a leap forward from Pulis' way of thinking.