Successful Cesc has no need to quit Barca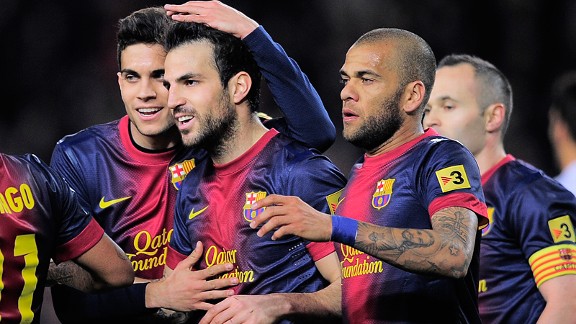 AP Only goalkeeper Victor Valdes started more games for Barcelona in La Liga last season than Cesc Fabregas.
This Cesc Fabregas saga was a great deal shorter than the last. Speculation intensified regarding his future in the summer of 2010 and was only ended over a year later when the Spaniard made his desired move from Arsenal back to boyhood club Barcelona. This time around however, he has no such affiliation to the team reportedly trying to lure him and Manchester United's efforts have quickly been rebuffed. Whether or not Tito Vilanova would have sold is unknown, but Fabregas made it clear he wants to stay and that was that.

"I spoke with Cesc and he told me that he was still determined to stay here and be successful, so I'm not worried," Vilanova said. "There have been offers for him from other clubs."

There was talk, albeit somewhat muted, amid all this that Fabregas had failed at Camp Nou and had not turned out to be the player the Catalans had wanted. A certain tabloid article even claimed that Fabregas might look back on his decision to move to Arsenal with regret because had he not, he might have become that star player for the Spanish champions. A sensationalist claim that's some distance from the truth and wholly misguided.


Granted, Fabregas is not yet as integral to Barcelona as the likes of Xavi Hernandez and Andres Iniesta, but with age on his side there is little reason to question either the fact that he is behind them in the pecking order for club or country, or the sense in choosing to join Arsenal aged 16.

At Arsenal he made his name, he became key to everything they did, developing into a player worthy of a move back to Catalunya and a starting berth in the Barca team. Only goalkeeper Victor Valdes started more games in La Liga last season (31) than Fabregas (30), while only Lionel Messi earned a higher average WhoScored rating (8.85 - the best in Europe's top five leagues) than the former Arsenal man (7.41).

With 11 goals and 11 assists, Fabregas was one of only four players to attain double figures for both tallies in the Spanish top flight, along with Messi, Cristiano Ronaldo and Karim Benzema. Hardly the record of a bit-part player, trying to find a place in the first team or playing at a level that is beyond him.

Yet he is deemed in some quarters as surplus to requirements at Camp Nou. He was shifted around a little last season, playing a number of different positions, but still made 20 of his 30 starts in his preferred central midfield role. What is more, when deployed in the "false nine" position he shone, netting five goals and adding three more assists in just eight league starts. Versatile and adaptable, he has more to his game in that sense than someone like Xavi.

Versatility of this ilk can have a negative effect on the opportunities that fall to a player. Moved around to accommodate injuries and suspensions, a utility player can end up on the bench when everyone else is available, with it often remaining unclear what their best position is. Not so for Cesc. He started three of Barcelona's four games against Real Madrid this season. He was on the pitch for over two-thirds of the time he could have been in La Liga (2,317 minutes); only Valdes, Messi, Jordi Alba and Gerard Pique - all of whom played in one position all season - played more for Barcelona.

Since his move back to Spain, Fabregas has won La Liga, the Copa del Rey, the Club World Cup, the European championship and more. He was named in the team of the tournament for Euro 2012. The Champions League crown continues to elude him and that will undoubtedly hurt, but surely Messi & Co. have another European crown in them before they're done. Even Xavi, at 33 years old, will hope to get at least one more.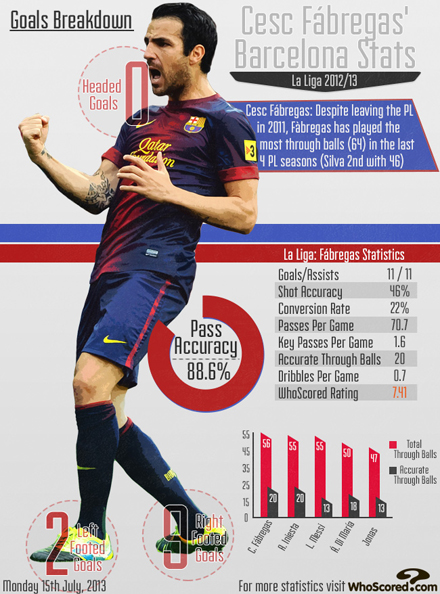 Other / WhoScored.com
Cesc was bought as a long-term replacement for the Barcelona vice captain, and with Xavi still likely to be playing for at least one more season, Fabregas may need to bide his time yet further. His pass completion rate (88.6%) is some way down from that of Xavi (94.8%), who boasts the best in Europe's top five leagues, but much of that will be a result of Fabregas playing higher up the pitch, occupying more crowded areas. He is capable of adapting to playing the deep-lying playmaker role a la Xavi and should be doing so in the future.

Xavi isn't quite the player he once was. One would usually highlight his ability in playing a killer pass as his greatest attribute, but even that is one the wane. In the 2009-10 season in La Liga, Xavi averaged 0.97 accurate through balls per game, more than any other player. That figure dropped incrementally over the next 3 campaigns: 0.8 in 2010-11; 0.6 in 2011-12; 0.3 in 2012-13.

In this category Fabregas outdoes the player he hopes to succeed, putting a team-mate through on goal more often than Xavi in both of his seasons in Spain (0.7 and 0.6 per game, respectively), in spite of the fact that he played much of the season in an advanced position from which playing through balls is increasingly difficult. In total he did so 20 times last season, the most in La Liga.

Furthermore, when given the chance to conduct from a deeper position he is one of the best in the game. In his final two seasons in the Premier League, Fabregas played 64 accurate through balls in 52 appearances for Arsenal. Despite plying his trade on the continent since then, nobody has managed to come close to him in these ranks over the past four seasons (David Silva is his nearest challenger, with 46 in 102 appearances) in England.

Few currently in the game can do with a ball what Fabregas can. Everything is in place for him to become one of the great Spanish footballers of all time, and with maybe even a decade more at the top, there is no need to question his ability any time soon. A current world and European champion, he has become a key component of the national team, and it is only a matter of time before he becomes one for Barcelona too.

All statistics courtesy of WhoScored.com, where you can find more stats, including live in-game data and unique player and team ratings.