Of pace and peaks: Some attackers' careers on fast forward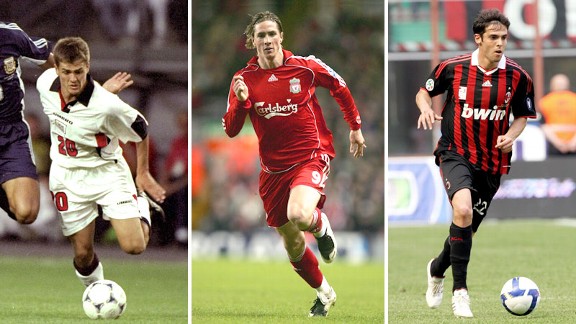 Getty ImagesMichael Owen, Fernando Torres and Kaka all had tremendous pace early in their careers. But Owen peaked before he was 30 and the other two also seem to have done so.
Around 15 years ago, there was a strong consensus about when footballers reached their peak. Conventional wisdom suggested it was a fairly standard process, regardless of position -- top-class internationals generally produced their best form close to, or shortly before, their 30th birthday.

When Michael Owen broke into the England side and scored one of the best goals of the 1998 World Cup against Argentina, emerging as one of the brightest young talents in European football, it was common to hear pundits discussing his frightening potential, considering that at 18 he was probably still a decade away from his best.

That forecast turned out to be wildly inaccurate -- Owen actually reached his peak just three years later. Liverpool won a trio of cup competitions with Owen the leading scorer, and he was awarded the 2001 Ballon d'Or at just 21. To put into context how early Owen reached his best form, the top scorer at the following year's European U-21 tournament, Massimo Maccarone, was actually older than Owen, Europe's best footballer.

But a decade after World Cup 1998, Owen was set to embark upon a season of relegation with Newcastle. He played his last complete league game in November 2009, a month before his 30th birthday -- the age at which he was supposed to peak.

There are significant caveats in Owen's particular case -- injury problems, tactical concerns, a dwindling love for the sport -- to consider his career a template for all others. But it remains a fascinating example of a player who enjoyed his best form while young enough to play for his national team's youth sides.

Owen was a tremendously fast striker, of course, and arguably the main development in football over the last 15 years has been the growing obsession with pace. Even contests from the turn of the century now appear alarmingly slow compared to the frenetic speed of games to which we've become accustomed. Where pace once seemed a distinctive feature of some attackers' skill sets, and a handy bonus for players in deeper positions, now it appears mandatory.

It's unthinkable that, for example, Brendan Rodgers would sign a promising young versatile attacker who had great all-round technical ability, but was on the sluggish side. The case of Arsenal's Theo Walcott, meanwhile, is interesting -- he's grown into a reliable attacking weapon, but for many years was about pure speed.

Arsenal took a raw sprinter and spent years developing his footballing ability -- once upon a time, coaches seemed to look for technical talents before waiting for their physical ability to develop.

Two further examples of players who declined sharply demonstrate the danger of spending big on attackers who depend on speed. Fernando Torres' best goal-scoring season was in 2007-08, at the end of which he triumphed in the European championships -- the only one of Spain's three successes he played a major part in. He was 24 by that stage, and hasn't replicated that form.

The tale of Kaka is also intriguing -- although considered a playmaker, at Milan the Brazilian was a strange blend of attacking midfielder and ruthless forward, who depended upon a sudden change of speed to break past opponents towards goal. He was 25 when he won the Ballon d'Or in 2007. Neither Torres nor Kaka have provided value for money since their £50m transfers to Chelsea and Real Madrid respectively -- because they no longer have that speed.

As if to emphasise that the increasingly early peak for attackers is based around pace, it's an entirely different situation for creative players who occupy deep-lying midfield roles. There, the peak performances still come from players slightly after their 30th birthday.

Xavi Hernandez, for example, was a nominee for the Ballon d'Or at 29, 30 and 31, when he produced an astonishing run of performances for Barcelona and Spain. Andrea Pirlo, while a consistent performer throughout the last decade, received greatest acclaim for his impact in Juventus' unbeaten 2011-12 season, and the subsequent summer's European championships. He was 33.

Xabi Alonso, whose Liverpool performances were much more inconsistent than often remembered, particularly in his third and fourth seasons, first played a major role in an international triumph at World Cup 2010 at 29, then won his first league championship, and played his best games for Spain, last year at 30.

There are other examples of deep-lying playmakers, such as Mikel Arteta and David Pizarro, who also reached their peak in their fourth decade.

Michael Carrick has finally been widely accepted as a top-class midfielder at Manchester United -- winning the club's Player's Player of the Year award in May at 31.
It's always been said that successful teams blend youth and experience, but perhaps managers will increasingly construct sides that have youth up front and experience in deeper positions.

It's interesting to look at the ages of Europe's five biggest overachievers last season (Freiburg, Fiorentina, Pacos, Saint-Etienne and Real Sociedad). In general, their calm passing midfielders were older than the attacking players, especially those on the flanks.

Of course, if there's an increasingly large gap between the peak age of attacking players and central midfielders, it means there's more scope for players to enjoy two separate careers in entirely different positions.

Paul Scholes -- a deep-lying forward turned into a deep-lying midfielder -- is the obvious example, while Pirlo's positional redeployment came at a much earlier age, partly because he never had any pace to begin with. Arteta and Pizarro, too, now occupy positions at the base of midfield, whereas Arteta was once played on the flank, and Pizarro was sometimes considered a number ten.

As ever, there are exceptions to the rule -- the likes of Robin van Persie and Antonio di Natale have peaked around the age of 30, because neither depends on searing pace.

But a more interesting exception is those who are emerging as brilliant deep-lying playmakers despite being extremely young – the likes of PSG's Marco Verratti (20), Inter's Mateo Kovacic (19) and Real Madrid's Asier Illarramendi (23). Unlike Owen, they have a genuine chance of peaking a decade after their initial breakthrough.