Brazil-Spain a lesson in tactical fouling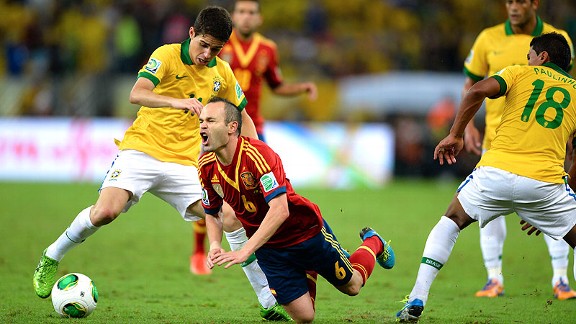 Laurence Griffiths/Getty ImagesAny attempt by Andres Iniesta and Spain to settle into a rhythm was disrupted by Brazil's tactical fouling.
Sunday's Confederations Cup final was simultaneously an open, exciting contest from an entertainment perspective and a fascinating tactical battle. Spain's meeting with Brazil was a long-awaited clash of opposing styles -- whereas Vicente del Bosque's side have taken possession football to a new level in recent years, Brazil have relied upon quick, powerful counterattacking football.

On this occasion, Brazil's immediacy triumphed over Spanish patience -- 3-0 wasn't an exaggerated reflection of the hosts' dominance. "Brazil had more vitality and energy," Del Bosque admitted.

- Hunter: Spain can be champions again

However, the contest was also interesting in terms of discipline. This wasn't an overly dirty contest -- it was nothing compared to the 2010 World Cup final, for example -- and while there were a couple of petty shoving matches, it's difficult to remember a genuinely dangerous tackle.

However, fouling isn't simply about aggression and rule-breaking -- it's also used as a tactical weapon. The Confederations Cup final was an excellent example of that, particularly because the sides tactically fouled in completely different ways.
Spain's use of fouling was obvious. Luiz Felipe Scolari's side were constantly able to construct lightning-quick attacks from back to front, taking advantage of the lack of Spain pressure high up the pitch. They transferred the ball immediately toward the attackers, where Hulk, Neymar and Oscar were all capable of carrying the ball at speed, while Fred's aerial power and his tendency to play deft, selfless flicks provided a direct option for long passes.

Spain's high defensive line means they're always vulnerable to this sort of attack -- but rarely is the defence left so exposed by the forwards and midfielders. With the fullbacks often caught stranded in advanced positions at turnovers, and Sergio Busquets overwhelmed by three onrushing midfielders, Spain's only solution was to repeatedly foul.

There were three obvious examples: Early on, Alvaro Arbeloa brought down Neymar on the halfway line when Brazil cleared a corner quickly. The new Barcelona forward was unlikely to reach the ball, which prevented Arbeloa being dismissed, but the intention was obvious.

Later in the first half, Sergio Ramos did something similar, as Oscar broke at speed to his left on the edge of the penalty area. Again, it wasn't quite a goal-scoring opportunity -- and in a tournament where referees have been reluctant to product red cards in these situations, Ramos remained on the pitch.

But when Neymar broke toward goal midway through the second half, Gerard Pique's cynical challenge finally produced a red card. Evidently, it wasn't for a serious foul play -- the challenge was a standard, deliberate trip rather than something violent -- but for denying a clear goal-scoring opportunity, in the referee's eyes. In other words, it was a foul that had otherwise gained Spain an advantage in a purely sporting sense.

This is nothing new, of course, but it's rare to see the tactical foul used so prolifically in a high-level match. At one point midway through the first half, David Luiz motored forward on the ball from centre-back and Pedro Rodriguez deliberately tripped him. "That's a daft foul," said the co-commentator on the channel I was watching. But it wasn't -- Spain had constantly been opened up by quick Brazilian attacks, and this foul allowed them to get numbers behind the ball.

Brazil, too, used tactical fouling throughout the game -- although the manner was entirely different. Whereas Spain were trying to stop Brazilian counter-attacks, Brazil were attempting to upset Spain's passing rhythm.

"There were a lot of stoppages, and that was something we already knew we might come across," Andres Iniesta said after Spain's defeat. "But the referee has to draw the line somewhere." In total, there were 43 fouls in the 90 minutes -- with Brazil responsible for 27.

Iniesta hinted that he expected that approach from Brazil, and the statistics suggest he was right to be wary. Of the 12 games at the Confederations Cup, Brazil were involved in the four matches with the most fouls -- and committed the majority of transgressions in the three most-halted matches, against Italy (where there were 45 fouls), Spain and Mexico. Uruguay managed to outfoul them 24-14, while the game with Japan was uncharacteristically tame.

Conceding unnecessary free kicks, particularly in wide areas, is Brazil's weak link -- often, it seemed the opposition's best chance of scoring at this tournament. Neymar's experience summed up Brazil's contests -- he was the most fouled player in the tournament, being brought down 30 times, which is hardly a shock, but he was also the player who committed the most fouls in the tournament, 18. (He also tops these respective charts when these figures are calculated on a per-game basis -- this isn't simply because he played more games than most.)

This type of contest isn't uncommon in Brazilian football over the past few years, as ESPN columnist Tim Vickery detailed on his BBC blog. "Just over a decade ago, some in the [Brazilian] coaching fraternity were convinced that part of the secret of victory was to commit more fouls than the opposition," he wrote. "Indeed, it was argued, a foul is not exactly against the rules. Rather, it is something dealt with by the laws, a resource of the game rather than an offence."

Overall, the average number of fouls at the Confederations Cup was around 31, which is high in comparison to the majority of major European leagues.

That figure is significantly inflated by one side, however -- Brazil. It would be unfair to say this was one of their key approaches, but increasingly fouling is becoming part of a side's strategy, rather than evidence of their maliciousness.