Scolari to mull over Hulk dilemma ahead of final
We cannot yet declare that Luiz Felipe Scolari has turned Brazil into a successful side, and it would be unrealistic to consider them an overly entertaining one. Nevertheless, among encouraging performances and positive results, the main feature of Brazil throughout the Confederations Cup so far has been the sheer consistency of selection. "We are putting together a group which is on the right track," Scolari says.

Whereas coaches of other contenders have faced obvious tactical and selection dilemmas at this tournament, Scolari has been entirely sure of his starting XI. There has been just one deviation from his preferred starting XI throughout the four matches, and that was due to injury – Paulinho wasn't 100 per cent fit for the final group game against Italy, and considering that Brazil had already booked their place in the knockout stage, Scolari was content to rest him, and start Hernanes instead. Paulinho returned for Wednesday's quarterfinal victory over Uruguay, heading the winner.

Given just 18 months to prepare the Brazilian national side for the biggest tournament in their history, this familiarity is crucial as Scolari attempts to build a cohesive, reliable starting XI. "I think we are behind other teams, because we have lost rapport with the change of coach," admitted Lucas Moura earlier this year. In re-establishing a sense of purpose in the national side, Scolari has made great progress, and already it's easy to predict the core of the team for next summer. "There won't be many changes from this group until the World Cup," says captain Thiago Silva.

The side has a particularly unusual structure; we've come to expect Brazil to boast a world-class No. 10 fielded in a central attacking midfield role, and a prolific No. 9 capable of scoring great individual goals. Scolari, however, isn't blessed with such talent – especially in comparison to his previous tenure, when he depended upon Ronaldo, Rivaldo and Ronaldinho up front.

Instead, the two central attacking players perform extremely functional roles. Fred isn't overwhelmingly popular, but he's the type of old-fashioned striker who thrives at international level – and after two goalless games, he scored three against Italy and Uruguay. Still, Scolari is more interested in Fred's all-round game – his positioning, his link-up play, his ability to feed the ball to onrushing attackers.

Behind him, Oscar is a wonderfully talented, technical footballer, but arguably most impressive because of his tactical awareness, his appreciation of space and his selflessness. He's playing a strange role in this national side, drifting wide from central positions to allow Neymar and Hulk into the centre of the pitch. He has also, somewhat surprisingly, made more tackles than any other Brazil player, underlining his defensive contribution.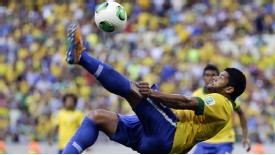 APHulk's place in the Brazil side could be under threat ahead of the final.
With two cautious deep midfielders, this means the structure of the side is all about getting the best from Neymar and Hulk on the flanks – two outstandingly talented individualists.

Neymar's tournament has been hugely successful – three goals and two assists – but Hulk has been disappointing in all four matches. He hasn't contributed to any goals, he appears a defensive liability, and his pass completion rate is lower than any other Brazil starter. Given huge creative responsibility and considerable positional freedom, his underperformance is a huge problem for Scolari.

Therefore, while the Brazil coach has attempted to keep his starting XI intact, he has a big decision to make ahead of Sunday's final against Spain. Hulk's disappointing attacking contribution is the primary concern, but Scolari will also be nervous about his individual battle against Spain's Jordi Alba, whose performances from left back have made him one of the tournament's outstanding individuals. Scolari will be assessing the other members of his squad, and will find three alternatives on the right.

The first alternative would be Bernard, the diminutive playmaker whose introduction against Uruguay lifted the Belo Horizonte crowd, and in turn prompted an obvious improvement in Brazil's performance. He's probably too inexperienced at this stage to merit a start, however, and while he certainly has the energy and pace to track Alba, his defensive awareness in a positional sense is less certain.

The second option is to give a second start to Hernanes, who performed impressively against Italy, and provided a crucial impact as a substitute against Uruguay. This would change the structure of the side – Hernanes would play at the top of the midfield triangle, and help Brazil to compete in possession terms against Spain, while Oscar would move to the right.

The third choice, and the popular one among Brazilian supporters, would be for Scolari to select Lucas Moura. The pacey, direct playmaker is accustomed to playing on the right flank, and crucially, has experience of successfully playing against Alba. In PSG's 2-2 draw with Barcelona in the Champions League quarterfinal first leg in April, Lucas was the French champions' most dangerous attacker – he defended solidly in a second bank of four, tracked Alba's runs, and then motored forward on the counterattack. That's essentially the task facing Brazil's right winger this weekend.

Hulk is well aware of the debate about his position. "When I hear the name of Lucas, or of another player, I don't let it affect me," he insists. "I left Brazil very early in my career, so not a lot of people know me here ... it's normal that I get criticized more often; I understand." But that doesn't fully explain the frustration with Hulk, and the reality is that he's been Brazil's most disappointing player, regardless of his background.

Scolari will think twice before dropping him, however. Last summer, Brazil competed in another major international final, in the Olympic Games at Wembley, and Scolari's predecessor, Mano Menezes, controversially omitted Hulk for the final against Mexico. Brazil performed terribly, Hulk was introduced after just half an hour as Menezes realised his mistake, and despite the Zenit attacker scoring a late consolation goal, Mexico recorded a shock 2-1 victory.

Scolari is a paternal, inclusive coach rather than a ruthless tactician, and therefore Hulk is likely to remain – but in a system perfectly suited to highlighting his strengths, he must finally show Brazil fans his quality.