Star backs are fully involved in Brazil
We're at the midway point of the Confederations Cup -- eight matches gone, eight to play. While the tournament hasn't produced any major surprises, there's a broad consensus that it has produced some excellent attacking football.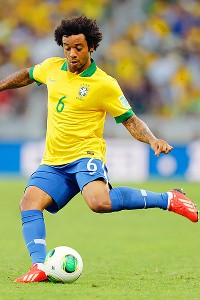 AP Photo/Fernando LlanoMarcelo has played a key role in Brazil's opening wins in the Confederations Cup.
One of the primary reasons has been the prominence of attacking full backs. So far, we have yet to witness a virtuoso midfield performance, a heroic goalkeeping display or (despite three hat tricks, all against Tahiti) a genuinely top-class match from a striker. The stars throughout the competition have been rampaging, energetic attacking full backs.

This approach is typified by the hosts, who have overwhelmingly attacked down the wings. Brazil coach Luiz Felipe Scolari has restructured his side and ordered the two holding midfielders to play defensive-minded roles -- Paulinho breaks forward only sporadically, while Luiz Gustavo is often seen dropping into the backline to form a back three, encouraging Dani Alves and Marcelo high up the pitch.

Of Brazil's five goals, three originated from full backs' crosses. Marcelo's display in the 3-0 victory over Japan in the tournament opener was highly encouraging, and he appears to have cemented his place in the side ahead of Atletico Madrid's Filipe Luis.

Wednesday's 2-0 victory over Mexico demonstrated how much Brazil depend upon their full backs in build-up play -- Marcelo had 70 touches and Alves 66, the most on the team.

Of course, the emphasis on pushing Marcelo and Alves forward can create problems at the other end, particularly obvious in the Japan match. Lateral passes from midfielders toward the full backs were often intercepted, and Japan had opportunities to construct mini-breaks. The strategy isn't perfect, but it certainly results in attacking contests.

For their part, Japan have also exhibited some of the tournament's finest full back play. Their unfortunate 4-3 defeat to Italy was a tremendous spectacle, and again a key theme was the positional bravery of Atsuto Uchida and Yuto Nagatomo, who were so crucial throughout Japan's 2011 Asian Cup victory.

Italy's narrow 4-3-2-1 was designed to dominate the centre of the pitch and retain possession, so Japan adapted by breaking primarily down the flanks. Nagatomo, in particular, was a constant danger -- he kept overlapping to allow Shinji Kagawa inside, and Italy found themselves overrun in wide areas and down 2-0 after a half-hour. With Japan dominating possession, Italy were rarely able to push their own full backs forward -- which was a great shame, considering Milan left back Mattia De Sciglio's brilliant performance in Italy's opening victory over Mexico.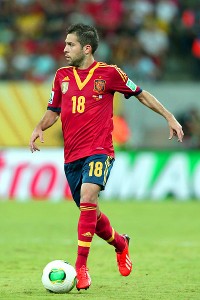 Miguel Tovar/Getty ImagesJordi Alba's up-tempo game adds a different wrinkle to Spain's attack.
In Group B, the theme has continued. Spain started the competition with an absurdly dominant performance against Uruguay, who were unable to cope with Jordi Alba's constant runs.

The Barcelona left back has emerged as one of Spain's key players over the past 18 months -- offering the width, pace and directness often lacking from Spain's slow, patient build-up play. Uruguay manager Oscar Tabarez wanted to use Luis Suarez on the right to pin back Alba, but Spain adapted cleverly -- Sergio Busquets dropped into the defence, Sergio Ramos dealt with Suarez, and Alba had the entire left flank to himself.

Uruguay encountered a similar problem against Nigeria, despite switching to a 3-4-3 for the opening half-hour. The incredible pace of Ahmed Musa pushed back Maxi Pereira, which opened space for Elderson Echiejile to exploit. Nigeria's attacks always seemed to flow through the Braga left back, and Tabarez twice changed his system in response.

In an article for the Guardian before the last World Cup, Jonathan Wilson made an excellent point -- the four previous winners of the competition boasted the best full back pairing. Brazil's Jorginho and Branco in 1994, France's Bixente Lizarazu and Lilian Thuram in 1998, Brazil's Roberto Carlos and Cafu in 2002, and Italy's Fabio Grosso and Gianluca Zambrotta in 2006 were all magnificent throughout.

Wilson's theory was supported by Spain's success in 2010, with Ramos and Joan Capdevila's performances -- every other major side had a problem in one full back position, but Spain were flawless down the flanks.

The rise of the attacking full back has certainly been one of the obvious tactical developments in club football over the past 15 years, observed by the players themselves. "The modern full-back is very much an attacking outlet: as midfields get narrower it's us who have to get up and down and offer width," Liverpool right back Glen Johnson told FourFourTwo.

However, it appears even more important at international level. In major tournaments, with two games a week, and weather often extremely testing, matches are played at a considerably slower pace than in top-level domestic matches, or even modern Champions League ties. Pressing high up the pitch is much less obvious, and the more gentle, relaxed feel of games allows full backs to get up and down the touchlines, constantly supporting attacks.

Of course, the secret to success in recent major international tournaments has been a strong defence -- the last three World Cups and last three European Championships were won by sides who conceded only one goal in the knockout stages.

That means full backs still have a huge defensive contribution to make, of course, but this tournament has underlined how dangerous they can be in an attacking sense, too. Judging by the matches so far, the tournament is more likely to be decided by Marcelo, Alba or De Sciglio rather than Fred, Roberto Soldado or Edinson Cavani.