Andy Carroll - from misfit to perfect fit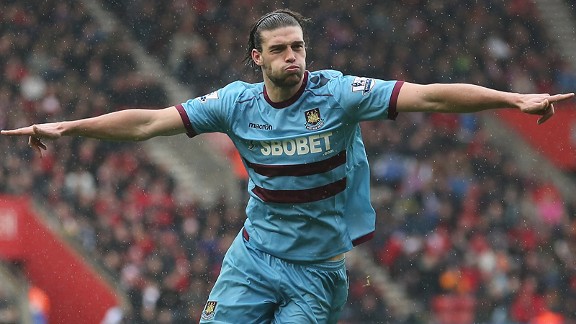 GettyImagesAndy Carroll has the best aerial success rate in Europe's big leagues
One can only wonder what the conversation amongst the powers that be at Liverpool entailed on the night of January 31, 2011. Fernando Torres' move to Chelsea had just been finalised and the Merseyside club needed a replacement striker to provide the goals they would be without in the Spaniard's absence. Andy Carroll wasn't really available. He was playing and scoring regularly for Newcastle, who looked well-set for a comfortable mid-table finish in their first season back in the big time after promotion from the Championship. But it seemed the signing of another forward - Luis Suarez - earlier in the day wasn't enough for Kenny Dalglish.

With the ball firmly in Newcastle's court, they drove up the price for Carroll, and by the end of the day he was the most expensive English player in history. Liverpool had their man, but with such a hefty price tag there was every chance of failure. And what happened next was oh, so predictable.

- Thorne: Carroll capture a signal of intent
- Carroll completes Liverpool exit

At Newcastle in 2010/11, they knew how to use Carroll. Long balls were played up to him, with the likes of Kevin Nolan breaking forward from midfield to run onto balls Carroll controlled with his back to goal. As the WhoScored stats tell us, over the course of that season Newcastle played 14.8% of their passes long, while Liverpool did so with just 12.2% of theirs - the fifth lowest percentage after the teams that made up the top four that season (Manchester United, Chelsea, City, Arsenal).

Carroll's arrival at Liverpool didn't make them change their approach, and good on Dalglish for sticking to his guns in that sense. But if he wanted to do that, Carroll was never going to be the right signing for the Reds. The big Geordie striker scored just two Premier League goals after his January switch to Liverpool and still ended the campaign as Newcastle's second highest scorer, only one goal (11) behind Kevin Nolan (12). Carroll had to be given time to settle at Anfield, but £35 million had been spent on him.

The following season, Suarez started to grow as a player and find his feet in the Premier League, looking more and more the man they'd hoped he'd be. His 11 goals in 31 games, however, was far from impressive for a £22 million signing. Dirk Kuyt, Liverpool's top scorer the previous season, ended the campaign with two goals in 34 Premier League appearances. Captain fantastic Steven Gerrard missed most of the season through injury. Liverpool needed their star man, their multi-million pound centre-forward to come good. Dalglish knew it and persisted with him, but Carroll managed just four goals in 35 league matches. Carroll thrives off long balls, and Liverpool didn't play that way. It's just a shame for them - and in particular their owners - that it took a record-breaking fee and 18 months of painful-to-watch football for them to realise it.

And yet, West Ham's £15 million signing of Carroll on Wednesday isn't actually a bad piece of business. He's not as bad a player as he looked at Liverpool and though he probably isn't quite worth that much money to most teams, arguably he is to the Hammers. Sam Allardyce managed Carroll at Newcastle and knows how to get the best out of him, hence why only three teams have played a higher proportion of their passes long than his West Ham side (15.1%). Their goalkeeper, Jussi Jaaskelainen played only 78 of his 655 passes short this season, meaning 88.1% of his passes were sent hopefully into the opposition half; the fifth highest proportion of goalkeepers across Europe's top five leagues.

It's most certainly not pretty. Allardyce is arguably second only to Tony Pulis in terms of the promotion of the kind of long-ball tactics English football wants to disassociate itself with. Nevertheless - and more importantly - it works.

West Ham finished tenth in the Premier League this season, and Carroll was second in the goalscoring ranks, once again behind only Kevin Nolan (seven goals to ten). He also ranked joint first for assists amongst West Ham players with four and had by far the most shots per game (3.3). As a result of the Hammers' strategy, Carroll contested an average of 14.4 aerial duels per game, winning 9.3 of those; his 64.9% success rate is extremely high, as strikers tend to be at a disadvantage trying to flick the ball on or nod it down to a team-mate rather than merely clear it.

What is more, not only is his rate of 9.3 successes in the air per game higher than any other player in Europe's top five leagues, it is only marginally behind what some entire teams managed; relegated Wigan, for example, won 10.3 per outing.

Of course, Carroll isn't the difference between top half and relegation. West Ham have more strength in depth than Wigan and were more consistent throughout the season. However, Carroll has made a huge difference defensively as well as on the attack. He is always called back to help out at corners, and his 2.5 clearances per game is significantly higher than any other striker in the Premier League. If Wigan had had someone like that at the back, maybe they would have conceded a few goals less and scraped survival.

Carroll isn't the right fit for Wigan, but the point remains. He fits the bill perfectly at Upton Park and as the first signing of the summer, he represents good business. People aren't going to be flocking to see the beautiful football on show in east London, but Allardyce's assessment that Carroll is the only player his squad needed to add to guarantee survival in the Premier League next year isn't all that far off the mark. A few more signings and the Hammers might even be heading further up the table next season.

All statistics courtesy of WhoScored.com, where you can find yet more stats, including live in-game data and unique player and team ratings.