Starting anew: Deeper Spain lacks strong XI
While club football's evolution from a "team game" into a "squad game" has been widely acknowledged the past two decades, the situation at the international level remains uncertain.

After all, major international tournaments are decided during the course of four weeks, rather than eight months. Whereas the speed and intensity of modern football ensures club managers frequently rotate their squad to prevent burnout in the spring, international managers often squeeze every last drop out of their regular starting XI.

Nevertheless, the past two World Cup winners have used their full squad magnificently, especially in an attacking sense. In 2006, Italian coach Marcello Lippi's decision to take six forwards to Germany surprised many, but the selection was entirely justified. Lippi used different attackers in different situations, and amazingly, all six -- Alessandro Del Piero, Francesco Totti, Vincenzo Iaquinta, Luca Toni, Pippo Inzaghi and Alberto Gilardino -- scored in Italy's seven matches.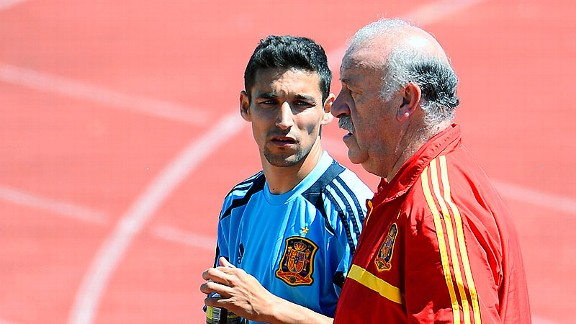 PIERRE-PHILIPPE MARCOU/AFP/Getty ImagesVicente del Bosque's eye will be as critical as ever against Tahiti


In 2010, Vicente del Bosque's situation was slightly different. His starting lineups were more consistent, but he used his substitutes brilliantly. In the second-round victory over Portugal, the introduction of Fernando Llorente was the game's key tactical decision –- he provided a central target for crosses and pushed Portugal back in the final half-hour. In the quarterfinal win against Paraguay, Pedro replaced Xabi Alonso, and his shot bounced off the post for Villa to convert the rebound. Then, in the final, the attacking drive provided by the fresh legs of Jesus Navas, Cesc Fabregas and Fernando Torres was crucial -- Navas ran down the right, Torres' cross was blocked and Fabregas teed up Andres Iniesta for the finish.

In 2013, there is a peculiar contradiction at the heart of the Spanish national side. Their strength in depth is stronger than ever before, but their first XI is arguably weaker than at any time since their incredible cycle of success began in 2008.

To explain, Spain's squad is now significantly deeper than in 2010, for three reasons. First, players who were dependable young backups have matured into genuinely outstanding footballers. Javi Martinez was a fine player when he was collecting a World Cup winners' medal, but he possibly was Europe's outstanding central midfielder in 2012-13 as Bayern won the treble.

Similarly, while Juan Mata was an excellent replacement for Iniesta or David Silva in 2010, he's now developed into a European Cup-winning playmaker who orchestrates play wonderfully and provides astonishing efficiency in the final third, contributing a stream of goals and assists.

Second, outsiders have stepped up to become part of the regular squad. Right back Cesar Azpilicueta had an impressive final season with Marseille in 2011-12 and an encouraging debut campaign at Chelsea last season. Left back Nacho Monreal's move from Osasuna to Malaga confirmed his ability to play for a top-four club, and he also has impressed since moving to Arsenal.

Up front, Roberto Soldado is another option -- after three fine years of goal scoring at Valencia, Del Bosque now considers him a serious alternative. Soldado scored the winner in a qualifier against Georgia earlier this year and has been named to a tournament squad for the first time at the Confederations Cup.

Then there's the next generation. David De Gea, Thiago Alcantara, Daniel Carvajal, Isco, Asier Illarramendi and Inigo Martínez are all competing at the European U-21 tournament this summer and have a serious chance of challenging for next year's World Cup squad, if they enjoy a good 2013-14 campaign.

This strength in depth is a long way from Euro 2008, when Spain's victorious 23-man squad included the likes of Juanito, Fernando Navarro, Sergio Garcia and Andres Palop. They were all fine footballers, but players of that caliber aren't anywhere close to that of the squad today.

However, in terms of the starting XI, Spain look less impressive. Up front, there are plenty of options, but no obvious starters. "Every team should play with a No. 9, but we haven't found one we all like," Del Bosque said. "A few have been given run-outs: [Alvaro] Negredo, Torres, Soldado, even Villa hasn't really bowled us over, either."

In midfield, Xavi Hernandez remains a top-class player, but it's unlikely he'll return to the astonishing form he showed between 2008 and 2011, when his faultless control of big games for club and country was unprecedented. Xabi Alonso, meanwhile, is unavailable for the Confederations Cup because of injury -- and, as Miguel Delaney notes, there are questions about his happiness in the group. Gerard Pique is another who has declined since 2010, and while Iker Casillas' problems at Real Madrid were mainly about his relationship with then-manager Jose Mourinho, he's hardly been at his best.

Put it like this: Of Spain's probable starters, who are at their peak now, as opposed to 2008-2010, or 2010-2012? Probably only left back Jordi Alba.

If Del Bosque's Spain are to triumph next year, he'll have to introduce new players into Spain's starting XI. Now genuinely world-class footballers, there's an argument that Martinez and Mata deserve a place in Spain's side on merit, regardless of the need to freshen things up.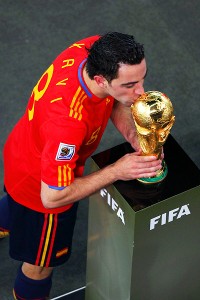 Michael Steele/Getty ImagesIt's doubtful that Xavi Hernandez will return to the form he showed from 2008 to 2011.
In this respect, the absence of Alonso might play into Spain's hands. Del Bosque is generally conservative with the use of his squad and would have persisted with his usual double pivot of Alonso alongside Busquets, and Xavi at the top of the triangle, at this month's Confederations Cup in Brazil.

But Spain need to evolve, and Alonso's absence presents Del Bosque with two options. First, he can introduce Martinez as a straight swap for Alonso -- the Bayern midfielder is, of course, a different player to Alonso, more physical, mobile and direct. The structure of the side would remain, but Spain would become more combative and would power forward in possession more frequently.

Alternatively, Del Bosque could move Xavi deeper alongside Busquets in the role he's more accustomed to at club level. This would open up a space for an additional goal-scoring midfielder such as Santi Cazorla, Fabregas or Mata. Del Bosque has been surprisingly reluctant to use the Chelsea No. 10 recently, possibly because he's very "immediate" in possession and isn't the classic tiki-taka player.

Another area where Spain can evolve is at right back -- Alvaro Arbeloa seemed to frustrate his teammates at Euro 2012, because he's not naturally accustomed to charging forward continually. Azpilicueta is a better player technically, and Daniel Carvajal -- who will return to Real Madrid next season after a superb campaign at Bayer Leverkusen -- could become even better.

At the Confederations Cup, and during the next 12 months, Del Bosque must ensure he experiments with a number of different players, incorporating them fully into the side. His squad players no longer merely provide a different tactical option to the regulars -- they're the secret to Spanish success in 2014.