Mark van Bommel's recklessness won't be missed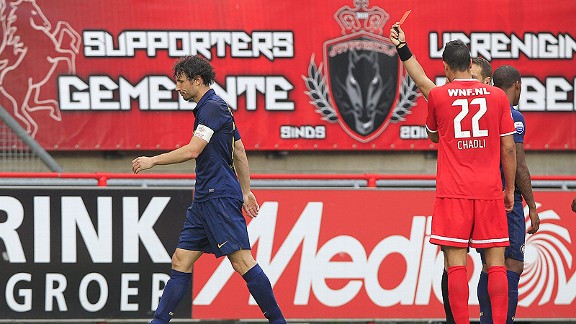 VI Images/Getty ImagesA fitting farewell: PSV's Mark van Bommel received a red card against Twente, his last action as a professional before retiring.


Mark van Bommel's last action as a professional footballer summarised his career perfectly -- a horrendous tackle on Twente's Dusan Tadic, which prompted the referee to reach for his red card.

"That was the most obvious red card of all," the veteran conceded, before confirming his retirement.

-- PSV's van Bommel sent off with red card

By the end, Van Bommel's reputation was infamous -- his fouling became something of a running joke. In football, however, there's a disappointing fetishisation of dirtiness -- YouTube features not only the greatest goals and the finest saves, but also the worst tackles and the biggest fights. Former Liverpool center back Neil Ruddock happily boasts about the time he broke both Andy Cole's legs with a single tackle, without any significant backlash.

In this month's FourFourTwo magazine, former Inter midfielder Dejan Stankovic was asked about his most hated opponent. "Mark van Bommel," he instantly replied. "He's that kind of player who hits, provokes and fights dirty. I couldn't stand him at all!" As it happens, the children of Stankovic and Van Bommel went to school together, and Stankovic found the Dutchman to be "lovely, gentle and open" off the pitch.

On the pitch, though, Van Bommel's been the villain of technical football over the past decade. During that period, football has shifted away from the raw physicality that seemed set to dominate at the turn of the century, toward a more refined, artistic style of play.

The death and subsequent re-emergence of the deep-lying passing midfielder has been a fascinating and deeply enjoyable development. AC Milan carried the torch throughout the mid-2000s by incorporating the wonderful Andrea Pirlo in their side -- "the exception," as Pep Guardiola termed him at the time -- as the rest of Europe concentrated on scrappers.

Guardiola had replaced Pirlo at Brescia, and later Guardiola's own Barcelona side took the theme further. Barca, of course, have now been superseded by the Bayern Munich side preparing to welcome Guardiola as their next coach, and the Germans are set to dominate the next few years in Europe. Javi Martinez's performance against Barcelona in Bayern's 4-0 first-leg victory showed how to blend physicality and technique wonderfully.

Peculiarly, Van Bommel played for all three -- Barca, Bayern and Milan. The Dutchman, however, never featured when those clubs were showcasing spectacular, era-defining football. He was instead the awkward alternative they reluctantly turned to during more desperate, cynical moments. He's the antithesis of proactive football.

But Van Bommel was no mere pantomime villain. His style of play was something more calculated and ultimately more dangerous, which was most obvious during 2010, when he reached both the European and World Cup finals.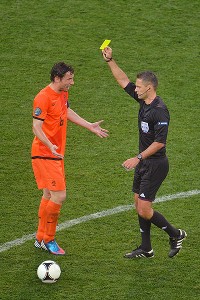 Sergei Supinsky/AFP/GettyImagesMark van Bommel's antics weren't limited to the club level. The Dutchman made his presence known at international matches.
From his first knockout match of that year, Van Bommel's fouling was obvious: He committed a shocking, unpunished two-footed stamp on Fiorentina's Riccardo Montolivo during the European Cup second-round match. This approach continued throughout the next few months, with alarming regularity. You started to predict how long it would take before Van Bommel committed a foul -- during the away leg at Manchester United, it was only 21 seconds.

The fouling would continue right through to the final whistle, too -- his studs-up tackle on Lucio in Bayern's European Cup final defeat to Inter was particularly nasty, and as the Guardian's minute-by-minute report put it after 87 minutes, "Van Bommel is only really interested in kicking folk now."

It continued into the World Cup, of course. After an astonishing show of cynical fouling throughout Holland's 3-2 victory over Uruguay in the semifinal, Van Bommel's game plan attracted worldwide criticism. Then, Holland's performance against Spain in the World Cup final was astonishingly brutal -- rather than attempting to outplay Spain, they kicked and fouled throughout the 120 minutes. Van Bommel contributed with a nasty foul on Xavi -- so often, it was the opposition's chief playmaking threat the Dutchman would specifically target.

At full time, Van Bommel didn't congratulate his opponents, console his teammates or even slump to the ground. He immediately charged toward Howard Webb and spent two minutes shouting at the English official, eventually dragged away by Holland coach (and Van Bommel's father-in-law) Bert van Marwijk. You can't help wondering -- precisely what was Van Bommel complaining about? He and his teammates had spent two hours kicking lumps out of Spain, with worryingly little punishment, and yet still he felt wronged.

"I always try to talk to the referee, asking him what he feels, so that I know how far I can push it, and it will be the same against Spain," Van Bommel said before the World Cup final. "As far as I'm concerned, that is just part of the game. Often you don't talk about anything important, chat about the weather or what the pitch is like. Once, after I'd been booked in a game, I asked the ref where he bought his groceries and I told him where he could get them cheaper. He let me off another foul."

That much might be clever and wily, but the most infuriating feature of Van Bommel's game was his sheer hypocrisy. He was not, it must be emphasised, an old-school hard man desperate for a physical scrap. There's something vaguely admirable about the attitude of Dennis Wise and Paul Ince, two good friends who once met as opposing captains and told referee Matt Massias at the coin toss, "Matt, leave us alone today please? We're going to kick the s--- out of each other. Will you just let us get on with it?" Strangely, the referee obliged.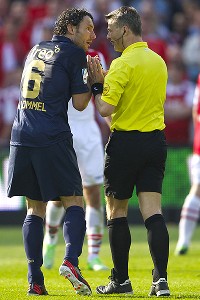 VI Images/Getty ImagesMark van Bommel admits to gauging referees to see "how far I can push it" on the pitch.
Van Bommel wouldn't have been part of such an agreement. In addition to being a serial fouler, he was also a regular diver. Holland's disgracefully dirty contest against Portugal in the 2006 World Cup (16 bookings and four red cards, an all-time record) was a fine example of the contradiction at the heart of Van Bommel's game.

He collected Holland's first booking after two minutes for a deliberate kick at Cristiano Ronaldo's ankles, but Portugal's first booking came after Van Bommel's extravagant dive following a Maniche challenge, that barely featured any physical contact whatsoever. The tone was set, and the rest of the match was an embarrassment. He's a hard man when tackling, a sissy when being tackled. It's a deceitful and ultimately cowardly approach.

It's no coincidence that Van Bommel featured in the two dirtiest World Cup matches of recent years (and no coincidence that Holland played sparkling football at Euro 2008, when Van Bommel was omitted). If there's one quality he shares with the likes of Pirlo and Xavi, it's that ability to heavily influence the style of a match from the center of midfield. Sadly, his influence was to spoil contests, making them scrappy, disjointed and aggressive.

He certainly had qualities -- a good leader, a careful passer and a good long-range shooter. Ironically, Van Bommel was actually at his best defensively when intercepting rather than tackling, but his insistence upon physicality in later years meant he was forced to ignore the best feature of his game. It neatly summarised the problem his sides suffered from in big matches -- too concerned with the opposition, not proactive enough, meaning their strengths were diluted. Van Bommel tasted great success at domestic level, but in his defining year, 2010, he lost the world's two major finals.

After the World Cup defeat, he became a parody of himself, collecting bookings with alarming regularity. He was booked after 33 minutes of the 2010-11 campaign, sent off on his Milan debut, booked after 17 minutes of 2011-12 and then started his final campaign with five bookings in his first five matches.

The Twente red card was the final moment of his career, but his last big match was the 3-2 defeat to Ajax, effectively a title decider. There, Van Bommel was completely overpowered by Ajax's Christian Poulsen, another run-and-foul merchant -- the Dane fouled Van Bommel in the opening two minutes, and dominated a frantic midfield scrap, to the point where Van Bommel started complaining to the referee about Poulsen's persistent fouling. That was the end -- not only was Van Bommel being given the runaround by nippier, more athletic players, he was now being defeated at his own game.

Anti-football is not being defensive, or playing long ball, or even being physical -- this Bayern Munich side are physical, and no one complains. Anti-football is about kicking talented opponents out of matches, rather than competing at the sport itself.

Van Bommel epitomises that negative approach, which has ultimately been defeated at the top level as the likes of Pirlo and Xavi have shone. Fans of Van Bommel's former clubs might remember him fondly, but they should also remember they were a considerably better side without him, and with more creative, proactive central midfielders.