Prandelli has delicate touch as he reshapes Italy roster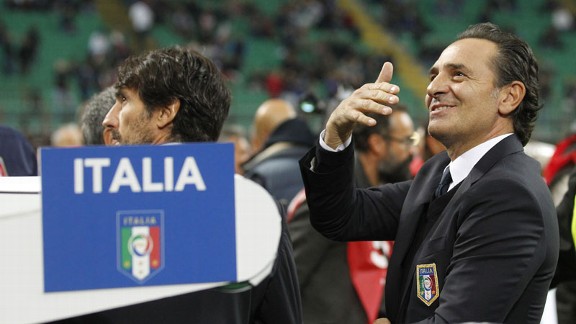 PA PhotosCesare Prandelli has revived Italy after a miserable 2010 World Cup
When an international side embraces a new generation, there is usually a high-profile loser.

That was particularly clear on Wednesday evening, as German legend Michael Ballack played in his long-awaited farewell game. As recently as May 2010, Ballack was Germany's captain, set to lead the side through that summer's World Cup. After collecting an injury in the FA Cup final, Ballack missed the tournament -- never selected again by Jogi Low.

"Many young players have stepped into the spotlight and have good prospects," Low said when announcing the end of Ballack's international career in 2011. Ballack, the man who had single-handedly led Germany to the 2002 World Cup final, which he missed through suspension, was understandably upset -- and although the two patched up their differences ahead of Ballack's farewell game, they are not friends.

Spain's Raul Gonzalez, too, will be remembered as an outstanding player in an era of underachievement, and someone who subsequently missed his nation's era of success. His last appearance was in a 3-2 defeat to Northern Ireland in 2006, after which he was dropped to make way for a new generation of talent, and a new approach. "There was a point when the national team was too big for Raul and we had to think about the team and not about a player," Luis Aragones later said.

Whenever a big international side fails at a major tournament, there's a widespread call to dump the current generation, and embrace the next. England are a fine example -- fans are desperate for the end of the 'golden generation', and often insist upon that before considering which youngsters are ready to step up. Everyone wants to see a sacrificial lamb.

After Spain and Germany, the third European side to have undergone a recent transformation is Italy, under Cesare Prandelli's leadership. Prandelli, however, has gone about things in a different manner.

It's worth remembering quite how dreadful Italy were at World Cup 2010, eliminated from the weakest group in the competition. It was the first time the holders failed to get past the first round -- Italy didn't win a single game against Slovakia, New Zealand or Paraguay. Marcello Lippi clung onto his 2006 group for too long, failing to understand the need for evolution.

Italy's style of play, too, seemed outdated – slow and mechanical. Prandelli was seen as an open, attack-minded coach at club level, and immediately emphasised the need for positive, possession football. "Many of the players felt that the time had come to play -- I won't say a different type of game because, in football, there is nothing new -- but something else," he said. "The feeling was that we needed to evolve our style, to try and play a little more on the front foot."

Immediately after the 2010 World Cup failure, he selected Mario Balotelli, Giuseppe Rossi and Antonio Cassano, three highly talented attackers omitted from Lippi's squad for various reasons.

Prandelli has selected youngsters from everywhere. "We need to have faith in the new generation," he says. Angelo Ogbonna and Marco Verratti were picked while still playing in Serie B. Stephan El Shaarawy was selected even before his excellent 2012-13 campaign, and was quickly joined by Milan teammate Mattia De Sciglio.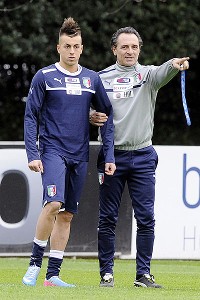 Claudio Villa/Getty ImagesPrandelli, right, showed his ability to judge talent when he bought Stephan El Shaarawy into the Italian team before the 2012-13 season.
Prandelli has taken a closer look at as many players as possible. In the last 12 months he's selected three goalkeepers -- Michael Agazzi, Andrea Consigli and Mattia Perrin -- who haven't played a single minute of international football but feel a part of the squad, and Prandelli now has a personal relationship with each. Up front, Manolo Gabbiadini, Diego Fabbrini, Fabio Borini and Lorenzo Insigne are all 22 and under (as are El Shaarawy and Balotelli).

But here's the thing: Prandelli hasn't upset anyone, or deliberately ignored anyone. Francesco Totti has flirted with a return to international football, and Prandelli is open to his return. Despite not playing for Italy since the 2006 World Cup, Prandelli hasn't ruled out selecting him.

"If, a month before the World Cup he feels like he does now, physically and mentally, we are obliged to keep him under consideration," he said in March. "It was the same with Antonio Di Natale before the European Championships, even if you didn't believe me." Di Natale had seemingly been overlooked as Prandelli evolved the squad --but the Udinese forward remained part of his plans, and opened the scoring in the Euro 2012 opener against Spain.

Perhaps there was no one Prandelli dramatically needed to drop, and arguably no other side in world football has the resources of Spain or Germany to make high-profile omissions possible.

Nevertheless, there's an important lesson to task from Italy's development over the last three years: an evolution in playing style doesn't have to involve discarding big stars, and incorporating youth players is possible in combination with an older generation.

Italy will probably need to taste international success before Prandelli's methods are replicated, and a more impressive showing in domestic club competitions would reflect well on Italian football as a whole, too. Still, there's no reason other international managers can't take inspiration from Prandelli's focus upon technical play, discipline and cohesion.

"I'm really cautious of saying: 'We're going to do a Holland, we're going to do a Germany, we're going to do a Spain, we're going to do a France,'" the Football Association's director of elite development, Dan Ashworth, told the Guardian about the England national team's long-term planning. "If you look at the history – everybody wanted to go to Holland, then everyone wanted to go to Clairefontaine, then Spain, now it's Germany."

It's somewhat odd that a nation as consistently successful as Italy doesn't feature in that equation, and player development across the peninsula has certainly been disappointing over the past 15 years.

Still, with Italy reaching the Euro 2012 final in Prandelli's first major tournament, and with an almost flawless qualification record for World Cup 2014 going into Friday's qualifier at the Czech Republic, there's clearly something to admire about Italy in recent years – primarily Prandelli's reluctance to be defined by debates about individuals.