What can Schurrle offer Jose's Chelsea?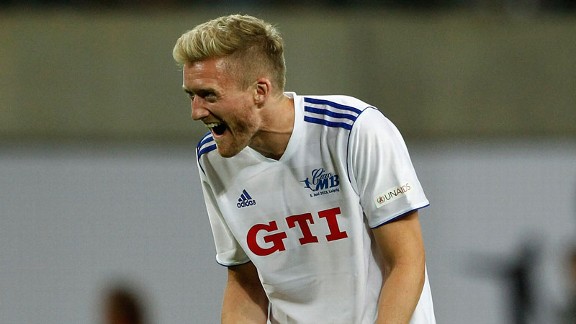 GettyImagesAndre Schurrle: Had the most shots in the Bundesliga last season.
The return of Jose Mourinho to Stamford Bridge has been heralded as the first move to ignite another period of domestic dominance for Chelsea. Whilst competing on multiple fronts and continuing to successfully challenge for honours, the Blues have been off the pace in the Premier League in each of the last three seasons, with last term's sixth-placed finish their lowest since 2002.

Despite victory on the grandest of stages in Munich last May, Roman Abramovich wasn't happy. The team might have won club football's biggest prize, the Champions League, but they weren't playing pretty football and manager Roberto Di Matteo was soon out the door, with Rafa Benitez failing to win the fans over during his time as interim coach. So Mourinho is back.

- Schurrle deal agreed after Son sale

Having won the Premier League in two of his three full seasons during his previous stint at the club, expectations are high. Known to be rather authoritarian in his approach, it has been rumoured that Mourinho wants to make a hell of a stamp on the team, with David Luiz and Juan Mata amongst those who could be forced out. Meanwhile, the former Real Madrid manager is the big-name boss who many expect to be able to attract big-name signings. Zlatan Ibrahimovic, Radamel Falcao and Edinson Cavani are just a few names to have been mentioned of late.

While Falcao has instead chosen the French Riviera, Ibra and Cavani could still come to London, and either would be wholly capable of improving a misfiring front line that has seen Fernando Torres or Demba Ba start in the lone striker role all season. With countless below par performances, and respective conversion rates of 11.8% and 11.1% in the Premier League this season, few would deny that that is the area which most needs attention.

In attacking midfield, though, Mata, Oscar and Eden Hazard have been exceptional this season, while Ramires can certainly do a job there. Thus, there is good reason to argue that invention, creativity and flair behind the striker is the one part of the pitch that does not need improving. Why then, has Bayer Leverkusen winger Andre Schurrle become Chelsea's first major purchase of the summer?

He is highly-rated, and rightly so. At just 20 years of age he made his international debut, and at 21 the German started the quarter-final at Euro 2012 in one of the best sides at the tournament. This season, he has helped Leverkusen to a third placed finish in the Bundesliga, finishing only one point behind Jurgen Klopp's hugely impressive Champions League finalists Borussia Dortmund. He was heavily involved this campaign, starting every one of their 34 league games, scoring 11 and setting up seven of his side's 65 goals, as can be seen on his WhoScored player page.

An added goal threat from wide, could that be what Chelsea were so attracted by? Potentially. Eleven goals is a decent tally, but his approach for Leverkusen has been rather similar to that of Gareth Bale at Tottenham, regularly coming infield to find shooting positions at every opportunity. In fact, he had more shots (122) than any other player in the German top flight in 2012/13. He also had the most shots off target (46) and no fewer than 11 players outscored him.

A 9.0% conversion rate leaves a lot to be desired but, like Bale, a huge proportion come from long distance (55.7%). His goal in the 2-0 win over Schalke back in November showed exactly what he is capable of. Picking up the ball on the left side after a Schalke attack, just inside the opposition half, Schurrle darted in onto his right foot, taking advantage of the space created by the runs of Stefan Kiessling and Gonzalo Castro, before firing an unstoppable drive into the top corner. Of all 898 goals in the Bundesliga this season, only two were from further out than that strike.

That was one of four goals the German scored from counter attacks this season - the joint most of all players in the German top flight - whilst only Bayern Munich's Franck Ribery (240) attempted to dribble past an opponent more times than Schurrle (194). Despite playing a shorter season in Germany than England, his tally was a full 66 more than any Chelsea player, with Eden Hazard (128) leading the London side's rankings.

Schurrle has the quality to improve most sides and the potential to go on to be something great, while Chelsea undoubtedly have the reputation, riches and manager to attract the best in the game. It could well be a great match up, and will give the aforementioned attacking midfield trio at Stamford Bridge greater competition than Victor Moses or Marko Marin can provide.

Whether it's too early a move in the career of young Schurrle, we'll have to wait and see. But money talks, and the draw of playing for 2012's Champions League winners seems to have been enough to take the German to London. Chelsea need improving if they are to challenge the Manchester clubs for the title next season, and Schurrle will make a difference, but there are arguably other positions they should be prioritising.

All statistics courtesy of WhoScored.com, where you can find yet more stats, including live in-game data and unique player and team ratings.