A better understanding of Roy Hodgson's England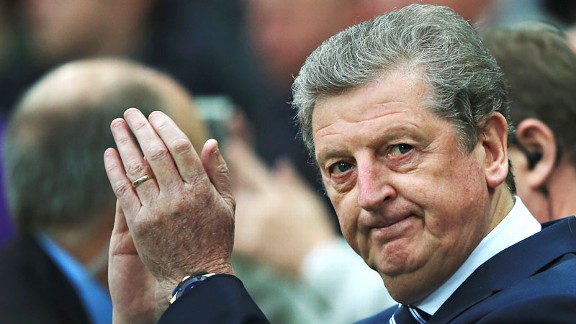 Getty ImagesThe issues surrounding Roy Hodgson's England are much more complex than just the team's shape.
If you were searching for a single sound bite to sum up Roy Hodgson, it would be something like this -- a slightly obscure point about team structure that is perfectly reasonable from a technical coaching perspective but will look ludicrous as a standalone quote in a newspaper.

And here it is, following England's disappointing 1-1 draw with the Republic of Ireland last night: "I think Borussia Dortmund play 4-4-2 in the same way we play 4-4-2," Hodgson said. Cue mass hysteria across social network sites at this apparently unforgivable misjudgment.

- Lampard, England salvage draw
- Wayne's world at a crossroads

In reality, Hodgson's point -- speaking about pure formations -- was entirely legitimate. After an underwhelming all-around performance, Hodgson was criticised for using a 4-4-2 system, with a notable critic being the usually placid Gary Lineker, England's No. 2 goal scorer of all time, now more famous for his role as presenter on Match of the Day. "Is this a 4-4-2 I see before me?" he tweeted just before kickoff. Further comments included: "Don't like England playing this system, so easy to play against... predictable and dated... this is a step back to the dark ages of 2 lines of 4... It's not about playing in straight lines."

All of which rather misunderstands the system England were using. There is a 4-4-2 that is a pure, boxy, static, rigid 4-4-2. There is also a 4-4-2/4-2-3-1 hybrid used by the majority of top-level club sides across Europe, and on Wednesday night, England were playing the latter. Wayne Rooney dropped back to collect the ball between the lines, often from Michael Carrick's excellent forward passes, while Theo Walcott and Alex Oxlade-Chamberlain played high up when England had the ball before scampering back to form a second bank of four when defending.

In reality, the majority of 4-2-3-1s look like a 4-4-2 without the ball; the wingers are usually asked to protect the fullbacks, while the central attacking midfielder works alongside the centre-forward, regardless of whether they're closing down the centre-backs or picking up the opposition holders.

Often, sides depicted as playing a 4-2-3-1 aren't far away from 4-4-2. Before 4-2-3-1 became the fashionable formation, the Arsenal side between 2002 and 2004 used Gilberto Silva and Patrick Vieira as holders, with Freddie Ljungberg and Robert Pires on the flanks. Upfront, Dennis Bergkamp dropped deeper than Thierry Henry. These days, everyone would call it a 4-2-3-1. Back then, it was routinely described as a 4-4-2.

Witness Rafael Benitez's Chelsea without the ball, with Demba Ba dropping back toward Juan Mata to keep the side compact and the wide players moving level with the holding midfielders, and Chelsea's 4-2-3-1 looked like 4-4-2 when the opposition had possession. Remember Jose Mourinho's Inter in the 2010 European Cup final, with Goran Pandev and Samuel Eto'o ludicrously deep on the flanks plus Wesley Sneijder closely supporting Diego Milito to play devastating one-twos on the break? Inter's 4-2-3-1 looked more like 4-4-2 without the ball too. Dortmund are yet another example, and Hodgson's point -- in context, in pure formation terms -- was fine.

This wasn't a two-striker 4-4-2. It was as close to 4-2-3-1 as it was to 4-4-2. By saying England played 4-4-2 in the same way Dortmund do, Hodgson was implying that Dortmund aren't a 4-4-2, and neither are England.

Lineker stuck to his criticism this morning, tweeting, "If we play just 2 midfielders against anyone of note, we'll struggle to get a kick," which is a fair prediction considering how England were dominated against Italy last summer, when Rooney failed to track Andrea Pirlo.

Again, it rather misses the point. The last time England played "anyone of note" -- against Brazil in February's friendly -- England played a 4-3-3 system and recorded an impressive victory, even against a rather shambolic Brazil side.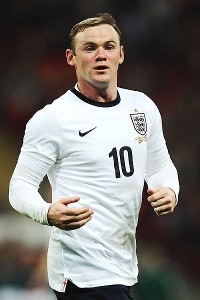 Tony Marshall - The FA/The FA via Getty ImagesIn Hodgson's two systems, Wayne Rooney serves as a lone striker up top in one and as a number 10 in the other.
Hodgson is aware of the need for two systems. The first features three central midfielders and Rooney alone upfront, when England need numbers in the centre of the pitch to compete against big sides. The second sacrifices a central midfielder, uses Rooney as a number 10 and features a proper centre-forward -- when England can be more confident of dominating a game and can shift resources from midfield to the penalty box.

For various reasons, England need more than one formation, and these two seem the most logical considering the players Hodgson has at his disposal. The 65-year-old has a reputation for being inflexible and conservative with his team shape, but he's actually shown a surprising willingness to experiment. The 4-3-3 against Brazil was not only an entirely different shape from the "two banks of four" he generally favours, but England also pressed intensely rather than sitting back, as remains Hodgson's natural game plan.

Against Ireland, England's lack of pressing invited Irish pressure, while the poor ball retention meant England spent too long defending. If the positioning of the wide players between the two phases of play is the most obvious difference between a 4-4-2 and a 4-2-3-1 shape, the roles of Walcott and Oxlade-Chamberlain were heavily influenced by England's lack of positivity. Had England passed the ball better, the Arsenal duo would have stayed higher up and no one would have mentioned 4-4-2. Because England conceded possession sloppily, the wingers spent too much time in deep positions. The boxy formation was the effect of England's poor attacking play, not the cause of it.

None of this should be construed as a defence of Hodgson's England, who haven't sufficiently progressed from the acceptable, if uninspiring, performance at Euro 2012. However, England's problems are rather more complex than petty arguments about team shape. The transitions from defence to attack must be quicker if England spend so long without possession, and there must be more cohesion in the final third. Last night, England's attacking quartet frequently seemed to get in each other's way, leave the ball to each other, not provide options for a positive pass or fail to reward a dangerous off-the-ball run from a teammate with a well-timed pass. If those things had been better, England would have dominated, and the shape would have appeared more flexible.

In a meek England performance, plenty of factors deserved negative analysis, but the formation was largely irrelevant. It's rather hypocritical to label Hodgson's team shape inflexible and antiquated while concentrating on a rather outdated, unsuitable criticism.