Best of the best: An elite XI from 11 superclubs
The era of the superclub means Europe's best talents are, more than ever, concentrated at a few elite clubs. A best European XI would draw so heavily from European Champions Bayern Munich that the process would become rather futile -- here, instead, is a best European XI with a strict "one player per club" limit.

Manuel Neuer, Bayern Munich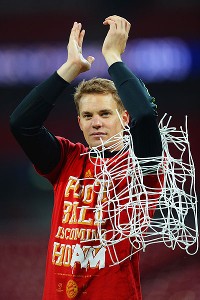 Laurence Griffiths/Getty ImagesBayern's defense was a wall this season, and Manuel Neuer -- arguably the world's best goalkeeper at the moment -- was a vital part.
For a moment, forget about Mario Mandzukic's displays up front, Bayern's excellent ball retention, or their brilliant counter-attacking against Barcelona. The most outstanding area of Jupp Heynckes' side was the defensive record -- in 34 Bundesliga games they conceded just 18 goals, of which three were conceded on the final day when the title had been won many weeks previously.

The good possession play meant opponents saw little of the ball, while the signing of Dante provided Heynckes with a dependable centre back. But a huge reason for the lack of conessions was Neuer -- a tremendous goalkeeper without any obvious faults. He made a constant stream of fine saves and is probably the world's best goalkeeper at present.

Pablo Zabaleta, Manchester City

The fact Zabaleta -- rather than David Silva, Sergio Aguero or Yaya Toure -- makes this side sums up the disappointment of Manchester City's campaign. After last season's dramatic title success, City regressed significantly with the new signings hardly making an impact, aside from centre back Matija Nastasic.

Zabaleta was City's most consistent performer, however. Rarely did an opposing left winger get the better of him, and the Argentine has steadily improved his contribution in an attacking sense, too. He's far from the most talented player at City, but with even Vincent Kompany performingly poorly at times this season, Zabaleta is the most consistent player at the Etihad -- it's a shame his FA Cup final ended with a red card.

Thiago Silva, PSG

Tucked away in Ligue 1, Silva's performances have gone relatively unheralded this season. He hasn't enjoyed the smoothest debut campaign in Paris, forced to wait until the end of September to make his debut, then missing the first couple of months of 2013 with a groin injury.

When Silva has been on the pitch, however, he has been as reliable as ever. Dominant in the air but clever with his positioning on the ground too, the Brazilian remains the best centre back around.

Ezequiel Garay, Benfica

A disastrous final fortnight means Benfica's 2012-13 is one of the most disappointing campaigns in their history -- they lost the title decider 2-1 against Porto, the Europa League final 2-1 against Chelsea and the Portuguese Cup final 2-1 against Guimaraes. Three marginally better performances and Benfica would have won the treble -- instead, they're left empty-handed.

Garay has enjoyed another consistent campaign at centre back, however. Like Silva, he's one of the few defenders around who appear equally comfortable against height or pace, and rumours of a move to an bigger club -- Manchester United is a common link -- are justified.

Patrice Evra, Manchester United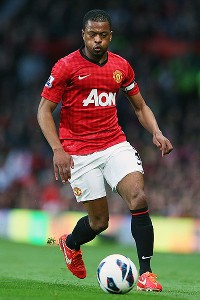 Alex Livesey/Getty ImagesPatrice Evra didn't have his best campaign, but his effort on defense was enough to merit a spot on the Best XI.
Left back is always a problem position in these sides, and while Michael Carrick and Robin van Persie enjoyed better campaigns overall, Evra's resurgence means he deserves a slot in this side's back four.

The Frenchman's form had dipped considerably over the last two campaigns, but Sir Alex Ferguson's signing of Alexander Buttner seemed to force Evra to work harder and re-establish himself as a crucial member of a Manchester United defence that frequently rotated from one game to the next. Evra doesn't quite have the pace of his peak years, but he has developed an unexpected ability to find the net -- he's a fantastic jumper, and scored four times from set-piece situations.

Ilkay Gundogan, Borussia Dortmund

Until the knockout stages of the Champions League, Gundogan was an unheralded, reliable member of Jurgen Klopp's side, rather than a superstar. His performances over the past few months, however, mark him out as one of the brightest talents in Europe, and Sami Khedira must be nervously looking over his shoulder during Germany's training sessions this week.

Gundogan has become a more assured player in possession, capable of providing key moments in the final third. His performance away at Malaga (even in a 0-0) was highly impressive -- he simply ran the show -- and then his energy was crucial in Dortmund's powerful, high-tempo bursts during the semifinal against Real Madrid. His cool penalty in the European Cup final summed up his status as one of Dortmund's most reliable players.

Arturo Vidal, Juventus

Vidal, like Gundogan, is primarily about stamina. His constant energy is remarkable -- he covers an absurd amount of ground, and the nature of his all-around game is demonstrated by the fact he is Serie A's third-most prolific tackler, and also reached double figures in terms of goals.

He's an excellent technician too, but Vidal's energy is vital because he compensates for areas of weakness elsewhere in the Juventus side. Andrea Pirlo is a fabulous playmaker but needs mobility alongside him, while upfront Juventus lack a regular goal scorer so they depend upon runs from deep. Vidal is perfect for the system, which is why he was voted Juventus' player of the season.

Juan Mata, Chelsea

Of the current crop of wonderfully gifted Spanish playmakers, Mata isn't the most celebrated, the most talented or the most stylish. He is, however, the most efficient. In 64 appearances this season, Mata recorded 20 goals -- a tremendous record for a midfielder -- and no fewer than 35 assists.

The former Valencia player is slight, skillful and intelligent with his positioning, but he also possesses a ruthless streak and a determination to make the difference in the final third. Many playmakers as gifted as him are happy to play a languid role and leave the crucial contributions to others, but Mata is simultaneously understated and decisive.

Gareth Bale, Tottenham

Bale always seemed to be hyped a little beyond his current level of ability -- he was voted the Premier League's best player in 2010-11 despite a fairly inconsistent season, then was compared to Cristiano Ronaldo and Lionel Messi in the English press before he'd reached anywhere near that level.

But Bale's constant improvement means the superlatives always seem premature, rather than incorrect. Bale has taken his form to a new level this season, constantly conjuring up moments of outstanding individual brilliance to rescue Spurs -- long-range winners against West Ham, Southampton and Sunderland stick in the memory. No longer a pure winger and instead a versatile all-round attacker, Spurs will have to fight to keep him after failing to qualify for the Champions League.

Cristiano Ronaldo, Real Madrid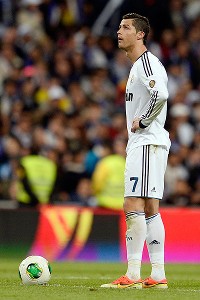 Dani Pozo/AFP/Getty ImagesCristiano Ronaldo maintained a scoring rate of one goal per game and delivered amazing individual performances.
This is arguably Ronaldo's least impressive campaign at Real Madrid, yet his scoring statistics are still incredible. Seemingly obsessed with scoring at a rate of a goal a game, Ronaldo has managed 34 from 34 games in La Liga, seven from seven in the Copa del Rey, 12 from 12 in Europe and two from two in the Supercopa, which is 55 in 55 overall.

The Portuguese forward has turned in amazing individual performances -- his hat trick away at Ajax, his counter-attacking display at the Nou Camp in the Copa del Rey and his first-half dismantling of Valencia in January were probably the highlights.

Lionel Messi, Barcelona

Whatever Ronaldo does, Messi always seems to go one step further. Last season, Ronaldo set a new record by becoming the first player to score against all 19 La Liga sides in the same season. So what did Messi do? He scored against all 19 La Liga sides in succession in 2012-13 -- going half the season without failing to score in an individual league game.

Barcelona now depend on Messi too much. When he's absent or not 100 percent fit, his side certainly struggles. Their Champions League progress summed it up -- they were woeful against PSG until Messi came on to lift the Nou Camp, and their number 10 didn't look comfortable throughout the 4-0 defeat in Munich. It's rare that injury has hampered Messi's progress since his ascent into one of the all-time greats, but with 60 goals and a league winners' medal, it's hardly been a disaster.

Substitutes:

Daniel Carvajal, Leverkusen

In an excellent counter-attacking side, the right back has impressed with his defensive contributions as well as his attacking drive. Real Madrid would be wise to exercise their buy-back clause.

Sokratis Papastathopoulos, Werder Bremen

After a disappointing spell at Milan, the Greek centre back has become one of the most dependable centre backs around, and secured a move to Dortmund for next season.

David Pizarro, Fiorentina

The veteran holding midfielder has thrived in a Fiorentina side based around ball retention and width, spraying diagonals towards the flanks.

Santi Cazorla, Arsenal

The Spanish playmaker had an immediate impact at the Emirates and went onto reach double figures in both goals and assists.

Mathieu Valbuena, Marseille

Another impressive campaign from an extremely intelligent player, capable of controlling the game in midfield while making a difference in the final third.

Luis Suarez, Liverpool

Another season overshadowed by disciplinary problems, but the Uruguayan became a reliable goal scorer in a top-class division for the first time.

Falcao, Atletico Madrid

Still the best number nine around, and ends his impressive two-year spell in La Liga with a Copa del Rey winners' medal.