Five sides that surprised in Europe
The league titles were decided long ago, and relegation battles have received significant attention in recent weeks -- but how about the clubs punching above their weight, close to the Champions League places? Here we look at five surprise packages in European football this season.

Freiburg: Fifth in Bundesliga

Freiburg's 34th and final game was essentially a playoff for the fourth Champions League place. Had they beaten Schalke, they would have participated in the competition for the first time in their history. Instead, a 2-1 defeat consigned them to the Europa League.

"Today, Schalke weren't the better side," manager Christian Streich complained. "We were."

His complaints were partly justified -- Freiburg outplayed Schalke, but lacked quality in the final third.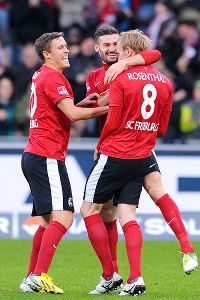 Michael Kienzler/Bongarts/Getty ImagesWith Max Kruse, left, and Jan Rosenthal, far right, headed elsewhere, it will be interesting to see if Freiburg can challenge for a Champions spot again. The worth of Daniel Caligiuri, center, was revealed in the loss to Schalke.
Their disappointment at finishing fifth, their best finish since 1994-95, sums up how impressive Freiburg's performances have been. The club itself may be unremarkable, but Streich's strategy has been highly effective -- generally favouring a 4-4-2, although both strikers, Max Kruse and Jan Rosenthal, are equally comfortable in midfield and constantly drop away from the opposition center backs to link play and create space for midfield runners.

That space is regularly exploited -- no side in Europe completed more dribbles per game than Freiburg this season, with left winger Daniel Caligiuri the main man responsible. He was suspended for the Schalke game, and Freiburg unfortunately maintained their zero percent win rate without him.

It remains to be seen whether Freiburg can maintain this position next season. Both Kruse (Borussia Monchengladbach) and Rosenthal (Eintracht Frankfurt) have agreed to join clubs that finished below Freiburg this season -- which sums up how unusual it is to see them challenging for the Champions League places.

Pacos de Ferreira: Third in Portuguese liga

Portugal is widely regarded as a three-team division, but Sporting Lisbon's recent demise and the emergence of Braga into serious contenders has given a new edge to the league. Still, no one expected Pacos de Ferreira to be challenging for the top three -- and while their final match of the season was a 1-0 defeat to Porto, confirming their opponents' status as champions yet again, Pacos' run arguably has been the highlight of the Portuguese season. Previously, they'd never finished higher than sixth.

How best to sum up Pacos' status as underdogs? Well, there's the club's attendance, which averages about 1,500 (not bad for a town with a population of 8,500) and has sometimes dropped into three figures. They're the least-attended club in the division, with a couple of second-tier clubs attracting more fans, and they'll have to play home games elsewhere if they get through the Champions League playoff round. There's also the small matter of finances -- their annual wage bill wouldn't cover Porto or Benfica's salaries for one week.

Pacos play broadly defensive football. Long-standing goalkeeper Cassio has been one of the standout performers behind an impressive defence, and Pacos have generally attacked on the break. Primary forward Cicero has impressed despite not reaching double figures, and Peruvian winger Paulo Hurtado, one of the few internationals at the club, has chipped in with crucial goals. Left back Antunes was sold to Malaga in January to replace the Arsenal-bound Nacho Monreal, providing healthy cash injection that will be reinvested this summer.

The real hero has been Mozambique-born Paulo Fonseca, yet another impressive young Portuguese coach. He has organised the defense superbly and will relish a chance to take on more illustrious opponents in the Champions League qualifying round -- Pacos are accustomed to being the underdogs.

Fiorentina: Fourth in Serie A

After an unpleasant fight against relegation last season, when Fiorentina ran through three coaches in a season -- including one dismissed for hitting one of his own players, Adem Ljajic -- an upper-midtable finish would have sufficed this season. However, Vincenzo Montella's Fiorentina were one of the revelations of the European campaign, pushing Milan until the final 10 minutes of the season for the final Champions League place.

Sporting director Daniele Prade deserves a great deal of praise -- the turnover in playing staff from last season was more than 80 percent, and Prade recruited a succession of talented, technical ballplayers, especially in central midfield. Montella has shown tactical flexibility to switch between a 3-5-1-1 and a 4-3-3 in recent weeks, and Ljajic has become the main man, grabbing 10 goals and four assists in his final 11 games of the season, from either a support striker role, or out on the left wing.

Fiorentina have concentrated on possession football but are also a threat from dead-ball situations. Gianni Vio, a mysterious, dedicated "set-piece coach" who worked with Montella at Catania, is the key reason for 22 goals from set pieces -- by far the most in Serie A.

Fiorentina will have to rebuild next year. Stevan Jovetic is likely to depart after five years in Florence, while David Pizarro's agent has suggested he fancies a new challenge. Prade's skill in the transfer market, however, means Fiorentina could push on next season. The season ended with disappointment, but also hope -- Giuseppe Rossi played the final 25 minutes of the 5-1 victory over Pescara, his first game in more than 18 months.

Saint-Etienne: Fourth in Ligue 1 with one game remaining

Saint-Etienne are hardly a small club -- no one has won more French league championships. But having gone more than three decades without winning the title, they often feel as if an outsider in Ligue 1 these days, and their excellent campaign is set to ensure their highest league finished since 2007-08.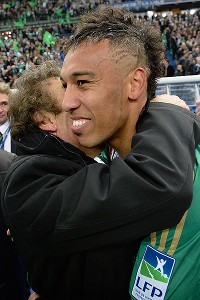 Franck Fife/AFP/Getty ImagesPierre-Emerick Aubameyang's 19 goals for Saint-Etienne were second to Zlatan Ibrahimovic in Ligue 1.
With one match remaining, Saint-Etienne could finish as high as third, or as low as sixth. Their final match of the season is a tricky trip north to fifth-placed Lille, and the result will define whether coach Christophe Galtier can consider this campaign a success or a disappointment.

The primary reason for Saint-Etienne's good form is obvious -- pacey forward Pierre-Emerick Aubameyang has 19 goals, second in Ligue 1, behind only PSG's Zlatan Ibrahimovic, despite frequently playing on the flank. Alongside Brandao, Romain Hamouma, Yohan Mollo and Max Gradel, Aubameyang has thrived in a side packed with powerful, versatile attackers.

Gaultier can take the credit for Aubameyang's fine form. "It was Galtier's idea to play me out wide," the forward told WhoScored.com. "When the club bought Brandao, the manager asked me about the possibility of playing wide on the right or the left. At the beginning I was quite suspicious but then, after consulting with my father -- who is my mentor -- I convinced myself that it could be a good idea, and it was -- now I am a more complete and mature player."

Aubameyang is set to leave this summer, but Galtier should have money to spend, in order to push the club higher up the table.

Real Sociedad: Fourth in La Liga with two games remaining

Real Sociedad's brilliant 4-2 victory over Valencia in late April appeared to secure the fourth spot in La Liga, but after a defeat at Getafe and a careless 2-2 home draw with Granada, the race is back on. With two matches remaining, Sociedad and Valencia are level with 62 points.

Real Sociedad's final two matches couldn't be more different -- at home to a strong Real Madrid side with nothing to play for, then away at a weak, relegation-threatened Deportivo side with everything to play for.

After a dreadful start to the campaign, Sociedad went on a brilliant midseason run of just one defeat in 23 matches -- away to Real Madrid -- to put themselves in pole position for the fourth spot. Their main strength is on the counterattack, where Mexican Carlos Vela has been instrumental, demonstrating the form he hinted at as a teenager at Arsenal. Imanol Agirretxe, a tall forward capable of playing on the break or receiving long balls from the defence, has starred in recent weeks.

But their run-in has been affected by the news coach Philippe Montanier will leave the club to join Ligue 1's Rennes next year.

"Real Sociedad wish to park all kinds of issues outside of the competition itself and focus all their energies on achieving the goal [of Champions League qualification]," according to an official statement.

The timing of this revelation couldn't have been worse -- if Sociedad slip out of the top four and allow Valencia back in, it will be a disastrous end to such an enjoyable campaign.

Summary

If there's a common theme among these sides, it's that they've developed a distinct style of play. Freiburg use their strikers in an unusual fashion; Fiorentina focus on ball retention; Pacos have been particularly strong at the back; Saint-Etienne have pace and power in wide zones; and Real Sociedad are excellent on the counter. These clubs are not loose collections of individuals, but instead carefully crafted, cohesive sides.

The worry is that this quintet all will lose key components in the summer. Equally concerning is that these five have performed beyond all expectations, but the likes of Freiburg and Fiorentina have lost out to big clubs (Schalke and Milan) experiencing difficult campaigns, while Saint-Etienne and Real Sociedad might be disappointed in the final week of the campaign.

Money talks, and it's disappointing more of these sides won't be seen in the Champions League next year -- we can only hope Pacos de Ferreira progress smoothly.