Tactics Board: Premier League season review
The 2012-13 Premier League campaign will likely be remembered for Manchester United's 20th title and Sir Alex Ferguson's retirement. Tactically, however, it was notable for the enduring reliance on a back four, the decline of the second striker and the widespread adoption of 4-2-3-1. These were the themes of the season: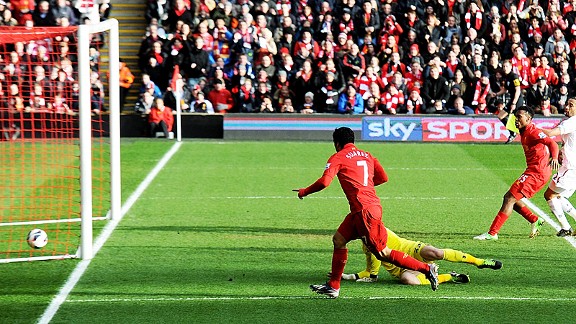 GettyImagesThe lone striker, like Luis Suarez, replaced the more conventional dual strikers
The triumph of 4-2-3-1

Once, the default formation for English sides was 4-4-2. There was a time, too, when 4-2-3-1 seemed more of a Spanish system. Not now. While the two Manchester clubs' shape can be called 4-4-2 and Tottenham had a spell when Jermain Defoe and Emmanuel Adebayor were paired in attack, the reality is that each of the top 10 teams in the table regularly play 4-2-3-1, as do the majority of the sides beneath them.

Part of the reason for its success is the flexibility: 4-2-3-1 can easily become 4-3-3 for sides who want numerical superiority in the centre of midfield. More significantly, it enables them to defend in English clubs' favourite defensive structure, with two blocks of four. Away from home, in particular, it becomes 4-4-1-1; Manchester United, in their wins over Manchester City and Chelsea, were a case in point. For more negative sides such as Stoke and Norwich, that has been the starting system.

The decline of the second striker

There is an obvious corollary: if most sides adopt 4-2-3-1, where does the traditional second striker fit in? In many cases, the answer is simple: he doesn't. With multi-dimensional forwards required to lead the line, old-style predators like Javier Hernandez are often substitutes. Among other shorter strikers, Carlos Tevez and Sergio Aguero spent time in the No. 10 position. A growing trend, however, is for strikers to be converted into wingers, with the aim being that they can do a shift on the flank and then finish like a forward when they get in the box: think of Lukas Podolski, Jay Rodriguez and Andreas Weimann. Potentially, too, that may be Daniel Sturridge's role.

The lack of false nines

While the Premier League is ever more influenced by Spanish football, arguably it has stopped short of copying Spain and Barcelona's signature tactic: the false nine. When Luis Suarez leads the line for Liverpool, he can rove far and wide but, arguably, he simply played as Luis Suarez. When Suarez was suspended for Liverpool's trip to West Ham and they lacked a specialist striker, midfielder Jonjo Shelvey operated as a false nine, but it was a one-off. Arguably, Wigan have played Shaun Maloney as such at times, the strikers operating wider to create room in the middle. There is a further contender: Michu prefers to play behind a forward but has been the front man at times without really altering his game and starting deeper than many strikers. Overall, however, the centre-forward remains an integral part of the Premier League.

The passer as anchor

The defensive midfielder's role revolves more around passing than tackling. A growing trend is for a specialist distributor to sit in front of the back four: Michael Carrick has been the division's outstanding central midfielder while, in the same position, Mikel Arteta has completed the most passes. Players such as Darron Gibson, Leon Britton, Ashley Westwood and James McCarthy also suggested ball retention is more important than ball-winning.

Diamonds are not forever

Rooted in 4-4-2, English teams have rarely flourished with a midfield diamond. This season there was some surprise when Manchester United briefly fielded one. The thinking behind it is that it allows a team to have a holding player, a No. 10 and two strikers. The downside is that they can lack width, both in attack and, perhaps more importantly, to protect the full-backs. Until it was revived in the final-day 5-5 draw with West Brom, United's autumn experiment was swiftly jettisoned as, even though none of their wingers enjoyed vintage seasons, they reverted to 4-2-3-1 / 4-4-1-1. Only Aston Villa, of whom more later, also tried a midfield diamond and, again, it was in the first half of the campaign.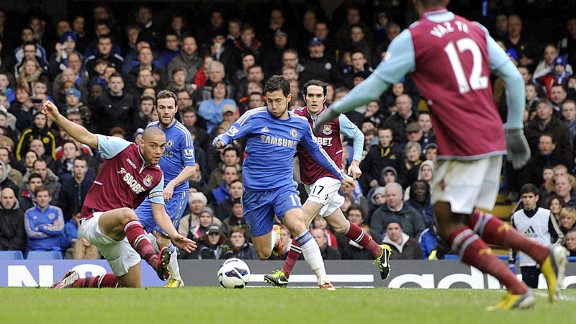 PA PhotosEden Hazard was largely deployed in a wide role and instructed to cut inside defenders
Inverted wingers

It is not a new trend. What is particularly pronounced, however, is the shortage of left-footed wingers meaning that many a team features a right-footer on the right, aiming to go outside the full-back, and another on the left, looking to cut infield. Cases in point were either Weimann or Gabriel Agbonlahor for Aston Villa, Rodriguez for Southampton, Everton's Steven Pienaar, Chelsea's Eden Hazard, West Ham's Matt Jarvis, Tottenham's Gylfi Sigurdsson and Clint Dempsey, Manchester City's Samir Nasri and all of Swansea's right-footers. Left-footers operating principally on the right, like Adam Johnson and Stewart Downing, were rarer.

Roberto Martinez: The great exception

While 19 Premier League clubs began the majority of their matches (in many cases, all) with a back four, Wigan were the exceptions to the rule. While his side sometimes switch to and from 4-3-3, often within a match, the Spaniard has usually started with three at the back since trialling the system in November 2011. As Wigan's defensive injuries grew more severe, Martinez's tactics became more unconventional. The win at West Brom came with Wigan playing a 2-5-2-1 system.

The experimenters

Martinez apart, the other managers to try out a back three were, broadly speaking, the younger group (under 50) and the more cosmopolitan. Roberto Mancini was the most persistent, though it was very much his Plan B - he tended to swap from four to three, rather than vice versa and Manchester City only began two league games with a back three, both on Merseyside. Brendan Rodgers, who successfully switched to 3-5-2 at half-time in October's Merseyside derby, also began two league games with three at the back – indeed, with a 3-5-1-1 formation at Fulham. So, after Martinez, the likeliest to begin with a back three was Paul Lambert, whose willingness to alter formation is a marked feature of his management. Lambert veered away from a back four for six league games but Aston Villa conceded 18 times in those games. Then he reverted to 4-2-3-1, 4-3-3 or even 4-1-3-2.

The pressing game

Expect it to be a greater feature of the 2013-14 season. If Manuel Pellegrini wants Manchester City to emulate Barcelona, it could include greater pressing. Mauricio Pochettino, another managerial arrival from La Liga, had Southampton playing the most extreme pressing game in the Premier League this season – a reason why midfielder Morgan Schneiderlin, urged to close down opponents high up the pitch, has the highest number of interceptions in the division. Rodgers and Andre Villas-Boas are other advocates of pressing. As they are able to spend more time coaching their players and are able to recruit others who fit their ethos, it is likely both Liverpool and Tottenham will play at a higher tempo and press more.