Chelsea final season ratings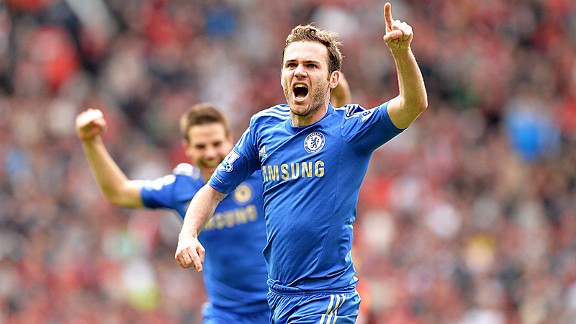 GettyImagesMata has been irreplaceable in his attacking role for Chelsea, only missing four games all season
Juan Mata: 9

At one point when the debate about Demba Ba and Fernando Torres escalated, and Rafa Benitez was asked whether he might play the two together, the manager immediately ruled it out as that would also involve taking Juan Mata away from his best position. That perfectly illustrates his importance. If the playmaker isn't there, Chelsea aren't the same team. He combines selfless industry with individual innovation to both help the side overcome many of their issues and also become better than what they are. That probably explains why, despite what will end up as a gruelling 69-game season, he has already appeared in 62 of those matches. The club's player of the season, and almost the Premier League's too.

Branislav Ivanovic: 8

It speaks volumes of Ivanovic's evolution that he has gone from utility full-back to the club's first-choice centre-half. Even more impressively, he doesn't just keep the ball out at one end but has put it in the net an impressive amount of times at the other. The Serbian has the best scoring ratio of all the defenders in the squad, and a fair few of those strikes, most notably his header in the Europa League final, were match-winners.

David Luiz: 8

If one Chelsea captain has entered decline, another may have risen. This season has seen Luiz occupy an even more prominent role in the squad, both in terms of his influence in the dressing room and his position on the pitch. Alongside that, he has also been gradually eradicating the comic errors, to the point they are now greatly outweighed by moments of spectacular brilliance - not least his strikes against Fulham and Basel.

Eden Hazard: 8

Perhaps inevitably, Hazard couldn't quite sustain the scintillating form of his first few games and never really become a true contender for player of the year. His overall input, however, remained constant - right up to the two assists against Aston Villa that allowed Lampard to break the record. He has also decorated many a game with moments of dazzling skill. The goals at Stamford Bridge against Steaua Bucharest and West Ham United particularly stand out.

Frank Lampard: 7

An often frustrating season ended with the most satisfying flourish: Lampard securing Champions League football by breaking the club's scoring record and then captaining the side to Europa League glory. It also emphasised that, even if many of the midfielder's main abilities have started to recede, his finest quality - regularly hitting the net - has stayed constant.

MORE:
Jolly: Man United ratings
Jolly: Man City ratings
Whalley: Everton ratings
Jolly: Liverpool ratings
Brewin: Arsenal ratings
Palmer: Tottenham ratings

Victor Moses: 7

The winger may not have quite made the impact he anticipated, but he did offer an important extra angle in attack as one of the squad's only true wingers.

Oscar: 7

If the young Brazilian is still adjusting to English football, as many around him insist, the finished product is going to be frightening. Oscar has already more than integrated to an influential level, combining top-level technique with some admirable aggression.

Petr Cech: 7

If still not quite regularly producing the improbably excellent saves of his first two seasons at Stamford Bridge, Cech is no longer so commonly guilty of the uncharacteristic errors that plagued his game after his unfortunate 2006 head injury. The goalkeeper has grown into a thoroughly dependable presence, which is exactly what you'd expect from one of the core members of the squad. He sets the tone for the Chelsea team in an admirable way.

Cesar Azpilicueta: 7

Benitez described him as the most improved player in the squad and it's hard to disagree when you consider the trajectory of Azpilicueta's campaign. Having barely played under Roberto Di Matteo at the start, the Spaniard has ended the season as first-choice right-back - and a formidable one at that.

Ashley Cole: 7

He may be easy to criticise but he remains so difficult to evade. The controversies Cole was embroiled in at the start of the season have been offset by the composure he has shown since. Still world-class.

Gary Cahill: 6

If often capable of creditable match-saving tackles, Cahill still carries the air of a man who doesn't look fully comfortable in Chelsea's defence.

John Obi Mikel: 6

The midfielder's pace-setting role often goes underappreciated but that fact still shouldn't obscure the reality that his position has been one of the main problem areas of the team. Very often this season, and particularly under Di Matteo, the side struggled to properly marry sturdy defence with stellar attack. It was only when Luiz moved into defensive midfield that the issue started to be solved. Mikel occasionally looked like a player who no longer slotted into the side as easily as before.

Ramires: 6

His attacking thrust and energy have very often been crucial in breaking through opposition sides but, on the other side, they have also seen some of Chelsea's own moves break down due to a lack of precision.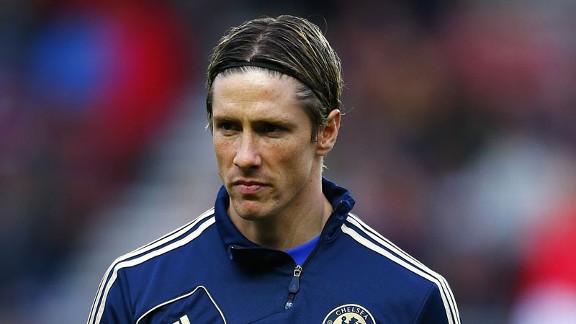 PA PhotosFernando Torres once again failed to live up to his billing at Chelsea, but he is far from the laughing stock at Stamford Bridge
Fernando Torres: 6

A curious one. Torres has gone on a fair few of those depressing long droughts and still not scored in the Premier League since December, but he's also hit a very respectable 21 goals in 63 games. Similarly, some awful misses have been balanced by genuinely good work and glimpses of the old Torres - especially the lightning run that opened up the home game against Sunderland. No, he still isn't anywhere near that 2007-09 level and certainly isn't the forward Roman Abramovich envisaged when he signed him, but the Spaniard also isn't the comedy figure some suggest.

Demba Ba: 6

The Senegalese forward's early burst of three goals in four games - all against Nigel Adkins' Southampton - greatly coloured perceptions of his impact, because he's been quite disappointing since then. Ba has only scored three in his last 18. Some of his hold-up play has been excellent, but it was his high scoring that was the initial attraction.

Ryan Bertrand: 5

His appearance in last season's Champions League final suggested a youngster who might properly stake his claim as Cole's understudy - and eventual replacement - but Bertrand has failed to sufficiently bridge the gap over 2012-13. Underwhelming, verging on disappointing.

John Terry: 5

The most striking stat from Terry's season is that this is the lowest number of league games he's played since 1999-2000, when he was only 20. That isn't just down to the injury he suffered in November. Quite simply, his power has waned - both on the pitch and off it. He is now very much part of the squad's second-choice team and, when he's played, has been more exposed than usual by the top-class attackers. Sure, he's still scored four big goals, still been capable of fine moments, but he's also been that bit slower, that bit clumsier.