Tottenham final season ratings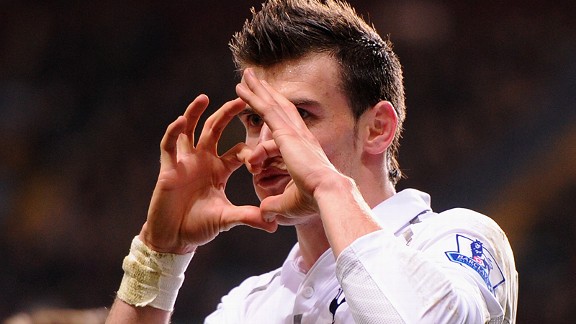 GettyImagesGareth Bale has stolen the Premier League limelight this season
Gareth Bale: 10

Top marks have to be bestowed upon PFA and FWA Footballer of the Year Bale after a season when he confirmed he is ready to become a genuine superstar of the world game.

After Spurs boss Andre Villas-Boas was left to work with his hands tied due to the club's refusal to provide him with a decent selection of quality strikers, he turned to Bale to carry the goal burden, and how he delivered. World-class is a tag handed out far too readily, but Bale is worthy of the billing.

Jan Vertonghen: 8.5

Vertonghen hit the ground running after sealing his £10 million move from Ajax last summer and his ability to play in the heart of the defence, at full-back and even as a makeshift holding midfielder makes him a valuable asset.

Included in the PFA's Premier League team of the season, Villas-Boas is convinced Vertonghen will establish himself as a central defender at Tottenham, and his composure on the ball, superb delivery and calmness under pressure are all impressive qualities. He is also a threat breaking forward, ensuring the Belgium international is the full package.

Michael Dawson: 8

Spurs chairman Daniel Levy was doing all he could to offload Dawson to QPR last summer, yet this loyal servant to the Tottenham cause held his ground, vowed to fight for his place in Villas-Boas' line-up and more than proved his worth as a leader of the team.

Dawson is prone to the odd error and can look cumbersome on the turn at times, but he has been a constant source of inspiration and leadership for Spurs this season and is a fine representative for his club off the pitch as well.

MORE:
Jolly: Man United ratings
Jolly: Man City ratings
Whalley: Everton ratings
Jolly: Liverpool ratings
Delaney: Chelsea ratings
Brewin: Arsenal ratings

Mousa Dembele: 7.5

An impressive first season for Dembele at Tottenham would have been even more notable had he added a few more goals from the midfield and stayed out of the treatment room for longer.

Powerful, committed and a fine passer of the ball, Tottenham look a better team when the Belgian is directing operations in the centre of the park, and he will be a key man for the club in the years to come.

Aaron Lennon: 7

Lennon's importance to this Tottenham side is only felt when he is absent, with the balance he provides on the right side of midfield ensuring it is not just the threat of Bale that the opposition need to concern themselves with.

Some observers continue to argue his final delivery into the box is often lacking quality and that he should score more goals, but this is an underrated performer whose energy and vitality are vital to the Tottenham cause.

Hugo Lloris: 7

It can often take foreign goalkeepers some time to find their feet in the high-energy Premier League, but this quality shot-stopper wasted little time in confirming his class once he ousted Brad Friedel from the No. 1 spot.

With a superb command of his box and excellent distribution, Lloris excels in the 'sweeper keeper' position and has a pleasing habit of timing his charges out of his own box superbly well. His error in the damaging defeat against Liverpool at Anfield was a blot on his copy book, but they have been few and far between.

Brad Friedel: 6.5

This veteran American 'keeper was an unfortunate victim of Tottenham's transfer policy as the arrival of France international Lloris meant Friedel lost his place in the Spurs team despite his hugely impressive form in the opening weeks of the season.

The new contract he signed in December to extend his lengthy career still further confirmed that this 41-year-old still has plenty to offer, even if he may need to be content with making an impact in cup ties next season.

Sandro: 6.5

This powerhouse Brazilian midfielder was a key man for Tottenham in the first half of the season. His absence due to injury was a major blow for Villas-Boas as his side began to run out of gas at the end of an exhaustive campaign.

Oozing with competitive spirit and with underrated passing ability, Sandro will have a big role to play at Tottenham next season so long as he gets back to the levels of performance he was producing before he picked up a knee injury against QPR in January.

Kyle Naughton: 6.5

Naughton appeared to be well down the pecking order at Tottenham as he spent time out on loan at Middlesbrough, Leicester and Norwich in the previous three seasons, yet Villas-Boas has picked him ahead of established full-back Benoit Assou-Ekotto with regularity this season.

The attacking side of his game needs to improve if he is to establish himself as a first-choice defender in the Spurs side, but Naughton is maturing into a reliable performer at Premier League level.

Steven Caulker: 6

This 21-year-old defender impressed during a loan spell at Swansea last season and Villas-Boas has been keen to promote his virtues as he has handed him plenty of responsibility this season.

Caulker's goals against Aston Villa and Manchester City confirmed he can be a threat breaking forward and his powerful presence at the heart of the Spurs defence made him a far more reliable option than the faltering veteran William Gallas.

Lewis Holtby: 6

Holtby was originally due to join Spurs this summer, but the club made huge strides to bring forward his arrival date with the expectation that he would play a big role in the second half of their campaign.

As it was, Holtby was very much a back-up performer for Villas-Boas and, while this German youngster showed flashes of inspiration, he will need more time to acclimatise to the fast-paced demands of the Premier League.

Tom Huddlestone: 6

His languid style, lack of pace and bulky appearance give the impression that this powerhouse midfielder is not cut out for top level Premier League competition, but his ability to ping classy passes and dictate the midfield mean he is a useful asset.

However, his lack of first-team chances this season inspired Huddlestone to suggest he will look to seal a move away from the club this summer and it may be that his abilities would fit better at a Premier League club that can accommodate his slightly inconsistent presence.

Kyle Walker: 6

Walker has struggled to replicate the impressive performances he produced in his breakthrough campaign last season, with his defensive weaknesses and uncertain reading of the game exposed at times by speedy wingers.

However, it is easy to neglect the reality that Walker is still only 22-years-old and he is honing his skills in a highly competitive environment. His speed and attacking drive remain potent qualities and it may be that he is a long way to go before he matures into a top class performer consistently.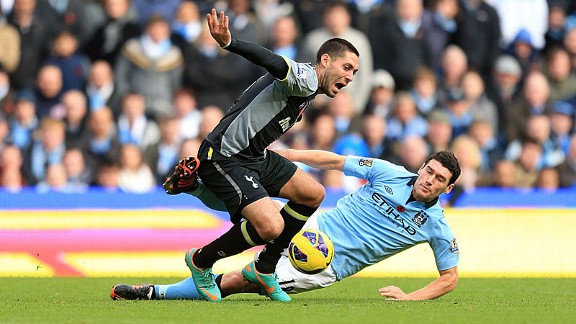 APClint Dempsey was missing in action for much of the season
Clint Dempsey: 5.5

Dempsey's decision to join Tottenham ahead of Liverpool last August was viewed as something of a coup for the north London club, yet the American international has struggled to live up to his billing at White Hart Lane.

Often deployed as a makeshift striker due to Tottenham's lack of options up front, he was not up to the job of leading the line and struggled to find a niche for himself in Villas-Boas' line-up. Is he good enough for a side with Champions League ambitions? It remains to be seen.

Gylfi Sigurdsson: 5.5

Like Dempsey, Sigurdsson had the option to join Liverpool ahead of Tottenham and, in many ways, their respective stories have been very similar in the months since.

Villas-Boas believes Sigurdsson took time to adjust to playing in a more competitive environment at Tottenham after his impressive loan spell at Swansea, but he appeared to be finding his feet in the final quarter of the season, and his goals at West Ham, Everton and Chelsea were crucial in collecting valuable points after he nearly rejoined former club Reading in January. While there is plenty of room for improvement, he appears to have the ability to make his mark in a Spurs shirt.

Scott Parker: 5.5

After missing the first half of the season due to injury, Parker's timely return coincided with a season-ending injury for Brazilian midfielder Sandro and he has been a regular in Villas-Boas' line-up in the second half of the campaign.

Now 32, Parker's limited passing abilities have been exposed in recent months and few would be surprised if QPR boss Harry Redknapp makes another attempt to sign the England star as he looks to build a side equipped to storm back from the Championship next season.

Jermain Defoe: 5

After Andre Villas-Boas promoted Defoe from his fourth-choice striker role of last season to first pick this time around, the little marksman started the campaign suggesting he was ready to shed his tag as one of the more overrated players in the Premier League.

A glut of early goals provided promise for Spurs, but Defoe scored just once in the second half of the campaign as his policy of shooting every time he gets even a glimpse of goal ensured this would be another season of frustration for the 30-year-old.

Benoit Assou-Ekotto: 5

Andre Villas-Boas was not entirely convinced by the talents of Assou-Ekotto in his first season as Tottenham boss, with youngster Kyle Naughton often selected ahead of the Frenchman, who spent much of the season on the sidelines with injury.

After hinting he was ready to leave Tottenham a year ago, the Cameroon full-back may be tempted to end his seven-year stint as a Spurs player this summer.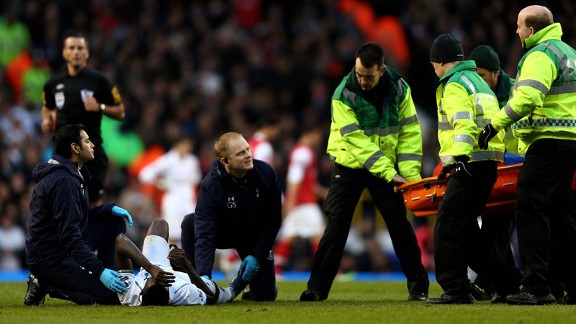 GettyImagesEmmanuel Adebayor's woes summed up the fortunes of Tottenham's forward line this season
Emmanuel Adebayor: 4.5

Villas-Boas insists Adebayor's modest total of Premier League goals should not be used as a gauge to judge his season, yet it is hard to acclaim this Togo striker after a campaign when he has flattered to deceive time and again.

His lamentable performance in the second leg of the Europa League quarter-final against FC Basel was one of many inept displays, with his final flourishes in the end of season games against Chelsea and West Brom serving merely to paper over the cracks for a player who is among the most frustrating in the Premier League.

William Gallas: 1

Gallas appeared to be past his sell by date long ago, but Villas-Boas felt his experience could be useful to his side and duly made him club captain last summer. It proved to be a fatal mistake, as this former Arsenal star was a liability virtually every time he stepped onto the field.

He was present when Spurs recorded a 3-2 win at Old Trafford in September, but Tottenham's defeats against Newcastle, Chelsea, Everton, Wigan, Manchester City, Arsenal and Inter Milan all came amid disastrous Gallas displays and their fortunes took a turn for the worse every time he set foot on green turf. It may be time for Mr Gallas to hang up the boots.