Arsenal season player ratings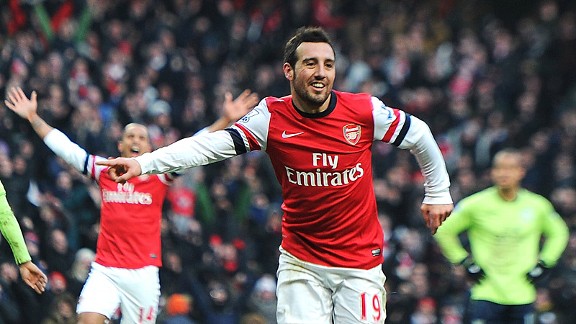 Stuart MacFarlane/Arsenal FC/Getty ImagesFormer Villarreal and Malaga man Santi Cazorla dazzled in his first season in the Premier League.
Laurent Koscielny: 8.5

He is the most favoured of all Arsenal's defenders by their fans, developing into a ball-playing defender with steel to his game. A sending-off against Manchester City was unfortunate but he has been his team's best performer in a problem position. His winning goal in the final match at Newcastle United was fitting; he has become a real leader.

Jack Wilshere: 8

During the dark winter days when the obituaries were again being penned for Arsene Wenger, Wilshere remained the shining light, the hope to cling on to. His return against QPR in late-October provided instant reminder of his ability. It was like he had never been away.

Santi Cazorla: 8

Loved by the fans from very early on as his skills dazzled, perhaps the drawback is that Wenger shifts his position around too much to accommodate others. Perhaps only his goal record lowers a fine first season.

Mikel Arteta: 7

Perhaps the most responsible member of the team, and hugely missed when absent. He still sometimes has the look of only an ersatz anchorman but is probably the true leader of latter-day Arsenal.

MORE:
Jolly: Man United ratings
Jolly: Man City ratings
Whalley: Everton ratings
Jolly: Liverpool ratings
Delaney: Chelsea ratings
Palmer: Tottenham ratings

Per Mertesacker: 7

A lack of pace will always trouble the German but there have been signs of his value to his team in terms of his poise on the ball. He was caught very flat-footed in March's North London derby but has performed well in Arsenal's late-season surge.

Tomas Rosicky: 7

When Jack Wilshere started to miss a few games toward the end of the season, it gave Rosicky centre stage and he flourished. His talent, seemingly lost to years of injury, has revived itself, one of the most heartening facets of Arsenal's often troubled season.

Theo Walcott: 7

Spent much of the season in a contract saga that was eventually solved as he hit a scoring run from the striker role he has always craved. His best return of goals, even though he has still mostly played from the wing, is confirmation of genuine progress.

Olivier Giroud: 7

He is not Robin Van Persie. He is not Thierry Henry. But then again he is not Nicklas Bendtner or Marouane Chamakh. He developed into a decent leader of the line, and a popular one too, though doubts linger about an ability to score the most crucial chances.

Vito Mannone: 7

Proved a reasonable stand-in when Szczesny was missing in the opening weeks of the season, and had stepped ahead of Fabianski in the reckoning until injury pushed him back down the pecking order.

Lukasz Fabianski: 7

Made a surprise return in place of his fellow Pole and put in a run of strong performances starting with the away leg in Munich, but then Arsenal's curse of the goalie struck him when it looked as if his previous potential was coming to the fore.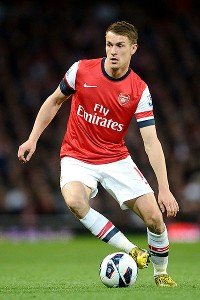 Michael Regan/Getty Images Aaron Ramsey's energy in his deep-lying midfielding role has been a plus for Arsene Wenger.
Aaron Ramsey: 7

A player who has inspired differing emotions from Arsenal fans. Some bemoan his performances at right wing. Others recognise his hard work. He seems to have finally found a role as a deep-lying midfield ratter, where his energy has been a boon to his manager.

Carl Jenkinson: 6

In the early weeks of the season, Steve Bould's organisation of defence was receiving rave reviews and Jenkinson was looking an Arsenal star of the future. But then Sagna returned, and Jenkinson returned to the sidelines.

Kieran Gibbs: 6

Injury, as ever, halted his progress, such that Wenger was forced to field Andre Santos, and reach for the chequebook to sign Nacho Monreal. Gibbs has supplanted Monreal on his return, but his potential is yet unfulfilled.

Nacho Monreal: 6

Signing the Spain defender was seen as a masterstroke in the final days of the January transfer window and Monreal initially looked capable of slotting straight in, but then began to struggle somewhat. A poor performance against Spurs and prolific collection of yellow cards suggests he is yet to adjust properly.

Thomas Vermaelen: 6

Wenger's last three captains -- Henry, Fabregas and Van Persie -- were all hugely in demand from other clubs. The same cannot be said of Vermaelen who has not looked much of a leader and would perhaps not be in many Gunners' first-choice team.

Lukasz Podolski: 6

We live in German football's enlightenment period yet this was the Deutschlander that Wenger signed. His shooting is excellent, but his ability to impose himself on a game is not. Injury has been flagged as reason for a poor first season, but improvement is most definitely required. Perhaps the double against Wigan can signpost a better second season.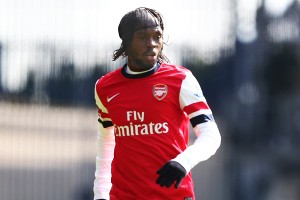 Michael Steele/Getty ImagesGervinho's finishing was erratic all season long.
Gervinho: 6

His manager says he was the best player at the African Cup of Nations. The same manager chose him as a line-leading striker in the early weeks of the season. Gervinho did OK for a while but then became unreliable and impossible to read. He knows not what he is doing next, and neither does anyone else. Still capable of fine finishing, equally capable of horrible finishing too.

Alex Oxlade-Chamberlain: 6

He has not trained on from the promise he showed last season, against Milan in particular. The football brain that looked so apparent in his early appearances seems to have deserted him and only a couple of decent latter performances save him from having a poor season.

Ignasi Miquel: 5

The Spaniard has been unable to force his way into the reckoning, playing just one Premier League game all season. It suggests his future lies away from Arsenal.

Abou Diaby: 5

He began the season showing why both Wenger and Laurent Blanc have waited for him to come good, and made fans forget Alex Song. Then came injury against Chelsea and only intermittent participation that preceded the knee injury that will cost him most of next season.

Wojciech Szczesny: 5

The seeds of a poor season were sown with his sending off in the opening game of the Euro 2012 and then injury robbed him of further confidence. On his return, he was eventually dropped for Fabianski for the Champions League return match with Bayern Munich.

Bacary Sagna: 5

He came back from a broken leg in the autumn and impressed with the retention of his strength before a series of mistakes outlined that a new right-back might be needed; the low point coming in his concession of a penalty to Robin van Persie, having already given his former team-mate the ball.

Andrei Arshavin: 4

Almost an ex-footballer these days. Rarely trusted, wanted by nobody else.