Manchester United final player ratings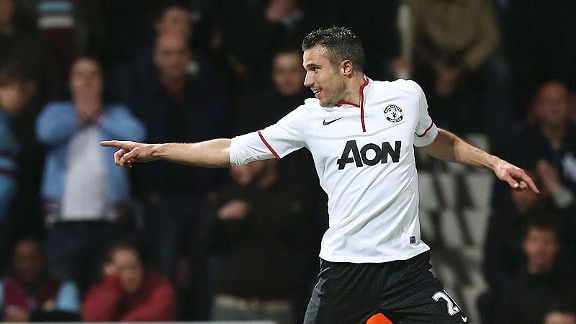 John Peters/Man Utd via Getty ImagesRobin van Persie took his game to a completely new level in his first season at Old Trafford.
Robin van Persie: 9.5

An extraordinary debut season at Old Trafford. Van Persie maintained the outstanding form he showed for Arsenal last year but, by transporting it to a team with loftier ambitions, he went a huge way to deciding the title race. So many of the vital victories featured a crucial contribution from the Dutchman but his significance stretched far beyond his 30-goal tally. He seemed to embrace every aspect of life at Old Trafford and his status as the talisman is undisputed now.

Michael Carrick: 8.5

Recognition took time but Carrick's excellence is belatedly being savoured. This has been the finest year of his career and, though he also impressed in the last campaign, this was the stand-out season of his seven at Old Trafford. He was deservedly shortlisted for the PFA Player of the Year after showing that he has rediscovered the ability to make penetrative forward passes. For a long time, Sir Alex Ferguson was perming two from several options to play in the middle of midfield. Now Carrick has become a guaranteed starter with a revolving cast of partners.

Rio Ferdinand: 8

When Gareth Bale destroyed Ferdinand in Tottenham's win at Old Trafford in September, he looked yesterday's man. In the second half of the season, however, he seemed to have succeeded in turning back the hands of time, producing a series of masterful performances as United, previously porous at the back, started to keep clean sheets. Their defensive improvement in 2013 can be traced to Ferdinand's form, which was all the more impressive as Nemanja Vidic was not always available to partner him.

MORE:
Jolly: Man City ratings
Whalley: Everton ratings
Jolly: Liverpool ratings
Delaney: Chelsea ratings
Brewin: Arsenal ratings
Palmer: Tottenham ratings

Phil Jones: 7.5

While Ferguson's assertion that he could become United's greatest ever player was bizarre, Jones has proved among their most versatile, excelling at centre-back, right-back and in midfield. Injury delayed the start to his season but he has been terrific in 2013 and, cementing his status as a footballer of genuine stature, has been particularly good in major matches. Whether halting Bale at White Hart Lane or performing a convincing impression of Vidic against Manchester City, he has a relish for the toughest of tasks.

Rafael da Silva: 7.5

It was a shame his season ended with a wild kick at David Luiz and the subsequent red card against Chelsea because, until then, this had been a breakthrough year for the Brazilian. Rafael has established himself as the regular right-back and, while there have been games when he has struggled defensively -- he was hauled off after half an hour at Reading -- they have become fewer as he has become more reliable. Energetic and excellent going forward, where he has often overshadowed the supposed winger in front of him, Rafael scored a ludicrously good goal against QPR.

Nemanja Vidic: 7.5

The captain's appearances are rationed nowadays and his knee injury interrupted a second successive season, but Vidic remains a formidable competitor who, on his day, is still the best defender in the division. It is one indication of his impact that United did not concede a league goal with the Serb on the pitch between January 30 and April 17. Much as Ferguson had planned for the future before his own retirement, it was significant he turned back to the old firm of Vidic and Ferdinand for the second leg against Real Madrid.

David de Gea: 7

He may owe his place in the PFA team of the season to the lack of a genuinely outstanding goalkeeper, but there is no doubt De Gea has made vast progress in the second half of the campaign. His habit of parrying shots into the path of onrushing strikers disappeared and the young Spaniard illustrated his ability to make fine saves at vital moments. While United were knocked out of the Champions League by Real Madrid and the FA Cup by Chelsea respectively, it was despite the heroics of the 22-year-old in the first meeting with both.

Patrice Evra: 7

The unlikely secret weapon at corners, Evra proved unusually prolific. After a rather awkward autumn -- the nadir came when he was tormented by Tottenham and outclassed by Cluj's Modou Sougou in the space of four days -- he proved rather more reliable at the day job of defending. As ever, he was overworked. The question now, given how well Leighton Baines played for David Moyes at Everton, is if he will be as busy in a United shirt again next year.

Ryan Giggs: 7

Gave up having butter on his toast when his form dipped in September but it recovered to such an extent that, at 39 and in the 1,000th game of his career, Giggs was man of the match against Real Madrid. As ever, he improved after the New Year and was especially influential in the February wins over Everton and QPR. Outlasted Ferguson in the end but the concern for Moyes may be that United's most effective winger this season was also the oldest.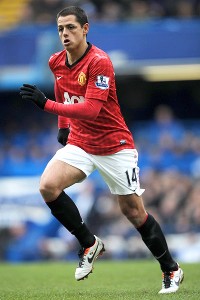 Christopher Lee - The FA/The FA via Getty ImagesMinutes were hard to come by for Chicharito, but when he played, he usually scored.
Javier Hernandez: 7

With the arrival of van Persie, the modern-day Ole Gunnar Solskjaer has had to spend even more time on the bench. The problem for Hernandez, limited to eight league starts, is that he remains an outstanding substitute, as his winners at Stamford Bridge and Villa Park indicate. Another 90th-minute decider, against Newcastle, was also among the most important goals of United's season. Eighteen goals is a terrific return, given how few minutes he spent on the pitch.

Tom Cleverley: 6.5

Seemed to cement a place in the team as Carrick's sidekick in the autumn, when he was particularly effective as a deep-lying midfielder in the wins at Chelsea and Manchester City. Yet Cleverley lost his place in the spring and has barely featured since the FA Cup defeat at Stamford Bridge. He belatedly opened his United account this season but makes too few decisive contributions.

Shinji Kagawa: 6.5

Injuries have not helped, nor have Ferguson's habit of using a natural No.10 as an ersatz winger, but Kagawa has shown glimpses of his class. He was superb on his home debut against Fulham and scored a wonderful hat-trick against Norwich, but the acid test of a United player is how he performs in the bigger games. Kagawa has been a willing worker on the wings in some, has been omitted for others and underperformed against Real Madrid so he still has much to prove.

Wayne Rooney: 6.5

His goal return is excellent, Rooney struck twice in the most important win of the season, away at the Etihad Stadium, and he chipped in with valuable strikes when van Persie stopped scoring, yet this has been a frustrating season. His form has been mixed and, at times, his touch has been awful and a couple of a supposed striker's best performances have actually come in the middle of midfield. Controversial as Ferguson's decision to drop him against Real Madrid was, it does not look a mistake and, after Rooney asked to leave the club, there are reasons why plenty of fans would happily let him.

Jonny Evans: 6

There was a time when Evans seemed to have become United's first-choice central defender with Vidic and Ferdinand taking it in turn to partner him. By the end of the season, however, the Northern Irishman had returned to the familiar role of the understudy to the old-timers. One of the culprits when United conceded too many goals in the first half of the campaign, he at least chipped in with four at the right end. However, he may find the precocious Jones leapfrogging him in the queue for places.

Danny Welbeck: 6

Enthusiastic, adaptable and ever determined, Welbeck responded to van Persie's arrival by becoming United's odd-job man: substitute some times, the most industrious of wingers at others and, on occasions, a striker. He was outstanding against Real Madrid, harrying Xabi Alonso and running at the defence with boundless energy. And yet there is a major criticism: his 40 games brought a mere two goals, half as many as Evans and Evra got apiece. That is nowhere near enough.

Anderson: 5.5

Another stop-start season for the Brazilian. When he scored at Reading in December, he appeared to be forcing himself into Ferguson's first-choice team. Instead he got injured, reverted to being a bit-part player again and endured an underwhelming second half of the season. He is surely running out of time to make his mark at Old Trafford.

Antonio Valencia: 5.5

United's player of the season last year rarely threatened to retain his title. Valencia began the season reasonably and will end it in decent form, but he was lacking in both form and confidence for the majority of the campaign. One of the most consistent suppliers of goals last season only created one in the league after the end of October and it was telling he found himself on the bench for both games against Real.

Ashley Young: 5.5

The headline statistic is that one of the most consistent providers of goals from the flanks over the last few years failed to find the net in a United shirt all season. It is one sign of a frustrating year, ended early by injury. Along the way, however, Young was the most regular presence on United's left wing and his speed on the counter-attack enabled him to contribute to the crucial wins at Chelsea and Manchester City.

Darren Fletcher: 5

Limited to three league games by the stomach problem that may end his career, Fletcher's days as a box-to-box player look behind him. He was reinventing himself as a responsible anchor midfielder when surgery brought his campaign to a premature conclusion. All in all, another frustrating season for a man whose character is prized at Old Trafford.

Anders Lindegaard: 5

Had the chance to establish himself as the first-choice keeper when De Gea was jettisoned two games into the season. Instead, Lindegaard ends up as very much the reserve himself. He was dropped twice himself, after the 3-2 defeat to Tottenham and the 4-3 win at Reading which rather ruined his reputation for being more confident when crosses came in and safer at set-pieces.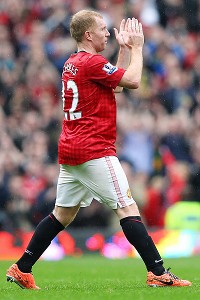 Alex Livesey/Getty ImagesThe years finally caught up with Paul Scholes this season.
Paul Scholes: 5

Deserved every plaudit that came his way on his second retirement but it was the right decision. Scholes' performances tailed off after a fine start to the season, when he helped turn the away games at Southampton and Liverpool with telling cameos. Yet he became a passenger without the ball, trying to compensate for his lack of mobility with tackles that brought a host of bookings. Partly because of injury, he has only played one league game in 2013.

Chris Smalling: 5

He has become something of an afterthought. Smalling was injured at the start of the season, when United were short of fit defenders and has made a negligible impression since then. He is one of several who found themselves consigned to the margins after the FA Cup defeat at Chelsea and now looks the fifth-choice central defender.

Alexander Buttner: 4.5

Got a goal and an assist on his debut against Wigan but the indications were already there that his defending is not good enough for him to offer an alternative to Evra. Buttner had to be taken off at half-time in the Capital One Cup defeat at Chelsea because he was struggling and, with Fabio due back from loan next season, it is hard to see where he will feature.

Nani: 4.5

If it was his last season at Old Trafford, it was also his worst. Nani's year got off to a false start with an awful performance at Everton and, all too often, Ferguson hauled him off because he was underperforming in major matches. His campaign will be remembered for another game he didn't finish and, though his red card against Real Madrid was unfortunate, it still summed his season up.