Liverpool final player ratings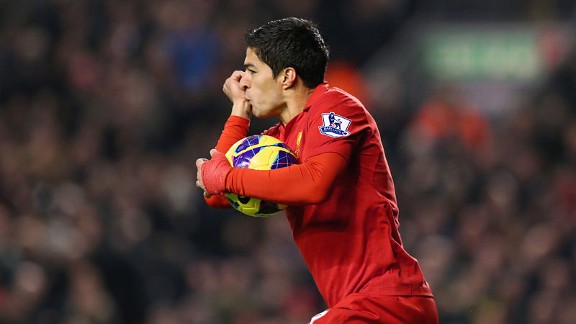 Alex Livesey/Getty ImagesIvanovic bite aside, Luis Suarez was magnificent this season for Liverpool.
Luis Suarez: 9

A superb season, marred only by that bite of Branislav Ivanovic's arm. Suarez's tally of 30 goals, laudable as it is, does not tell the whole story. Dozens of defenders were outpaced, out-thought or simply outclassed while his reputation for profligacy was shed. The Uruguayan relished the responsibility of leading the line alone and, in the three months when Liverpool lacked another fit senior striker, an invaluable player became, if possible, still more important.

Philippe Coutinho: 7.5

It is only a start, but it represents a hugely auspicious beginning to life at Liverpool. With a deft, delightful touch, offering inspiration and invention, Coutinho has shown a class that too few recent arrivals at Anfield have possessed. When Liverpool have thrashed opponents, as Wigan, Swansea and Newcastle can testify, he has proved unstoppable. The challenge now is to prove as influential in closer contests.

Steven Gerrard: 7.5

To think that some wondered if Gerrard could be accommodated in a Brendan Rodgers team. After a slow start to the season, the captain was terrific for six months, an authoritative presence in the midfield. Perhaps his finest performance came in the 2-2 draw at Manchester City but there was considerable competition for that title. With nine goals and as many assists in the league, he remains among the most potent central midfielders in England.

Daniel Sturridge: 7.5

Only at Anfield for four months, but that still contained a rise, fall and another rise in his fortunes. Sturridge started with a flurry of goals, lost his place in the team and then demonstrated his deadliness again as a substitute against his former club Chelsea and with a double at Newcastle and a hat-trick at Fulham as the deputy for the suspended Suarez. His goal-per-game ratio is outstanding but the question if he and Suarez will start together regularly remains unanswered.

MORE:
Jolly: Man United ratings
Jolly: Man City ratings
Whalley: Everton ratings
Delaney: Chelsea ratings
Brewin: Arsenal ratings
Palmer: Tottenham ratings

Glen Johnson: 7

The first half of the season brought arguably the finest form Johnson has shown in his four years at Anfield. The second half was less impressive. Nonetheless, there are few more dynamic full-backs and there were times when, after Suarez, he was Liverpool's greatest attacking threat. However, there is a familiar criticism: as usual, he was to blame for too many goals his side conceded.

Jordan Henderson: 7

Offered to Fulham in part-exchange for Clint Dempsey in August, there would scarcely have been an outcry if Henderson had been shipped out. Now rather more would be unhappier to see him go after signs his potential is being realised. A bit-part player until the end of December, he has featured regularly since then and Rodgers was rightly criticised when he started on the bench at Old Trafford and St Mary's. Henderson's energy has proved useful and he has begun to chip in with more goals. Should he continue to operate as an attacking midfielder, it will be crucial.

Raheem Sterling: 7

The teenager only really played half a season before tiring and then being taken out of the firing line, but it nevertheless amounts to a breakthrough year for him. Sterling brought pace and creativity at a time when, with the notable exception of Suarez, Liverpool were lacking both quantity and quality in the final third. His performance level tailed off after being overworked but it could bode well for next season that he and Coutinho should be manning the flanks.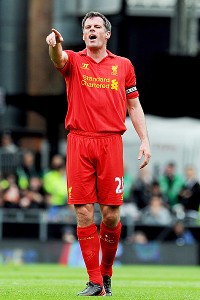 Andrew Powell/Liverpool FC/Getty ImagesVeteran defender Jamie Carragher won back his place this season in Brendan Rodgers' starting XI.
Jamie Carragher: 6.5

He can bow out on a high. When Sebastian Coates was preferred against Manchester City in August, Carragher seemed the fourth-choice centre-back. He retires having re-established himself as the best option in his position. Defiant displays in back-to-back games against Arsenal and City in February confirmed his status as the most reliable option at the back. It was unfortunate perhaps his only major error of the season, against Zenit St Petersburg, came in the final European game one of Liverpool's great campaigners in continental football played.

Jose Enrique: 6.5

Like many a Kenny Dalglish signing, Rodgers initially appeared unconvinced of Enrique's merits. The Spaniard soon persuaded him otherwise. After a brief, unexpected but effective spell on the left wing, aided by his understanding with Suarez, he resumed his role as the regular left-back. There were occasions when his defending could be faulted but he compensated with his attacking verve.

Lucas Leiva: 6.5

A second successive injury-affected year but, in both seasons, there is statistical evidence that Liverpool fare better with the Brazilian in the heart of their midfield. The Brazilian is yet to recapture the form he showed before rupturing his cruciate ligaments in November 2011, but he has formed a fine partnership with Gerrard nonetheless.

Andre Wisdom: 6.5

He has only featured once since the end of January but, before then, Wisdom showed rich promise. The right-back deservedly leapfrogged Jon Flanagan in the queue for defensive places and, with his pace and aerial ability, suggested he could be an option in the centre of defence in the future.

Stewart Downing: 6

After his car crash of a debut season at Anfield, there was a logical assumption anything else would have to be an improvement for Downing. It did not look that way when he was omitted from the 18, picked at left-back or ignored while two teenagers operated as the wingers, let alone when Rodgers told him he could leave. But he returned to become a regular on the flanks in the last six months of the campaign. His long wait for a league goal and an assist were ended and, even if it is difficult to envisage him as a long-term first choice, it amounted to a respectable campaign.

Jonjo Shelvey: 6

One of the early beneficiaries of Rodgers' appointment, he lost his place in December and struggled to get back into the side. Shelvey showed a willingness to shoot, although his only league goal came as a 'false nine' at West Ham, and played with characteristic commitment but his performances lacked finesse at times and his rather impulsive tackling brought a costly red card against Manchester United.

Martin Kelly: 5.5

Since injuring his cruciate ligaments in September, Kelly has become Anfield's forgotten man. It was particularly unfortunate as there were early indications that Rodgers rated the Englishman. With Glen Johnson moving to the left, it appeared as though he would get the chance to cement a place as the regular right-back. As ever, his performances were decent, but as often seems to be the case, his luck was out.

Daniel Agger: 5.5

Liverpool's outstanding player last season but certainly not this time around. They fought to keep Agger out of Manchester City's clutches in the summer and, with his passing ability, he appeared a perfect fit for Rodgers' brand of football but his performances have been mixed. The nadir for the Dane came in the two games against West Brom: sent off in the first, he said sorry for his performance in the second. Others have been more culpable for some of the defensive disasters but more will be expected next season especially when, in Carragher's absence, he has to be the defensive leader.

Suso: 5.5

Made a remarkable start when he set up a goal against Manchester United a minute into his Premier League career, but it got tougher for the teenaged Spaniard after that. His talent was evident but it hardly helped that Rodgers selected him for games, like Everton and Stoke away, for which he was unsuited, or that a natural No. 10 was used on the wing. May be best served by going out on loan.

Joe Allen: 5

Earned rave reviews at the beginning of his Liverpool career, particularly for his man-of-the-match performance against Manchester City in August, but even before injury ended his season, it was hard to see where Rodgers' flagship signing fits into his strongest side. Allen wasn't helped by having to anchor the midfield when Lucas was injured but his inability to offer anything besides neat distribution was an increasing cause of complaint. He belatedly showed some drive when he scored against Zenit but his year ended on a low when he was unable to cope with Southampton's pressing game.

Oussama Assaidi: 5

There is some doubt if Rodgers was responsible for the signing of the £3 million winger but, whoever instigated the move, Assaidi has had a negligible impact. On his few outings, he has shown the ability to beat a defender but clearly doesn't command his manager's confidence. Almost 25, it is debatable how much scope for improvement there is.

Joe Cole: 5

In many respects, it was a merciful release for both club and player when Cole's unhappy two-and-a-half year spell at Anfield ended with his return to West Ham. The highlight of his last few months on Merseyside came at Upton Park, with Cole providing a rare goal in December's win against his former and future club. The low point was an awful display against Swansea in the Capital One Cup.

Brad Jones: 5

Given Pepe Reina's fitness record, his deputies have tended to be underworked. Jones saw more first-team football than he probably anticipated this season and was praised by Rodgers for his Premier League performances. However, his errors at Boundary Park were a major reason why Liverpool were turfed out of the FA Cup by Oldham.

Fabio Borini: 4.5

It certainly wasn't entirely his fault. The luckless Borini spent two lengthy spells on the sidelines, a reason why he waited nine months for his first league goal for Liverpool. Yet even before he was first injured, Rodgers' original plan of the Italian cutting in from the wing to take up the space Suarez had vacated seemed to have been abandoned with Borini proving profligate and ineffective. Like Allen, he now looks a squad player at best.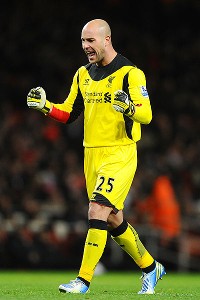 Laurence Griffiths/Getty ImagesPepe Reina's error-prone season have left some wondering whether the Spanish keeper will be back at Anfield next season.
Pepe Reina: 4.5

A second consecutive error-strewn season for a goalkeeper whose mistakes used to be collectors' items. Reina was particularly poor when he cost Liverpool a goal in three consecutive early-season games. While he fared better thereafter, there were still too many blunders, including at Tottenham and Manchester City. The Spaniard is still capable of making outstanding saves, but Liverpool might be better off without him.

Sebastian Coates: 4

An odd season. If Suarez is Liverpool's ubiquitous Uruguayan, Coates has been his anonymous compatriot. He actually did well in the first of his two league starts, against Manchester City, and proved a fine substitute away at Everton. Thereafter, however, he has faded from contention completely. It hardly helped that he was appalling in the FA Cup defeat at Oldham. Coates' only appearances since then came in the final two games when injury ruled others out. They may prove the last sightings of him in a Liverpool shirt.

Nuri Sahin: 4

Another summer signing that backfired. Sahin's arrival appeared a coup but his debut, against Arsenal, was traumatic, along with his first taste of a Merseyside derby, which was curtailed at half-time. By the time his loan was curtailed, the Turk was the seventh-choice central midfielder. His major contribution to Liverpool was a brace to defeat West Brom in the Capital One Cup but, now back at Dortmund, the Anfield misfit could feature in a Champions League final.

Martin Skrtel: 4

Given Liverpool's player of the year award last season, Skrtel mounted a terrible defence of his title. He conceded a penalty in the first league game, gave a goal away in the second and appeared utterly suited to Rodgers' passing game. More surprisingly, he proved unable to cope with physical strikers and, after a succession of target men bullied him, the manager dropped Skrtel and recalled Carragher. All in all, his third unimpressive season in the last four.