Drama always center stage at EPL's Euro conquests


It was far from inevitable that Chelsea would triumph in the Europa League final against Benfica on Wednesday night -- but it felt inevitable that if they triumphed, it would be in a dramatic manner.

From a Chelsea perspective, Branislav Ivanovic's superb late header brought back memories of Didier Drogba's last-gasp equaliser against Bayern last May. But from a Premier League point of view, there were other comparisons, for English clubs have made a habit of winning European competitions in unlikely fashion since the introduction of the Premier League.

-- Chelsea secures Europa, Lampard
-- What now for devastated Benfica?

A book entitled "A Brief History Of English Clubs' Success In Europe" would have chapters entitled: Set Pieces, Substitutes, Last-Ditch Goals, Penalties and Luck (this one would be pretty hefty). With the slightly lucky victory over Benfica courtesy of a last-ditch goal from a set piece, Chelsea only rewrote the book slightly instead of replacing it with a completely new volume.

It's fitting considering the way the Premier League presents itself -- emphasising the entertainment and drama it offers rather than the technical quality. There's a unique raggedness about English football that often sees it exposed at the highest level, and as if confirming the stereotype, English clubs succeed primarily through self-belief and determination.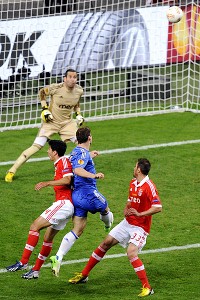 John Thys/AFP/Getty ImagesBranislav Ivanovic's header was the latest example of last-gasp moments that have rescued Premier clubs in European competitions.
The first European success by an English club in the Premier League era came in 1994, with Arsenal's 1-0 victory over Parma in the Cup Winners' Cup. The Gunners were without leading scorer Ian Wright through suspension and were up against an astonishing Parma attack featuring Gianfranco Zola, Faustino Asprilla and Tomas Brolin.

Handily, Arsenal had the best defence in English football -- they denied Parma with brilliant last-gasp challenges and succeeded through the narrowest of margins: Brolin's shot hit the inside of the post and bounced back out, while Alan Smith's strike hit the inside of the post and went in. Against the odds, Arsenal triumphed.

"They were fitter than us, and they were sharper than us," Arsenal manager George Graham admitted.

Zola featured again in the Cup Winners' Cup Final four years later, this time with Chelsea. He scored a fine winner just 20 seconds after coming off the bench in a 1-0 victory over Stuttgart. That match was reminiscent of Wednesday night's victory -- Stuttgart had more possession but failed to turn that dominance into clear goal-scoring opportunities. Chelsea pounced ruthlessly.

Next was Manchester United's 1999 Champions League win over Bayern Munich -- a classic example of an English side triumphing in ludicrous circumstances. With Roy Keane and Paul Scholes suspended, Manchester United found it difficult to compete in the centre of midfield, and Bayern were ahead for 85 minutes of the game following Mario Basler's free kick. Mehmet Scholl hit the post, coming inches away from sealing a Bayern victory.

But two substitutes -- Teddy Sheringham and Ole Gunnar Solskjaer -- ensured a dramatic turnaround. UEFA president Lennart Johansson had left his seat in the stands before the equaliser in order to make his way down to the pitch to present the trophy. "I can't believe it -- the winners are crying and the losers are dancing," he famously said.

Liverpool's 5-4 victory in the UEFA Cup against Alaves in 2001 and their amazing turnaround in the Champions League final in 2005 were similar -- they were both completely out of character with their performances to reach the final.

When Barcelona winger Marc Overmars was asked for his prediction shortly before the Alaves clash, he was blunt.

"Alaves will put nine men behind the ball and Liverpool will put 10 players behind the ball. It could be very heavy going," he said.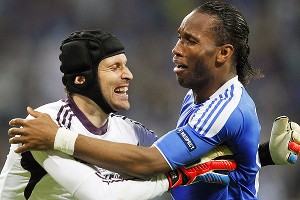 VI Images/Getty ImagesPetr Cech and Didier Drogba led an underwhelming Chelsea squad over Bayern in last year's Champions final.
It was a fair forecast: Gerard Houllier's Liverpool side of 2001 concentrated upon clean sheets to ensure their progression to the final, and there was simply no logic behind a nine-goal final, won with a golden goal that was simultaneously an own goal. However, this match is actually the anomaly in this list -- the only time an English side has outplayed continental opposition in a European final in the past two decades.

Liverpool's 2005 European Cup victory was another fine example of an amazingly unlikely success. Milan had more possession, more shots, more technical quality and more strategic guile -- for long periods, Liverpool were outplayed, and manager Carlo Ancelotti's side was down 3-0 at halftime.

"When we got into the dressing room we just said, 'It's over,'" remembered Liverpool left back Djimi Traore, surely one of the most mediocre footballers to win a European Cup. "But the manager found the right words and gave us back our confidence."

A brilliant eight-minute spell of power, drive and determination, chiefly from Steven Gerrard, got Liverpool back to 3-3, and they eventually triumphed on penalties. "It's inexplicable because we played well for all 120 minutes," Ancelotti said.

Manchester United's 2008 European Cup victory was against fellow English club Chelsea, while Chelsea's 2012 triumph at Bayern was extraordinarily cheeky because they won it in Munich's backyard. Bayern recorded 35 shots compared to Chelsea's nine and won 20 corners to Chelsea's one.

"Look at the statistics -- we were better in every respect," said Bayern coach Jupp Heynckes. "The players delivered an outstanding performance and were not rewarded."

Chelsea depended upon Drogba to score an 88th-minute equaliser, and Petr Cech made an extra-time penalty save. "Football, and life, is sometimes unpredictable and crazy. I don't think anyone could have predicted this", then-Chelsea manager Roberto Di Matteo said.

Then there was Wednesday night's triumph: Chelsea started amazingly timidly and were too passive when Benfica played out from the back. The contrast in pressing was particularly obvious, with the Portuguese side pushing high up when Cech had the ball to prevent Chelsea from playing out of the back, whereas Chelsea stood off and let Nemanja Matic dictate passing moves from deep.

Benfica dominated possession and could have been up 3-0 by halftime.

"Benfica deserved to win," Chelsea midfielder Ramires admitted after the game.

Chelsea's response was a classic English cocktail of Route One football and a header from a corner -- although both goals were well-worked.

So that's eight European triumphs in the Premier League era for English clubs. Three have come from a penalty shootout (amazing, considering the national team's struggles in this respect) and the other five have been one-goal victories. Never has an English team put on a true show of tremendous attacking football, and barely has one outpassed and dominated the opposition over the course of 90 minutes.

In a way, you have to admire Premier League clubs' ability to compensate for their clear technical and tactical deficiencies. If Spanish football is best summarised by Barcelona's thrashing of Manchester United in 2011, and Italian football by Inter's victory over Bayern in 2010, Chelsea's cup victories in 2012 and 2013 paint a perfect portrait of English football: not the prettiest, not the most intelligent, but always amazingly dramatic.