Europa League made for clubs such as Benfica
The Europa League has plenty of critics, but a decent way of defending Europe's secondary competition is to take a glance at the list of recent winners.

After all, the entire point of the tournament is to provide a cup competition for sides that don't qualify for the Champions League. While many yearn for the days of three strong cup competitions -- the European Cup, the UEFA Cup and the Cup Winners' Cup -- things have changed significantly in the past 15 years. The Champions League is now an entirely different beast and boasts much greater strength in depth. The Europa League, accordingly, plays second fiddle.

- Lythell: Chelsea can end tough season on a high
- Kundert: Jesus looks to resurrect Benfica
Video: Hazard ruled out of final
- Ramires to forget Benfica ties for final

The competition consistently produces the winners it should -- second-tier sides from strong leagues, and the best clubs from relatively minor leagues. Atletico Madrid and Sevilla are perfect examples of good sides incapable of breaking the duopoly in La Liga, their domestic league, but each club has lifted the UEFA Cup twice. Recent winners also include Zenit St Petersburg, Porto and Shakhtar Donetsk: all exciting, cohesive football teams that stand little chance of winning the Champions League but deserve the opportunity to play for something in Europe.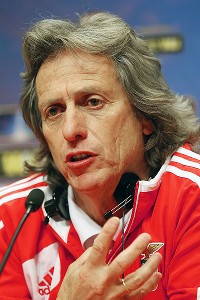 Handout/UEFA/Getty ImagesJorge Jesus has his best chance at Europa League glory when Benfica challenges Chelsea.
Benfica are roughly in the same bracket as Zenit, Porto and Shakhtar. Despite suffering in Porto's shadow over the past two decades, since coach Jorge Jesus took charge in 2009 Benfica have consistently created top-quality sides despite the frequent departure of star players. Judging from the strength of their squad in recent years, Benfica are the perfect side for the Europa League, and while it would be harsh to suggest it will be a failure if they don't experience European glory, the point remains -- this competition is designed for clubs like them.

Jesus took charge of Benfica in 2009 and immediately benefited from a wonderful squad, partly thanks to the good work of club legend Rui Costa, now Benfica's sporting director. He was a wonderfully elegant playmaker, of course, and was committed to purchasing exciting technical attackers -- Jesus' task was arranging them into a suitable formation. Also a former playmaker, he was an ideal coach for that squad.

There was a mix of promising youngsters (the default strategy for Porto and Benfica, who have both played the transfer market excellently in recent years) and relative veterans. Benfica were brave enough to field Pablo Aimar and Javier Saviola together -- both wonderfully gifted Argentine starlets who arguably never truly filled their potential. To witness them in the same side together again, linking up as they briefly did at River Plate, was truly fantastic.

That wasn't all -- Aimar played at the top of a brilliant diamond that also featured Angel Di Maria, Ramires and Javi Garcia. The quartet worked brilliantly -- Garcia distributed the ball calmly, Ramires provided the energy, Di Maria brought a little width and Aimar the pure guile. Saviola darted around behind powerful goal scorer Oscar Cardozo. Fabio Coentrao and David Luiz brought attacking quality from defence, too.

Benfica should have won the Europa League that season but were instead eliminated in the quarterfinals by an average Liverpool side that stumbled to seventh in the Premier League. However, the sales of Ramires and Di Maria that summer, and then Coentrao, Luiz and Garcia, have enabled Benfica to purchase good replacements and maintain momentum. Everything has followed from that 2009-10 side.

The following year there was another chance to succeed in the Europa League, but Benfica were defeated by Braga in the semifinal on away goals. A final against fierce rival Porto seemed certain -- but Benfica fell to a side that finished 17 points behind them in the league.

Now, after a decent run to the quarterfinals of the Champions League last season -- where tomorrow's opponents Chelsea defeated them -- Jesus has his best chance yet of Europa glory. Third time lucky?

Benfica's major problem is their poor record in big matches under Jesus. The Portuguese league is an unusual division, arguably the most unequal of Europe's major leagues -- the top sides often feature some of Europe's best talents, while the bottom sides barely feature any internationals. Both Porto and Benfica were unbeaten until the 29th game of the 30-game season, when Benfica lost 2-1 at the Dragao on Saturday evening, seemingly handing Porto the title.

The main focus of the league is about blasting away minnows, and Benfica often struggle to adapt against top opposition.

"We always look at the game with a much more offensive strategy than defensive. We are a team that takes risks," Jesus insisted.

Jesus' record against Porto is dreadful -- he won the first meeting in 2009 but hasn't triumphed in the seven league contests since. Even when Benfica won the title in 2009-10, they lost at Porto in the final weeks. That doesn't detract from Benfica's title, but they hardly triumphed in style -- especially when you consider that, the following season, Andre Villas-Boas' Porto thumped Benfica 5-0 at home, then clinched the title at the Estadio da Luz.

There are question marks about Jesus' appetite for the big game -- and, more specifically, his tactical decision-making. He's animated on the touchline and feisty in press conferences, but that isn't enough to win games against top-class opposition. Meanwhile, his appreciation of Barcelona's "total football" isn't always obvious when Benfica are dominated in terms of possession.

When Jesus travelled to Russia last season to take on an excellent Zenit side, he outlined his proactive approach.

"Benfica plays its own game," he said. "We're not going to change our tactics." Benfica lost 3-2 in a scrappy game.

One of Benfica's persistent failings is their inability to nullify attack-minded opposition full backs. This is arguably a legacy of Jesus' previous preference for a midfield diamond, when Benfica concentrated on packing the centre of the pitch and allowing the opposition out wide.

On Saturday night, Porto right back Danilo scampered forward past inexperienced winger Ola John, while Alex Sandro got the better of Eduardo Salvio, the 22-year-old wide playmaker, as Benfica sat deep in their own half. They nearly achieved the all-important draw, of course, but sometimes Jesus lacks functional, reliable players capable of "doing a job" against equal or superior opposition. In Portugal, Jesus is considered a peculiar character, but a fine strategist. In the truly big games, we're yet to see evidence.

With the culmination of the Portuguese league campaign and the Europa League final, this is unquestionably the biggest week in Jesus' spell at Benfica. He was a little unfortunate against Porto, but the clash against Rafael Benitez might come to define his managerial career -- even if Jesus is considered only a second-tier coach, he should be triumphing in Europe's secondary competition.