Manchester City's declining numbers support need for change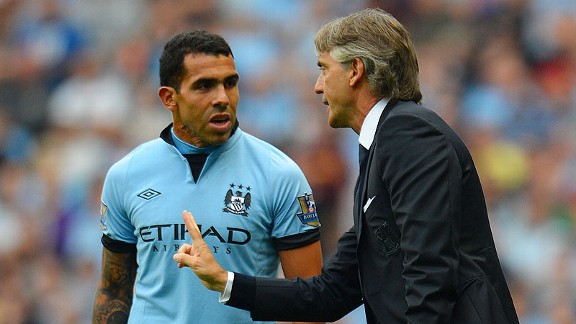 Shaun Botterill/Getty ImagesA sharp drop in form of players such as Carlos Tevez cost Roberto Mancini his job as Manchester City manager Monday.
After a weekend of speculation, Manchester City manager Roberto Mancini was sacked Monday night. A disappointing season was confirmed as trophyless at Wembley on Saturday with Ben Watson's late winner for Wigan in the FA Cup final (disregarding last August's largely unimportant triumph in the Community Shield).

Cup glory might not have been sufficient to keep the Italian in the job, however, with their performances in the Premier League distinctly worse than last term. As WhoScored.com's statistics show, the team has regressed significantly, and Mancini paid the price.

-Brewin: Mancini's defence weak

It all started last summer. While Manchester United were strengthening with the likes of Robin van Persie and Shinji Kagawa, City spent more on bringing in Jack Rodwell, Javi Garcia and Scott Sinclair. Granted, Matija Nastasic was a decent purchase, and overspending isn't realistically a problem for Sheikh Mansour, but the quality brought in was below par.

Perhaps one might suggest that saying so with hindsight is a cheap and easy shot at Mancini, but then a rather obvious retort could be that anyone could have told you that Sinclair -- who managed a combined 12 goals and assists (8, 4) at Swansea last season -- wasn't going to add much to a Premier League-winning squad.

The winger has only played 187 minutes in the Premier League all season, rightfully deemed incapable of deputising for the likes of Samir Nasri and David Silva. That, in turn, meant the duo was relied upon far too heavily, resulting in notable dips in form and spells on the sidelines. Nasri has two goals and seven assists in the Premier League this term, compared with five goals and nine assists last season; while Silva's respective 4-7 this season is dwarfed by the 6-15 he managed last season. With an average WhoScored.com rating of 7.26, Silva has been City's best performer this season, though that merely highlights the shortcomings of others.

The main problem in the Manchester City team has been the underperforming strikers. Mario Balotelli's fractious relationship with the manager became so untenable he had to return to Serie A, while Sergio Aguero, Edin Dzeko and Carlos Tevez have scored fewer Premier League goals this season (35) than the first two alone last term (37).

Injuries have upset Aguero's season; he has only started 21 games. But with a squad as good as City's, they should have coped regardless. Sixty-two goals this term compared to 93 last season says it all. They have been less lethal in all areas of their game, scoring 21 fewer goals from open play this season and nine fewer from dead-ball situations, an extra own-goal making up the difference. As a result, the team's overall conversion rate has dropped from 12.3 percent last term to 9.9.

There have been problems at the other end, too. Although they allowed their opponents fewer shots per game this term (10.2) than last (10.5), they have already conceded more goals in 2012-13 than in their victorious 2011-12 season. Plenty will point to captain Vincent Kompany's absence from 10 games as explanation, but in fact their issues are rather more deep-seated than that.

They only won marginally more of the games the Belgian started this season than he missed (61.5 percent compared to 60), and in fact conceded more goals with him playing (0.88 per game) than without (0.80).

A bigger issue has been in goal, where Joe Hart proved himself as England's number one last season, only to see that status questioned with rather less-convincing performances this time around. He has saved just 67.6 percent of the shots on target he has faced this season -- behind 11 Premier League stoppers who have made at least 10 appearances.

Compare that to Manchester United's title-winning and much-maligned David De Gea (75.5), and there is a striking difference. Additionally, Hart's rate is way down from the 74.0 he enjoyed last term - the second-highest in the league.

What's more, having taken until April to make his first and only error leading to a goal last season, the England goalkeeper has suffered from a lack of confidence this season, having committed five such costly mistakes already this term -- more than the whole City squad made in 2011-12. Something is clearly awry with Hart; maybe he has become overconfident, with little in the way of competition for either club or country, but things need to change in City's goal if they are to claim back the title next year.

Investment is unquestionably needed at Eastlands, and it will certainly come, with Manchester City's rich owners likely to splash the cash and rid themselves of the many players deemed surplus to requirements. Under Mancini, however, Manchester City stumbled and are in danger of stagnating, while the likes of United and Chelsea continue to progress, with managerial changes this summer providing reason for excitement. The powers that be at City have follow suit; the big changes started Monday, and rightly so.

All statistics courtesy of WhoScored.com, where you can find yet more stats, including live in-game data and unique player and team ratings.