Tactics Board: FA Cup Final preview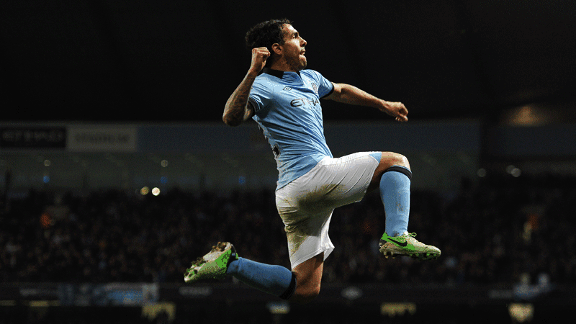 GettyImagesCarlos Tevez netted Manchester City's late winner against Wigan in the Premier League last month to expose Latics' tired legs
Manchester City and Wigan Athletic may be red-hot favourites and complete outsiders respectively, but the FA Cup finalists have something in common. Both managerial Roberto's are keen tactical tinkerers, so there are several factors that could come into play:

Last meeting

It is scarcely a scoreline that stands out. City's 1-0 win at the Etihad Stadium on April 17, however, could have a considerable bearing on Saturday's game. The reason? Wigan unsettled the former champions with their approach. Roberto Martinez normally picks one striker. Then he fielded two, but with Arouna Kone and Franco di Santo operating a little nearer the touchline to try and pin the City full-backs, the source of their width. Shaun Maloney played more centrally as a No. 10 - some said as a false nine - and although City began with two defensive midfielders, neither Javi Garcia nor Gareth Barry tracked him. Roberto Mancini, meanwhile, changed both personnel and formation, spending a quarter of an hour in the second half with a back three, before reverting to a four-man defence before Carlos Tevez got the winner.

Three or four at the back?

The biggest decision both managers face is in defence. Mancini invariably begins with four at the back but sometimes switches mid-match to a trio, as he did against Wigan last month and West Brom on Tuesday. Martinez's preference is to field three central defenders. His problem is finding three fit and competent ones and, unless Antolin Alcaraz recovers from a hamstring strain, he may continue with a 4-3-3 formation. At West Brom on Saturday, it was in effect a back two because the wing-backs were so advanced, but Emmerson Boyce is more cautious than the injured Ronnie Stam so Wigan will probably have a more conventional shape at Wembley.

Two defensive midfielders?

It may just be coincidence resulting from the form and fitness of other players, but it is unlikely. City have faced Wigan twice this season and on each occasion, they have begun with both Barry and Garcia, plus Yaya Toure, operating in a more advanced role. Despite the added insurance of the more defensively-minded midfielders, however, City failed to break Wigan down until they removed a holding player. Logically, Garcia will be benched and Toure will start alongside Barry.

Wigan's high defensive line

Unlike many of their rivals, Martinez's side often push up towards the half-way line. It is a dangerous approach against teams with speedy strikers, and City have Sergio Aguero, but there are two reasons why that is a risk they may take. Firstly, City - Samir Nasri and David Silva in particular - excel at combining quickly around the penalty box and the further they are from goal, the better from a Wigan perspective. Secondly, if Athletic drop deep, defend on the edge of their own box and the game becomes stretched, it suits central midfielders with limitless reserves of energy. Toure, City's resident Wembley specialist, has a habit of overpowering teams at the national stadium. Playing with a high line, however, could mean the slow Gary Caldwell is exposed, while Paul Scharner's propensity to wander into midfield is another reason why they can be counter-attacked.

City: strong in the middle

Mancini is likely to pick a side that could be called 4-4-2 or 4-2-3-1 with Aguero and Tevez as the strikers and Nasri and Silva as the nominal wide men. In reality, all can materialise in the No.10 position, so it is imperative Wigan excel at the base of their midfield. They had a dress rehearsal of sorts a fortnight ago when they faced Spurs, with James McCarthy crowding Gareth Bale out. The responsible Ben Watson is likely to be the deepest midfielder at Wembley; once again, Wigan will be looking to outnumber the opposition flair players around their box.

Wigan: strong on the left

Very few sides are completely symmetrical in terms of where and how they attack, but Wigan's fondness for the left is particularly pronounced. All three goals in last Saturday's 3-2 win at West Brom came from left-wing crosses and while Jean Beausejour, provider for the first, is injured, Maloney, who set up the other two, will start. City also have to be aware that Callum McManaman is expected to come infield from the right to become the second striker when Maloney turns provider on their left. With one exception, Mancini's wingers do not offer great protection to their full-backs so there is a case for choosing the diligent James Milner in front of Pablo Zabaleta on their right.

Wigan: Weak on the left

Many a side's strength is also its weakness. Wigan are a case in point. When Beausejour goes forward, he leaves space behind him that opponents can exploit. The Chilean is injured but his likely deputy, Roger Espinoza, has the same tendencies and, minus the injured Maynor Figueroa, Wigan don't have a centre-back who is accustomed to covering in the left-back position. City have two ways of troubling Wigan on their left: either they can get Zabaleta, whose lung-busting runs from his own half can sometimes make him their most advanced player, to go forward, or they can use a favourite tactic of theirs. Silva and Nasri have a habit of appearing together, often in the inside-left channel, for a cutback to the striker. Against Wigan, it makes more sense for both to head for the inside-right channel.

Set-piece problems

Last Saturday, the unmarked Gareth McAuley headed in a free kick for West Brom against Wigan. Seven days earlier, Boyce's last-minute own goal followed a Tottenham free kick. The trend is that Wigan, lacking organisation and enough taller players, can be troubled at dead-ball situations. In Toure and Vincent Kompany, City have two obvious targets, while probable substitute Edin Dzeko is another if he gets on the pitch. Wigan's Premier League goalkeeper Joel Robles is more comfortable staying on his line; perhaps their FA Cup keeper Ali Al-Habsi should come out to claim corners and free kicks more.

Impact substitutes

Wigan have rather fewer game changers, partly because they are running short of players. Di Santo, who troubled City in the league game last month, is about the only option. He can replace McManaman to give more of an aerial threat at the far post. Martinez's other option is to switch shape, between 4-3-3 and 3-4-3, to create different angles. Much to his annoyance, Dzeko is City's resident super-sub. When games aren't going his way, Mancini invariably changes something, whether the system or the players. Indeed, that has already brought one win against Wigan this season; Milner was a scoring substitute in the 2-0 victory at the DW Stadium in November.