Chelsea pay the price for lack of style
Andre Villas-Boas was always likely to have a dig at his former employers before Wednesday night's 2-2 draw between Chelsea and Tottenham, his first return to Stamford Bridge since his sacking last year.

Before the game, he was half-heartedly booed by Chelsea's supporters, in a "we don't like your comments, but we won the European Cup without you, so we don't care that much" manner, and received the world's least welcoming 'welcome' from captain John Terry. "We welcome back Andre Villas-Boas and his coaching team," Terry said in his programme notes before swiftly moving on.

- Lythell: Chelsea hit panic button against Spurs
- Fitch: Tottenham now relying on luck

Rather than focusing on personal attacks - how Roman Abramovich abandoned the project, how Chelsea's senior players turned against him - Villas-Boas concentrated on the image and identity of the club. Chelsea, he said, had no style.

"In the end, it's brought them success, and sometimes success is what matters in football - independent of the style," Villas-Boas said. "I have a different opinion. I think if you don't have a style, it makes you invisible in football."

'A style', not just 'style': It wasn't a comment about the aesthetic appeal of the side, more about their lack of identity. Villas-Boas favours heavy pressing and vertical passing in an attack-minded side, but he also complimented Chelsea's style under his former boss, Jose Mourinho.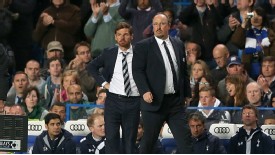 PA PhotosTottenham's Andre Villas-Boas and Chelsea's Rafa Benitez stalk the touchline
"If you remember, the Chelsea team of 2004 [to 2006] was an absolutely deadly machine of football but in a different way ... great, great counter-attacking football and one of the great teams in the country," Villas-Boas said.

These days, Chelsea lack a cohesive plan, and it showed Wednesday night. The home side were up 2-1 for more than 40 minutes of the match, but they didn't have a natural game plan and seemed trapped in an awkward compromise between various strategies. They eventually dropped two points.

The Chelsea of Mourinho would have defended in numbers before counter-attacking to pinch a third goal on the break. The Chelsea of Villas-Boas would have risked conceding an equaliser by trying to score a third goal. The Chelsea of Roberto Di Matteo would have done the former during his 2011/12 campaign and the latter during his 2012/13 campaign. The Chelsea of Rafael Benitez didn't really do anything.

Benitez instructed his players to sit deep in two banks of four, with Oscar and Eden Hazard in defensive roles inside Chelsea's own third. Neither looked entirely comfortable, and both tired very obviously before Benitez replaced them. Victor Moses and Yossi Benayoun were introduced - with Chelsea's supporters booing the latter change.

Chelsea didn't have a clear strategy. They half-heartedly counter-attacked, with Ramires wasting their main opportunity on the break when he slipped over after great work from Juan Mata. They didn't defend with any certainty, particularly down the flanks. And they didn't keep the ball, killing the game, as a good possession-based side would. They did nothing. Villas-Boas had a point - what is Chelsea's style?

Benitez tetchily responded to a few (rather aggressive) questions on the subject in his post-match news conference. When pressed on what his strategy was in the final 20 minutes, and why he made the substitutions he did, he didn't have an explanation. "I make the decisions," he simply insisted, and when outlining why he made relatively negative switches, he asked the relevant journalist whether he thought a side would be more likely to win a game by using five strikers, which wasn't really the point.

But the fault is only partly Benitez's. Chelsea have had four managers in the past 24 months, plus a complete restructuring of the side between Di Matteo's two guises as manager. Carlo Ancelotti relied on individual ability on his way to the league title, and his predecessors haven't had long enough to implement their plans. Villas-Boas and Di Matteo both had a long-term vision but had their contracts terminated suddenly, and Benitez was always an 'interim' appointment, much to his disgust, and hasn't been able to shape the team to his personal preferences.

Chelsea aren't an unattractive team this season - how can they be, with the most creative player in the league, Mata, plus the silky wing play of Oscar and Hazard? Nevertheless, there's something completely lifeless, uninspiring and characterless about them - they're an expensive collection of players thrown together in the expected formation by a hastily appointed manager who has no incentive to build something for the long run. If you tried to explain Chelsea's style to a football fan recently returned from a nine-month trip to outer space, you'd struggle to explain what they actually do.

This isn't necessarily a problem - trophies can be won without a defining character, especially in an era when wealthy clubs stay near the top even when going through a 'crisis'. Chelsea won the Champions League last year, and they are odds-on favourites to lift the Europa League trophy later this month.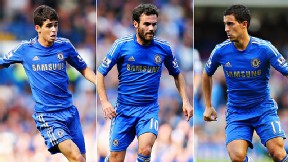 no_source / Getty ImagesOscar, Eden Hazard and Juan Mata could be central to Chelsea developing a clear identity.
Still, you can't help feeling that Chelsea's supporters sense the lack of identity, and it's about more than football style. The firing of Di Matteo was so unpopular primarily because he'd been so successful in his short period but also because he provided a link to Chelsea's past. The Italian joined the club as a player in 1996, when Chelsea had finished in the bottom half the previous campaign - he scored on his debut, was an instant fan favourite and scored a brilliant opener in the FA Cup final at the end of his first season.

He scored again in the 1999 League Cup final, then hit the winner in the 2000 FA Cup final. By that stage, Chelsea had won eight major honours in their 95-year history (one league title, three FA Cups, two League Cups and two Cup Winners' Cups). Di Matteo had appeared in four of those finals and had scored in three of them. He suffered a horrific triple leg fracture the next season, and was forced to retire from football.

It's little wonder the Chelsea fans appreciated his return so much, even before the European Cup victory. He was a reminder of the good - or bad? - old days, even appointing fellow 1997 Cup hero Eddie Newton as his assistant. In replacing Di Matteo with Benitez, Abramovich sacked a club legend in favour of a man with no connection to Chelsea, a man who viewed the job primarily as a steppingstone to another club - as he's entirely entitled to do, of course.

It was the action of a disconnected owner, and, more than any previous managerial dismissal, it made Chelsea look like a cheap Galacticos pastiche rather than a cohesive football club. "You ain't got no history" is a common chant from opposition fans at Stamford Bridge. It's untrue - Chelsea have a perfectly fascinating history. They just don't have an identity.

The majority of supporters will welcome Mourinho's imminent return to Chelsea, but even he expressed doubt about the Abramovich project months before taking charge of Chelsea for the first time, saying he favoured Liverpool. "Liverpool are a team that interests everyone, and Chelsea does not interest me so much because it is a new project with lots of money invested in it," he said a few months before his appointment. Benitez's bizarrely controversial comment about plastic flags, when still Liverpool boss, hit a nerve.

Benitez will depart Stamford Bridge having done a decent job, and Chelsea might yet lift silverware this season. Having failed to win the Premier League, the FA Cup, the Capital One Cup, the World Club Cup, the European Super Cup or the Community Shield, they're likely to triumph in their seventh tournament of the season, but the Europa League is small fry to Chelsea.

The sacking of Di Matteo was a new low for Chelsea - and it's inevitable that the popular choice for Chelsea's next manager is Mourinho, another club legend. Past controversies have been forgotten; Chelsea fans simply want someone who feels as if he belongs at Chelsea, and helpfully Mourinho, rather lamely for a once fearsome manager, wants to be 'somewhere where he's loved'.

Villas-Boas fell out with Di Matteo, and he fell out with Mourinho - but even he surely would agree that both offer the club some kind of identity. It's not entirely Benitez's fault, but it's astonishing how the current Chelsea side can have so many individual talents yet be so utterly bland.