How suited to Manchester United is Moyes?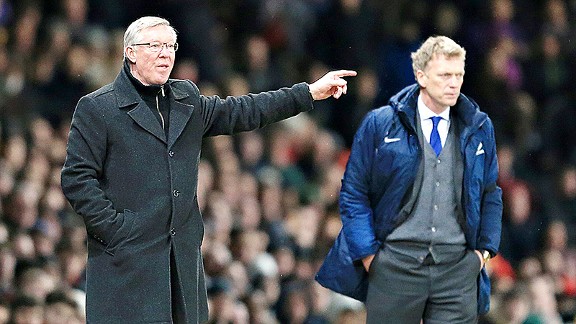 AP PhotoDavid Moyes' Everton are not too dissimilar from Fergie's Man United
Life after Sir Alex Ferguson begins at the end of the season. David Moyes has been installed at Old Trafford as the new Manchester United boss ahead of fans' choice Jose Mourinho, with the Scot considered a better long-term replacement, handed a six-year contract, and chosen by Sir Alex himself. Much has been made of the job he has done on a (relative) shoestring at Everton, with many wondering just what he could do with a budget the size of United's.

In over 11 years at Goodison Park, Moyes has turned Everton from a team that had toyed with relegation for years into one that now consistently challenges at the other end of the table. Of the 425 Premier League games he has taken charge of during that time, Everton have won 172; a win rate of 40.5 percent, while they have lost only 30.6 percent. Everton have in that time attained access to the Champions League qualification rounds and also finished runners-up in the 2009 FA Cup. He has unquestionably proved his credentials at the Toffees, but the question remains as to how suited he might be to Manchester United.

- Video: Moyes appointed Man United manager
- Payne: Moyes must allay Rooney fears
- O'Farrell: Moyes - The manager and the myths
- Bennett: Moyes steps into sky-high expectations
- Stats: How suited to Man United is Moyes?

WhoScored.com's statistically calculated team characteristics can begin to give us an idea of the similarities between Moyes' Everton and Ferguson's United. Each team has both attacking and defending set pieces as strengths. In fact, only Chelsea (16) have scored more headed Premier League goals this season than either Everton or United (13 each), and clearly both managers aim to utilise dead ball situations as much as possible, something that could make the difference between first and second for a team such as United.

They also both have attacking down the wings as a strength, with Everton having more of their attacking touches of the ball (42 percent) down the left flank than any other team in the Premier League this season, and only two teams having more down the right than United (40 percent). Moving the ball wide and attempting to score via crosses is obviously a tactic that both managers favour.

However, without Leighton Baines -- the main reason for such a high proportion of Everton's attacks coming down the left-hand side -- Moyes may have to adjust his approach. Patrice Evra is a fantastic left back, of that there is no doubt, but he is vastly dissimilar to Baines and will not perform quite the same key role for United as Baines does for Everton.

Possibly the most interesting of the strengths that the teams share is coming back from losing positions. Alex Ferguson's team has become renowned for late comebacks and they have played a huge part in this title-winning season. In fact, United have won 29 points from losing positions this season, more than any other team in the league, but just behind them in those stakes is Everton, who have won 22 points -- an incredible 37 percent of their overall total -- after having gone behind.

Ferguson instils a winning mentality in his players at United and so, it seems, does Moyes. When the pressure is on to get a result and the team is down, neither manager allows their side to give in. "Fergie time" has become a running joke from Ferguson's reign at Old Trafford, with countless important goals scored late on when the chips are down. Maybe Moyes will be able to continue that aspect of United's game.

What stands out most about Moyes, however, is that his Everton side continually finishes in the top half of the table without too much in the way of financial outgoings. In fact, in 11 years at the helm, Everton have only forked out £139.3 million -- an average of £12.7 million a year. In doing so, Everton have an average league finish of 7.55. Compare that to the likes of Tottenham, who are only six points ahead of them this season and have spent nearly £35 million each year for the past 11 seasons.


Other / WhoScored.com
Since Moyes came to the Premier League, Spurs have finished, on average, in a position of 7.27. Sunderland also have spent significantly more than Everton in that timeframe -- £68 million more to be precise -- but they have managed an average league position of 18.4 in that time. They spent three of those seasons in the Championship and that will of course bring down their average, but it is also of note that they have only once during Moyes' reign finished in the top half of the table, when they came 10th in 2010-11.

Similarly, Aston Villa have spent much more than the Toffees and yet fared significantly worse. They spend £19.9 million per year but have averaged a league position of 10.45, while Stoke, who have spent £17.8 million per summer since promotion to the top flight, have finished 12th in the league on average. Further, Newcastle have spent over £200 million in the past 11 years -- that's £18.25 million per year -- but have finished lower than 13th on average during that spell. Clearly, Moyes' achievements are not overstated. He spends less than most and finishes higher than most.

The Manchester United squad needs improving. Granted, they won the Premier League, but failed to put in a serious challenge on any other front, and that is arguably the least that is expected of a club of their size and stature. If Moyes were given the funds to make the necessary changes, the sky is the limit for where he can take the Red Devils.

When Moyes is employed at Old Trafford, he will have to deal with a weight of pressure on him that he has never before experienced. However, if he can spend as wisely as he has done in the past, there is no reason he cannot succeed.

All statistics courtesy of WhoScored.com, where you can find yet more stats, including live in-game data and unique player and team ratings.