Huddlestone surprises Spurs with midfield re-emergence


This evening, Tottenham Hotspur are holding a testimonial dinner for centre-back Ledley King. It's a high-class event, with Park Lane's Hilton the venue and tickets ranging between 200 and 500 pounds.

Modern day Premier League footballers hardly need an extra cash injection at the end of their careers -- and the money raised is often donated to charity anyway -- but King is the classic example of a player who merits a testimonial. A one-club man and a captain of the club whose career was prematurely curtailed by injury, there's been great demand to attend the dinner, with a proper testimonial match planned later this summer.

-- Time for Spurs to lay hoodoo to rest

A decade of service is traditionally the required length of time spent at a single club before a testimonial is granted, and with a frequent turnover of players and managers over the past few years, Spurs fans have rarely been given the opportunity to show their appreciation for a particular player.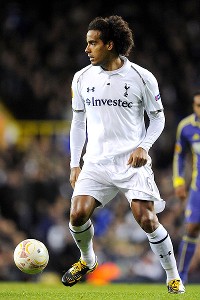 Press Association/AP ImagesTom Huddlestone, one of Spurs' longest-serving players along with Michael Dawson, has persisted at midfield despite frequent injury.
Darren Anderton played for 12 years at Spurs until 2004 but was never offered such a game.

"I was told a couple of years ago that I could have a testimonial, but then I found out the team would be on an end-of-season tour to Malaysia, so I could play, but Tottenham wouldn't have a team there. That was basically them saying they didn't want to do it," he once complained. "It wasn't for the payday. I just would have liked to say goodbye to the fans after 12 years."

The last man to have a testimonial at Spurs was legendary manager Bill Nicholson in 2001, to mark 40 years since he led Spurs to their last league title. It was a hugely popular event, with some fans locked outside a capacity White Hart Lane.

With King retired, Tottenham lack a true symbol of the club -- a 'bandiera,' as they say in Italy. The two longest-serving players are now Michael Dawson and Tom Huddlestone, who both signed for the club in January 2005, although Huddlestone remained at Derby County until the summer. It feels odd that these two players are theoretically only two years away from a testimonial of their own -- both have suffered significant injury setbacks in recent years and have been unable to cement their place in the first team. Huddlestone admits he didn't progress as quickly as expected during his first few years at White Hart Lane.

Manager Andre Villas-Boas seemingly tried to offload both last summer. The Portuguese coach had sold captain Bruno Alves and vice captain Raul Meireles in his first month at Chelsea, was keen to lessen the influence of John Terry and Frank Lampard at Chelsea, and was seemingly intending to start 2012-13 without King, Dawson and Huddlestone, Spurs' three longest-serving players, in his plans.

With King retired, Dawson and Huddlestone were left out of the 18-man squad to travel to Newcastle on the opening day -- at least the former had reliable centre-backs ahead of him in the pecking order, but even Jermaine Jenas was favoured over Huddlestone.

Dawson has performed admirably on his return to the side and has been helped by injuries to Younes Kaboul, William Gallas and Benoit Assou-Ekotto, which has often pushed Jan Vertonghen to left-back.

But Huddlestone's re-emergence has been entirely more surprising. He was dismissed just seven minutes into his first appearance under Villas-Boas, who might have turned against the midfielder quickly. But the suspension was overturned and he was given further opportunities alongside Sandro, after Villas-Boas was impressed by his performances in training. The 'double pivot' helped stabilise Spurs at a period when their first-choice midfield trio from last season -- Scott Parker, Luka Modric and Rafael van der Vaart -- were all either injured or sold.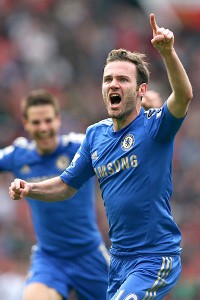 Alex Livesey/Getty ImagesJuan Mata's creative skills will provide Tom Huddlestone with his biggest challenge yet.
Then came a familiar problem -- injury. Huddlestone picked up a knee injury in mid-December, missed five games and returned for 10 minutes during the 1-1 draw with Manchester United. He picked up another knock in the FA Cup defeat at Leeds and didn't play in the league again for 10 weeks. A transfer in January was mooted, with Fulham the likely destination -- the clubs have traded a succession of players over the past decade.

"Nothing was that close to happening," Huddlestone has told the media, although he conceded, "At times, you think you might need to move ... if you don't play for a few months, especially."

With Sandro injured and Scott Parker seemingly not positionally disciplined enough for Villas-Boas' system, Huddlestone has re-emerged as a serious option in the centre of the pitch. In the 2-2 draw against Everton in early April, his introduction for Parker helped turn the game -- he sprayed his stereotypical long passes to the flanks as Spurs piled on the pressure. His impact against Manchester City a fortnight later was even better -- Spurs moved from 4-2-3-1 to 4-3-3, with Huddlestone dictating the final 20 minutes from deep, and playing a great pass to Bale for the clinching goal in Spurs' 3-1 victory.

Those two performances were both as late substitutes, but now Villas-Boas considers Huddlestone a serious option as Spurs' deepest midfielder. He and Parker are almost polar opposites: Parker bases his game around pure mobility but can lack intelligence in his play, while Huddlestone reads the game brilliantly and, as former boss Harry Redknapp put it, is "the best passer at the club by miles."

The statistics sum it up: The two players have an almost identical pass completion rate, but Huddlestone plays a long pass three times more frequently than Parker, who compensates by winning the ball 50 percent more frequently than his midfield partner.

The deepest midfielder in Villas-Boas' system is crucial in setting the tempo of the passing. While encouraging passing football, the Portuguese coach constantly speaks of how he prefers a 'vertical' game, getting the ball forward quickly. Villas-Boas loved Fernando at Porto and gave unknown youngster Oriol Romeu chances ahead of John Obi Mikel at Chelsea because of his positive distribution. With Spurs basing their game around width, Huddlestone's long diagonals are perfect for facilitating their favoured style of play.

Gareth Bale is the star man, but arguably Villas-Boas' key performer on his return to Stamford Bridge will be Huddlestone, especially with injury concerns over Scott Parker and Moussa Dembele. Spurs were defeated 4-2 in the reverse fixture because Oscar, Juan Mata and Eden Hazard dovetailed superbly in that central zone between the lines -- and that was when Villas-Boas used both Sandro and Huddlestone as extra defensive protection.

The question with Huddlestone, as always, is whether his brilliant long passing successfully compensates for his lack of defensive contribution -- in perhaps the Premier League's most exciting match of the season, against Mata, the most creative player in the division, this is one of the most important tests of Huddlestone's career.