WEST BROMWICH ALBION 2-3 WIGAN

It is almost nine decades since a fundamental, seemingly irreversible, change in tactics. There was a time when two out-and-out defenders was considered enough, but it was in the 19th century and in the years before and after World War I.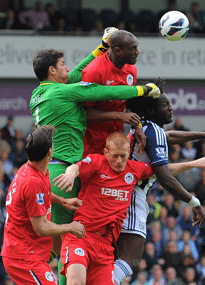 GettyImagesWigan boss Roberto Martinez turned back the hands of time with his 2-5-2-1 formation at West Brom
Then its basic failing became clear as, with Herbert Chapman's Arsenal proving early and successful pioneers, the centre-half was withdrawn to become a third man at the back, and the 2-3-5 formation was consigned to history.

Over the subsequent years, managers have played with three, four and five at the back. Two or fewer has been anathema. Or it was until the ever unorthodox Roberto Martinez arrived at the Hawthorns minus his three best central defenders - Antolin Alcaraz, Ivan Ramis and Maynor Figueroa were all injured. So a 21st-century manager found a 19th-century solution.

- Evans: Defeat highlights West Brom's needs
- Brown: Dream alive as Wigan edge thriller

Some felt Martinez played a back four but, on either side, Jean Beausejour and Ronnie Stam operated so far forward that they were wing-backs. Others thought midfielder Ben Watson was operating as a third centre-back. Actually, he was usually around ten yards in front of Paul Scharner and Emmerson Boyce. So Wigan were playing that little-used system, 2-5-2-1.

They have long been known for fluid, flexible tactics, albeit normally swapping between a defensive trio and a quartet. Here two could become five: when West Bromwich Albion had goal kicks and three aerial targets in Shane Long, Romelu Lukaku and Marcus Rosenberg, Beausejour, Watson and Stam formed a quintet along with Scharner and Boyce.

Yet at others, especially in open play, Wigan did only play with a defensive duo. In part that was logical: because Albion only had one central striker, although the front three interchanged, three men could have been left marking a solitary player, leaving Wigan short of numbers elsewhere on the pitch. In other respects, of course, it was a high-risk strategy, which is why everyone else opts for the insurance extra defenders offer. There was space on either flank – Albion began by getting behind Beausejour, an approach that threatened to be profitable – and still more behind the Wigan defence. They played with a high defensive line against a side with speedy forwards, perhaps explaining why club captain Gary Caldwell, a centre-back, was an unused substitute.

When Wigan lost the ball, their aim was to get a third player – sometimes Beausejour, sometimes Stam, sometimes Watson – to join Boyce and Scharner. Constantly talking, Watson shouldered a large amount of responsibility for getting others into position. His role was made all the harder as this was his first appearance in almost six months. When Martinez talks about "good football concepts", as he sometimes does, this is what he means. Watson was required to use his brain, rather than simply following orders.

Wigan's was an unusual XI in many ways. Because Scharner has spent much of his career in the middle of the pitch, they had eight players who could be called midfielders by trade - perhaps only Barcelona can field as many at the same time - with Boyce, forward Arouna Kone and goalkeeper Joel Robles the only exceptions.

Yet a problem came when Scharner went into midfield and lost the ball. Albion are a counter-attacking team anyway and Wigan were left with only one specialist defender, Boyce, at the back when Rosenberg was left in a straight sprint with Watson, not normally exposed in such a position, to set Long up for the opener. Stam, the right wing-back, could not get behind the Irishman, partly because of his advanced station.

Since Steve Clarke has switched to 4-3-3, Albion have the advantage of fielding strikers on the wing. It makes using wing-backs against them more dangerous. However, they were also key to Wigan's attacking gameplan, and not merely because Beausejour provided Kone's equaliser.

Because Albion have been particularly solid in the centre when Youssouf Mulumbu and Claudio Yacob have been paired in the middle of midfield, Wigan needed to outflank West Brom. Their wingers do not normally hug the touchline: here they did and all three goals came from left-wing crosses, two from Shaun Maloney. When the Scot operates on one side, the other wide man, Callum McManaman, is charged with getting in the box to become a second striker, as he did for the winner.

By then, Martinez had swapped to a back four of sorts. He introduced an out-and-out central defender, Roman Golobart, after 57 minutes, ending his experiment with a back two, and shifted Boyce to right-back. Yet with Beausejour being stretchered off and being ruled out for ten days and Figueroa also injured, he has no obvious left-footed defender or wing-back. Midfielder Roger Espinoza ended the game standing in. Short of centre-backs and now missing left-sided players, Martinez may have to find another unconventional answer to a problem.