Serie A's battle for third down to Milan, Fiorentina
OK, hands up, who remembers Serie A? After a fortnight where the major talking point has been the Bundesliga's dominance over La Liga -- with the Premier League chipping in with some end-of-season awards -- Italian football has taken a backseat.

It's a position Italy has increasingly become accustomed to. Once revered as the finest league in Europe, there's still much to recommend Serie A -- but the UEFA coefficients now firmly rank it as the fourth-best league in Europe. Serie A boasts no semifinalists in either the Champions League or the Europa League, and it has featured an exciting title fight. Juventus have been on course for the title throughout the campaign, effectively ending the contest with their 1-1 draw away at closest challengers Napoli, who will finish second. Attention has turned to the battle for third.

Of course, even the battle for third sums up Italian football's current malaise. In England, Spain and Germany, it's the battle for fourth. These days, only three Serie A sides qualify for the Champions League. However, at least there's genuine excitement, with Milan and Fiorentina challenging for the final slot in Europe's premier competition.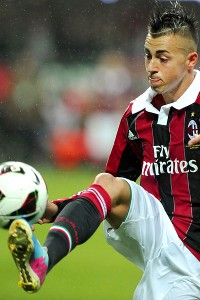 Claudio Villa/Getty ImagesMuch of Milan's recovery from a shaky start is due to Stephan El Shaarawy. Mario Balotelli's addition in January has picked up the momentum.
It's been an unusual battle for third this season. Inter were impressive early on but have fallen away, while semi-regular challengers like Roma and Udinese have struggled to keep pace. Instead, Milan have recovered from a disastrous start -- when Max Allegri seemed days away from the sack -- while Fiorentina have fulfilled their potential with a strong challenge, an excellent turnaround from last season, when they were more concerned about relegation.

So this is it: Milan versus Fiorentina for that all-important third place. We're used to this kind of situation at this point of the season -- newspapers setting out each side's fixtures side-by-side, with an inevitable debate about which club has the more favourable run-in.

But here's the strange thing about Milan and Fiorentina's run-ins: They're almost identical. With four games left, both sides have three matching fixtures -- Roma at home, Siena away, Pescara away. The other match couldn't be more similar; Milan are at home to 16th-placed Torino, Fiorentina at home to 17th-placed Palermo.

However, these are fundamentally different sides. Allegri has finally stumbled upon a strategy that suits his players, but Milan remain a collection of individuals vaguely assembled into a useful system rather than a genuinely cohesive group of players. Allegri depended upon the sudden rise of left-sided attacker Stephan El Shaarawy to save his job, while Mario Balotelli's arrival late in January has continued the momentum as El Shaarawy has faded.

There's a lack of definitiveness about the way Milan play. Sometimes their deepest midfielder is a pure scrapper like Massimo Ambrosini; sometimes it's a regista like Riccardo Montolivo. Kevin-Prince Boateng has complained about playing three positions -- on the left of a midfield three, as a number 10 and as a right-side forward. Giampaolo Pazzini, a deputy for the suspended Balotelli, is a different type of player to the ex-Manchester City striker. You're never entirely sure whether Allegri's switches are because of tactics or simply to keep everyone happy; in fairness, even his league title in 2010-11 was something similar.

Fiorentina's rise owes much to the recruitment of talented footballers, but it's a system-first team. Even as Vincenzo Montella has switched between 4-3-3 and 3-5-2, it's easy to identify Fiorentina's first XI. There are familiar relationships across the pitch, and the midfield trio of David Pizarro, Borja Valero and Alberto Aquilani has worked brilliantly.

"Here, we want to play football and entertain the fans," Montella said. Barcelona have been a clear influence.

There are obvious patterns of play. Pizarro spreads the play wide to the wing-backs regularly, Valero motors forward unnoticed from left of centre to the edge of the box, and playmaker Adem Ljajic moves wide to overload the flanks. The defenders are proactive with their positioning and positive with their passing. Fiorentina don't have a star like Balotelli, they lost Montolivo to Milan as the Italian international wanted to move to a bigger club, and they can't afford Robinho as a super sub -- but Montella has done a better job than Allegri at squeezing the most out of his squad.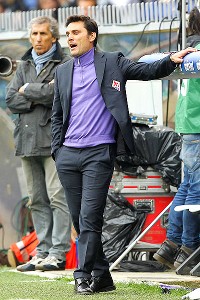 Marco Luzzani/Getty ImagesVincenzo Montella has installed a system-first philosophy at Fiorentina.
Montella has triumphed too in his direct battles with Allegri. Fiorentina's 3-1 victory at the San Siro in November was an impressive tactical triumph that proved Fiorentina's quality, but equally impressive was Montella's decision-making in Fiorentina's 2-2 draw with Milan at the Artemio Franchi.

Fiorentina had centre-back Nenad Tomovic rather harshly dismissed for a perceived elbow on El Shaarawy and lost star forward Stevan Jovetic to injury. Already 1-0 down, Montella replaced Jovetic with a defender to complete his back four, and Fiorentina played the game without a striker. They conceded a second but dominated possession and eventually won two penalties to get it back to 2-2. If Fiorentina do pip Milan to third place -- they remain outsiders, starting from one point back -- Montella's intelligent tactics during that match will be a huge reason.

For Italian football as a whole, the progress of both clubs is encouraging. Milan lost a wealth of experience last summer -- Thiago Silva, Zlatan Ibrahimovic, Rino Gattuso, Pippo Inzaghi and Alessandro Nesta all departed -- and they've built a younger, fresher, more dynamic squad.

"We are on the right track by focusing on youth," Allegri said. "We are building a new Milan, so this is an achievement that takes time."

Fiorentina, meanwhile, have constructed arguably the most technical side in Serie A and will freshen their squad again this summer with talented attackers -- although Jovetic is likely to depart.

"The team is doing very well, but I think it's evident we can grow a great deal," Montella said. "You cannot do everything in a year, but this is a start."

For both sides, long-term planning is obvious.

Too few clubs in Italy have adjusted successfully to the technical and tactical revolution that has happened elsewhere in Europe over the past few years. Gradually, the green shoots of recovery are emerging. Milan and Fiorentina have enjoyed impressive campaigns, and one will get the opportunity to re-establish Italy in continental competition next season.