All of Arsenal's roads skip Premier titles but lead to Champions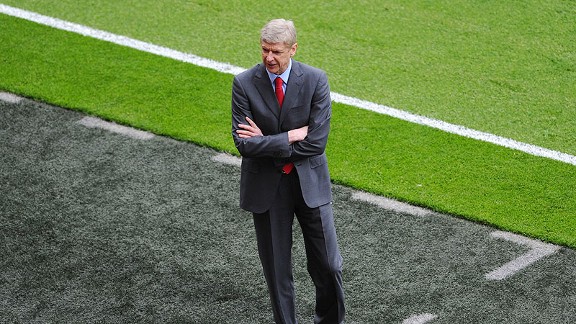 David Price/Arsenal FC/Getty ImagesArsene Wenger's Arsenal has finished third of fourth every season since 2005-06 yet only challenged for the Premier title three times.


For Arsenal supporters, 2012-13 is panning out rather similarly to 2011-12 -- an underwhelming first half of the season followed by a late rally to secure a Champions League qualification spot.

-- Defending toward the top four

It often feels like Arsenal fans are repeatedly experiencing Groundhog Day. Their last seven league finishes have been fourth, fourth, third, fourth, third, fourth, third -- and this looks set to be another fourth. No Premier League team enjoys, or endures, such consistent seasons -- but the truth is that Arsenal have three completely separate types of campaigns; they simply end up in roughly the same position.

--

Arsene Wenger's side has finished third or fourth every season since 2005-06, yet only twice -- 2006-07 and 2008-09 -- have they experienced uneventful campaigns when the minor Champions League places always appeared likely. If Arsenal's long-term status is firmly as a 'second tier' club -- unable to challenge for the league title but comfortably clear of the chasing pack for fourth -- it's actually rare for an individual season to sum it up.

In reality, despite never finishing in the Premier League's top two since their last trophy -- the 2005 FA Cup -- Arsenal have challenged for the title three times. Their problem, in stark contrast to recent campaigns, was their tendency to fall away in the final three months.

In 2007-08, Arsenal were five points clear in mid-February. Amazingly, they'd only lost one match all season -- a surprise defeat away at Middlesbrough -- and then traveled to Birmingham for a seemingly simple away fixture.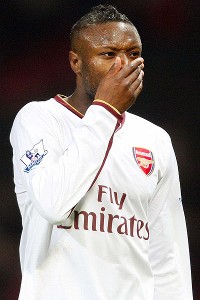 Andrew Yates/AFP/Getty ImagesWilliam Gallas' leadership came under fire as Arsenal collapsed in the 2007-08 campaign.
Then, disaster struck: Eduardo's leg was broken by a terrible Martin Taylor challenge, Gael Clichy made an inexplicable error to concede a needless late penalty and William Gallas' leadership abilities came into question with his bizarre late strop. Arsenal collapsed -- winning only one of their next seven matches (and that was a 3-2 win at Bolton thanks to a last-minute own goal), and by the time they lost 2-1 at Old Trafford in April, Manchester United had moved nine points clear.

In 2009-10, Arsenal found themselves two points behind Manchester United, and one point behind Chelsea, with seven games remaining. Crucially, they had the easiest run in -- the other two title challengers had to play each other at Old Trafford, while Arsenal faced a succession of bottom-half clubs, and star forward Robin van Persie was set to return after the majority of the campaign out injured.

But Arsenal recorded just two victories from their final seven matches, dropping points against Wigan, Blackburn and Birmingham. They finished 11 points behind champions Chelsea.

Then there was 2010-11 and a familiar pattern. It's mid-February, and Arsenal are one point behind Manchester United at the top of the league. Sir Alex Ferguson's men have a game in hand -- but they still have to travel to the Emirates.

Arsenal won that meeting 1-0, with a goal from Aaron Ramsey. But Arsenal only recorded one other victory in their final 11 matches, and this time they finished 12 points back, in fourth position.

That's three league challenges. But as we know, Arsenal have often staged sudden late rallies to secure Champions League football when other sides (most frequently, archrivals Tottenham) have threatened to finish ahead of them.

In 2005-06, Arsenal relied upon Tottenham's lasagne-inspired defeat at West Ham to re-qualify for a tournament they narrowly failed to win that season. Last year, Spurs collapsed while Arsenal won nine in 10 throughout February and March. This season, Arsenal have spent the majority of the campaign chasing Spurs but are favourites to finish ahead of them -- Arsenal lost at White Hart Lane in March, but that's been their only defeat in the last 13.

Three times, Arsenal have been good over the opening two-thirds of the campaign, then collapsed in the final three months. Another three times, it's been the opposite. Why can't Arsenal put together a good start and a good finish?

--

On a similar note, it's worth considering the apparently long-standing problems against other big sides. This season, Arsenal's record against the sides battling for the top four places (Manchester United, Manchester City, Chelsea, Tottenham and Everton) has been disastrous -- seven points from 10 matches. The only victory was achieved at home to a Spurs side forced to play for 73 minutes following the dismissal of Emmanuel Adebayor.

Again, this is similar to last season, when Arsenal also had an underwhelming record against the top sides. But it's actually not a consistent pattern over the last eight seasons. In 2006-07, Arsenal took eight points from their four matches against Manchester United and Chelsea, the runaway top two. They were unable to challenge them because of their habit of dropping unnecessary points at bottom-half clubs -- they lost to Bolton, Fulham, Sheffield United and West Ham.

In 2008-09, Arsenal beat both Manchester United and Chelsea 2-1 at home in November and drew both matches against second-placed Liverpool. But they'd already lost to Fulham, Stoke and Hull, so their title charge never got going. Why can't Arsenal play well against the big sides, and confidently defeat everyone else?

--

Sunday's draw against Manchester United was another example of Arsenal fixing one thing, then suffered when it came to their previous strong suit. All season they had started poorly at home, with various senior players attempting to find an explanation. Thomas Vermaelen said they tried to assess the opposition's strategy before the starting to play their own game, while Mikel Arteta believed they gave the opposition too much respect.

However, Arsenal dominated second halves -- they'd played brilliantly after the break at the Emirates against Newcastle, Liverpool and West Ham in particular.

And then, when they finally started well, against Manchester United -- going ahead after two minutes and dominating the first 15 with intense pressure all over the pitch, they ended up tamely fading from the game, and were slightly fortunate not to lose.

--

Identifying Arsenal's specific problem is a frustrating experience -- they solve one issue, then simultaneously create another. It's easy to paint Arsenal's problems as being consistent over a number of seasons, but that's not necessarily a fair reflection of their Emirates era.

Some suggest Wenger has underachieved in not winning the title for nine reasons, others marvel at his record of qualifying for the Champions League every season throughout that period. Realistically, the two views are both entirely reasonable -- Arsenal should have won the league at least once in the three seasons they put up a serious challenge, and they've done well to finish in the top four on another three occasions.

In terms of their performance over the course of the season, and their performance against big sides compared to smaller sides, Arsenal's problem is that they don't have a consistent problem. It's easier to make steps to fix a long-standing issue than it is to predict what their weakness will be in 2013-14.