Why Bale is a worthy winner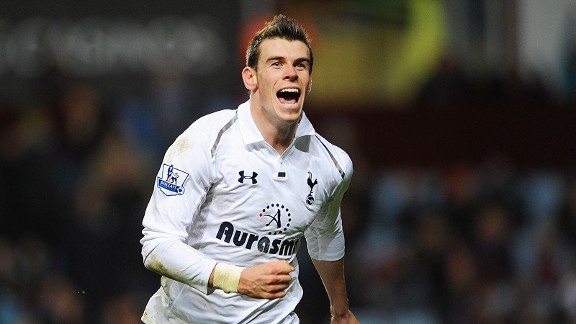 Michael Regan/Getty ImagesGareth Bale's goals alone have earned Spurs a whopping 20 points this season in the Premier League.
Boos are reported to have rung out at the mention of Luis Suarez's name at the PFA Player of the Year awards on Sunday night, and while the Uruguayan has been many people's top performer, it certainly wasn't surprising to see Gareth Bale walk away with the top gong. The nibble Suarez took out of Branislav Ivanovic's arm might have taken from him any lasting chance of winning the award, but regardless, Bale has been outstanding this term and is a worthy third winner -- after Andy Gray and Cristiano Ronaldo -- of both the Player of the Year and Young Player of the Year awards. Statistically, as well, Bale has been the best player in the Premier League, topping WhoScored.com's ratings with a seasonal average of 7.94.

- Brewin: Gareth Bale, first among equals
- Bale credits teammates for awards

His goal on Saturday to open the scoring at Wigan may not have been the most technically challenging goal ever scored in the Premier League as he 'heeled in' an attempted Joel Robles clearance, but the importance of the strike cannot be underestimated. Once again, he netted a goal without which Spurs would have dropped yet more points, taking the tally of points his goals alone have won for his side to an incredible 20 points. It is of course rather futile to consider the Premier League table with no contribution from the Welsh international (Spurs would be on 42 points and in the bottom half of the table, for the record), but interestingly, only Robin van Persie's goals have been worth more points to his side than Bale's.

There is an argument, too, that Bale has made a large chunk of those goals for himself. Going back to the goal at Wigan this weekend, it was not skill that won him the opportunity, nor was it even a shot that went in, but it was his pressing of the Latics' defence high up the pitch which saw the opportunity arise. He has certainly scored impressive individual goals this season -- at Norwich and West Ham, to name but two -- and on many of those occasions, teammates have barely touched the ball. Compare Bale's wonder goals to van Persie's goal of the season contender against Aston Villa last week. The Dutchman got himself into position with a clever piece of movement, but without the immaculate service and vision of Wayne Rooney the opportunity simply would not have come about. For Bale, meanwhile, all too often, chances are of his own making.

Bale has scored at least two more Premier League goals from outside the penalty area this season (seven) than any other player, and his tally is in fact greater than eight of the 20 teams have managed in total. His 19 goal haul is not for the want of trying; he has taken 141 shots this season, the second most in the league, but that should not take anything away from the fact that he is now just one goal away from becoming the first Spurs player to hit 20 league goals in a season since Jurgen Klinsmann in 1994-95.

While he has almost been converted into an out-and-out striker in recent months, that a large portion of his goals came when he was playing on the left -- albeit with a strong tendency to drift infield -- makes it all the more impressive. A breakdown of the positions from which Bale's goals have come this season is available on his WhoScored.com player page.

Something that seems to have slipped under the radar somewhat is Bale's improved chance creation as the season has gone on. In his first 24 league appearances of the season, the Welsh wizard picked up a rather meagre two assists, though he has set up three goals in his last five appearances, including a fantastic, inch-perfect, outside-of-the-boot cross for Clint Dempsey to begin his side's comeback win over Manchester City. He seems to be settling into his new central role more and more as the weeks go on, finding positions from which to lay on goal-scoring chances for his teammates, quite different from the marauding left-wing runs and low crosses for which he became known in seasons gone by.

Bale's unwavering confidence plays a huge part in his game, and his 'if at first you don't success, try, try and try again' ethos is unchanging as a result. While three players have attempted both more crosses and dribbles this season than Bale, he is second in terms of both unsuccessful crosses and attempts to pass opponents (187 and 71, respectively). There is little use in lamenting Bale, though, because when he does enjoy success, the results are remarkable.

If Tottenham do eventually finish in the top four and thus achieve Champions League qualification, Bale will be at the fore of the celebrations and rightly so. Whatever Spurs manage come May 19th, though, Bale's future will be the subject of much speculation and he will continue to be linked with moves to the world's finest clubs. With his performances this season, he has proven that he is worthy of those links, as one of the world's top players, and with the fundamentality of his contribution this season, he is undoubtedly a worthy double winner of the PFA awards.

All statistics courtesy of WhoScored.com, where you can find yet more stats, including live in-game data and unique player and team ratings.