Mancini musing over perfect No. 10
MANCHESTER CITY 2-1 WEST HAM

In no country, arguably, is the No. 10 revered as much as in Italy and Roberto Mancini belonged to one of its greatest generations, an era of fantastic fantasists that took in Roberto Baggio, Gianfranco Zola and, later, Alessandro del Piero and Francesco Totti.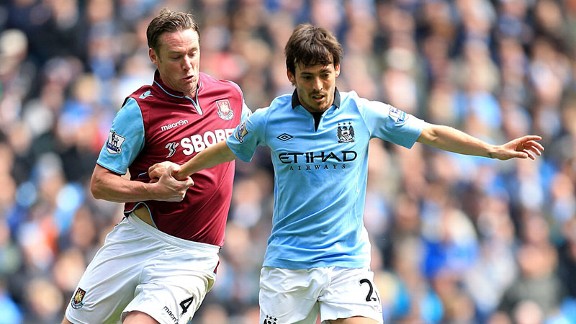 PA PhotosDavid Silva has licence to roam from his midfield position

As a manager, however, Mancini's conception of a No. 10 can change by the game. He has four major options, none of whom offer quite the same combination of creativity and goalscoring ability that he did. Two seasons ago, Yaya Toure, hitherto seen simply as a central midfielder, was pushed further forward. With his physical power, he is the most unlike Mancini.

Since then, Toure's outings in the hole have tended to be rarer. Normally, he plays with two centre forwards, often with one dropping in behind the other. Carlos Tevez and Sergio Aguero have both operated in that role, though Mario Balotelli, before his move to AC Milan, and Edin Dzeko have not.

The final choice, one that Mancini rarely opts for but deployed in the Manchester derby, was to play David Silva in the central role, rather than drifting in from the flanks. Stylistically, the Spaniard has some similarities with the younger Mancini who, though often seen as a striker, termed himself an attacking midfielder and started off in youth football playing still deeper, but with a major difference: while both can fashion goals, only Mancini has been a regular scorer.

So, apart from playing a three- or four-man defence, the Italian's main tactical dilemma is who is the modern-day Mancini, the No. 10. Tevez was chosen against his former club West Ham, Silva making his first appearance in almost three weeks in his usual role, ostensibly on the right.

Except that Silva, as ever, wandered in. Tevez, with characteristic energy, darted out to either side, sometimes joining Aguero as 4-2-3-1 morphed into 4-4-2 and back. At times City had no No. 10; at others, they had up to four from Tevez, Silva, Samir Nasri and, occasionally, Toure, who was playing as a box-to-box midfielder.

The rapid convergence of players in the middle is a tactic the former champions often use to confound opponents. West Ham used Gary O'Neil at the base of a triangle in the midfield, a role in which he excelled against Southampton, when Adam Lallana operated as a more conventional No. 10. Against City, he had rather more problems, partly because of their fluidity and ability to interchange. When Toure scored City's second goal, O'Neil was trailing in his wake; in his defence, he was overworked and had to pay attention to several different players.

In addition, while a holding midfielder is often the trouble-shooter against most sides, City can pinpoint different zones and overload them. Their opening goal was a case in point; like many a Premier League team, they tend to attack more on the left than the right. City, being City, however, they use the inside-left channel more than the outside-left area. Silva and Nasri combined before the latter set up Aguero for a typical City goal.

A favoured tactic for an attack lacking height, apart from when Dzeko starts, is for the striker to make a near-post run to meet a low cut-back as Aguero did. A similar move is for one striker to reach the byline in the inside-left area and pick out the other near the penalty spot, as happened when Joey O'Brien, with a sliding block, denied Tevez a goal. Either way, there is a pattern of play where City look to break into space between and behind the right-back and right-sided centre-back.

Their roaming briefs mean that Silva and Nasri are involved far more than the average wide men. They attempted 62 passes apiece, even though neither finished the game. They also meant that even when Tevez was alongside Aguero in attack, City invariably had a third man in the middle of midfield when they were on the ball, as they were for two-thirds of the game.

When they weren't, it illustrated the downsides of fielding a centre-forward as a No. 10. City only defended with eight outfield players, whereas Toure gives them added protection when he is in the more advanced position. With City conscious of West Ham's wingers, it meant that, until the late introduction of Javi Garcia, Gareth Barry and Toure were outnumbered in the middle and neither could sit in front of the back four. In part, it explained the unusual sight of Andy Carroll dropping deeper and spreading passes from a position in the hole. For a few fleeting moments, an old-fashioned No. 9 was masquerading as a No. 10.