Super 8s define, decide CL semifinals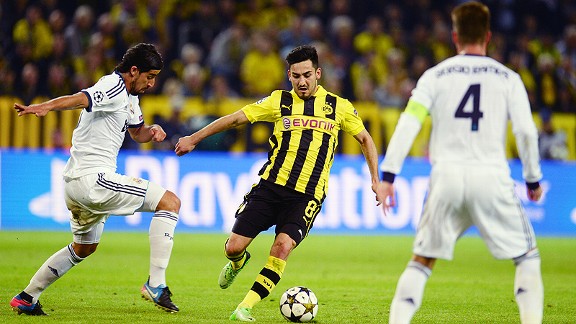 Patrik Stollarz/AFP/Getty ImagesIn Wednesday's rout, Dortmund's Ilkay Gundogan humbled Real with his pace and refined passing.
In the era of permanent squad numbers, it's become increasingly rare to see players wearing the traditional 1-11 on their backs, even though positions are still spoken about in those terms. We all know what a No. 9 is, for example. We're also aware of the role played by a classic No. 10. And while defensive numbering always varied across Europe and in South America, the No. 11 has traditionally been wide left, and the No. 7 stationed on the right flank.

But what about the No. 8? He was never the holding midfielder, never the most creative outlet, and not associated with a flank. Systems vary and players change roles, but the No. 8 was generally the most functional and least glamorous of a side's attacking section. In Brazil, he traditionally played alongside the pure holding midfielder (the No. 5) and was termed the "second function midfielder." Always the deputy, never the sheriff.

Uersfeld: Eternal moment for Dortmund
Delaney: BvB sets the standard
Train: Virtuoso Lewandowski decimates Real
Marcotti: Bayern's unlikeliest lads
Tomas: Barca outplayed
Hunter: Torch passed to Bavarians

This week, however, two players with that shirt number were key performers in the most dramatic week of European knockout football in the Champions League era. On Tuesday evening in Munich, Javi Martinez played a pivotal role in breaking up Barcelona's passing and storming forward into attack in Bayern Munich's 4-0 victory over Barca. The next day, Ilkay Gundogan did something similar in driving Borussia Dortmund up the pitch in their 4-1 home triumph against Real Madrid.

Martinez and Gundogan had similar roles. They were fielded to the right of centre in the midfield zone against more established international teammates. Martinez is essentially Sergio Busquets' backup in the Spanish national side, while Gundogan's place is filled by Real Madrid's Sami Khedira. Though Martinez and Gundogan weren't always in direct combat with their rivals, they unquestionably upstaged them.

Martinez's job versus Barca was interesting. The primary feature of his game is reliable passing from deep in midfield, but on Tuesday his distribution was barely noticeable. Twenty other players completed more passes than Martinez -- but no one completed more tackles, nor committed as many fouls.

Fouling is hardly a positive thing, but Martinez physically unsettled Andres Iniesta, forcing his opposite number into increasingly deep zones from which he was unable to connect midfield and attack. Iniesta therefore spent too long replicating Xavi's role when he should have been supporting the clearly unfit Lionel Messi.

Some would say that tackling isn't a positive, either -- Xabi Alonso, for example. "I don't think tackling is a quality," he told The Guardian back in 2011. "It is something you have to resort to, not a characteristic of your game."

That's the Spanish interpretation, but German football is different -- there might not be the same emphasis upon tough challenges that we see in in England, but possession means turnover quickly and consistently, which is why "transitions" (from having the ball to not having the ball, and vice versa) have become such a key part of German football thinking. Of the 92 clubs in Europe's major five leagues this season, the four most prolific tackling sides all play in the Bundesliga. Martinez, in his own words, is in the Bayern side "to help other players, make sure that there is equilibrium between attack and defence … I am the most German of all Spanish footballers."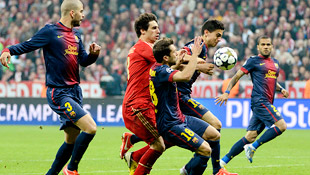 Getty ImagesWith Barcelona so used to applying a measured possession style, Javi Martinez unsettled Andres Iniesta and Co. to superb effect.

"Javi Martinez has a spectacular physical potential," Busquets once said. "He gets all around the pitch and wins possession back everywhere. He's the lungs of the team." That energy and physicality is rare among top-level Spanish footballers, and Martinez's verticality in possession was encouraged by his former Athletic Bilbao manager, Marcelo Bielsa.

Gundogan's role, meanwhile, was more refined. He spent long periods wandering into deep positions to collect possession before playing positive forward balls, finishing the evening as Dortmund's top distributor, having played 56 passes. He also consistently surged forward into attack, however, and the 22-year-old is at his best when given positional freedom alongside a calmer, more disciplined partner.

Dortmund manager Jurgen Klopp favours a double pivot protecting his defence, with both midfielders given license to venture forward -- but Gundogan had often appeared more impressive when playing alongside Sebastian Kehl, a solid veteran, rather than the more energetic Sven Bender. On Wednesday night, Bender scrapped in the holding role, with Gundogan pushing forward more often.

"They were the better side by far; they won their individual battles," admitted Real Madrid manager Jose Mourinho. "They were better organised than us, better physically and better mentally."

Simply by creating a high-tempo game about individual battles, and about physicality, Dortmund thrived.

It's not insignificant that Martinez and Gundogan were crucial to their respective side's performances, either. If this is the week German football has overthrown Spanish football to become the dominant European league, there are implications both in terms of style and strategy. The Spanish dominance caused an era of slight, technically gifted footballers thriving in matches based around possession and patience. The likes of Xavi, Iniesta and Xabi Alonso typify Spain's approach, but all three performed poorly against physicality this week.

When Spain beat Germany 1-0 in the 2010 World Cup semifinal, two frequently cited statistics were Spain's dominance of possession and Germany's greater yardage. The two were connected, though the sides seemed at opposite ends of the footballing spectrum -- Spain were technical, Germany were powerful. However, Germany is now producing footballers -- and teams -- who blend the two better than Spain. German football mixes intensity with intricacy, and even before this week, it was clear that others should be seeking to replicate the German coaching model.

The Spanish clubs completed over 400 more passes than the German sides this weekend, but as we're so frequently told, the most important statistic is the score line. One goal for the La Liga sides, eight for the Bundesliga sides.

With an 8-1 aggregate score line, it was appropriate that the No. 8s played such a significant role in epitomising what German football is about.

Michael Cox is a freelance writer for ESPN.com. He is based in London and writes the Zonal Marking blog about football tactics. He also writes post-match analysis for the Guardian, and contributes regularly for FourFourTwo. You can follow him on Twitter at @zonal_marking.