Champions semi pits similarities of countrymen Goetze, Ozil
It's Spain versus Germany. League leaders against league leaders; last season's champions against last season's champions. Possession versus possession, counter-attack versus counter-attack. Barcelona, Bayern Munich, Borussia Dortmund and Real Madrid will produce a fascinating weekend of Champions League football -- and just when we didn't need any extra storylines, Bayern Munich announce the signing of Mario Goetze, their chief rivals' star player. All eyes will be on the Dortmund youth product during Dortmund's meeting with Real on Wednesday evening.

- Bayern snags Goetze from Dortmund

Goetze was crucial during Dortmund's fine 2-1 victory over Real at the Westfalenstadion in the group stage. Deployed in his familiar number 10 position, with Marco Reus starting on the right, the duo combined consistently to expose makeshift left-back Michael Essien's positional uncertainty. Fabio Coentrao will be deployed in that role this time, but having witnessed the Portuguese left-back's problems against Galatasaray in the previous round, Jurgen Klopp will surely prescribe a similar strategy, which means a big role for a Goetze, despite him preparing to turn his back on Dortmund.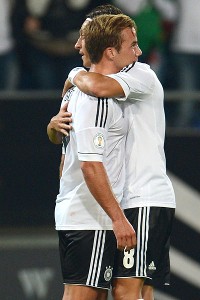 Patrik Stollarz/Getty ImagesGermany has on occasion employed Mario Goetze, left, and Mesut Ozil as dual number 10s. The two now face each other in the Champions League semifinals.
The most fascinating aspect of this tie is Goetze's battle against Mesut Ozil. They won't literally be dueling on the pitch, of course -- both will be fielded as central attacking playmakers, closely supporting their side's main striker -- but both will be charged with providing creativity from between the lines and leading quick counter-attacks.

It's a remarkable luxury for Germany manager Jogi Low to be able to pick between the two at international level. Ozil was arguably Germany's key attacking player in their excellent World Cup campaign in 2010 and has generally remained the central playmaker since -- although Low's unsuccessful tactical switch in the 2012 semifinal against Italy saw Ozil out on the right, and Germany failed to play with their usual attacking fluidity. Goetze, naturally, has struggled to get consistent opportunities in his favoured number 10 position, although Low has frequently strived to accommodate them both. Low, Goetze, Ozil: the umlaut has never had such footballing influence.

Low has even attempted to field Ozil and Goetze as dual number 10s. A convoluted experiment with a 3-4-2-1 formation away in Ukraine in 2011 was solely to field them both centrally -- his determination to get the best from both summed up by how dramatically he was willing to change his formation. The playmaking duo combined effectively but Germany looked completely uncomfortable with a back three and were consistently opened up on the break. The game finished 3-3 -- Germany had more attacking thrust, but the defensive instability was too problematic to continue with that system.

More recently, Low has utilised Goetze in a false nine role in Germany's last two qualifiers, both against Kazakhstan, with Ozil as the closest support. Low has been determined to include them both, but Germany's first-choice system probably only features one -- and that's without considering Toni Kroos.

Kroos' battle against Ozil was crucial at this stage of the Champions League last season. Bayern Munich eventually triumphed over Real Madrid only on penalties, but they produced an excellent first-leg performance to take a one-goal lead to Madrid. The most important part of their game plan was Kroos -- although he started as the number 10, he constantly dropped into midfield to help Bayern retain the ball in the centre of the pitch, ensuring dominance of possession. Ozil's strategy was completely different -- with Real attempting to play on the counter-attack, he stayed high up in a position to drive at the Bayern defence.

His good work resulted in Real's equaliser, but over the course of the game, Kroos was simply more influential as he was capable of receiving the ball in a variety of positions. The Guardian's Jonathan Wilson summarised the difference between Ozil and Kroos neatly earlier this month, his main conclusion being that Ozil is the present and Kroos is the future.

It was unusual to see Ozil outclassed in that respect. The defining feature of Ozil's game is his constant movement off the ball into different zones, helping to overload the opposition in different areas. He's particularly adept at moving to the flanks, where he can combine with Cristiano Ronaldo and Angel Di Maria, and his overlapping runs allow them into the centre of the pitch, onto their stronger foot. He's also good at sprinting beyond Karim Benzema or Gonzalo Higuain, Real's main striker, to become a support forward.

What Ozil isn't particularly adept at, however, is becoming an extra ball-playing central midfielder. His work is primarily restricted to the final third, only contributing in deeper zones when storming forward on the break. That limitation was particularly obvious against Kroos last year -- and is probably the reason Mourinho purchased Luka Modric last summer, although that transfer has proved unsuccessful. The question is whether Ozil can adapt. Or rather, whether Mourinho wants him to adapt.

This game, after all, is about counter-attacking rather than possession. The other semifinal draw puts Spain's best ball-playing side against Germany's equivalent -- which is why Kroos' absence is so crucial. Dortmund versus Real is Spain's best 'transition' side against Germany's answer, and it's appropriate that playmakers from Germany -- whose current football identity is about transitions rather than the pure emphasis upon possession seen in Spain -- will be the key actors for both sides.

Perhaps the style of this contest will suit Ozil, but if the match becomes a patient battle of possession, Goetze has the opportunity to dominate. Although a playmaker who thrives on space between the lines, and loves dribbling with the ball at speed, he's also intelligent with his positioning, happy to drop deep into midfield to find space. In the previous round, with Manuel Pellegrini ordering Malaga to sit deep in two banks of four, Goetze often retreated to extremely deep positions, behind Dortmund's holding midfielders, to collect the ball and start attacks. You won't find Ozil doing that.

Goetze's role this week will be fascinating. He unwittingly finds himself at the centre of a very modern tactical debate -- next season at Bayern Munich he's likely to become a false nine, but in this Champions League semifinal tie, will he play as an Ozil, or play as a Kroos?