Everton can survive without Marouane Fellaini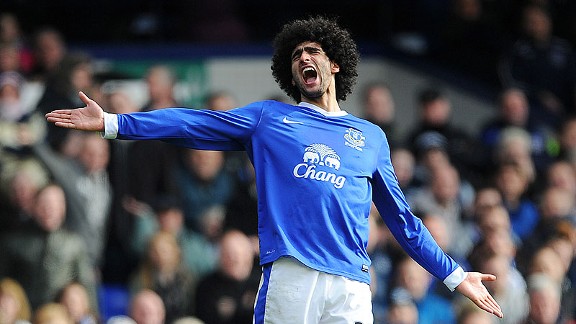 Michael Regan/Getty ImagesMarouane Fellaini has been brilliant for Everton but there's no reason to think the Toffees would collapse without him.
After an obscenely cold beginning to 2013, the great British summer is finally approaching, which means Britons will be subjected to various familiar treats in the coming months -- rain-soaked barbecues, miserable family trips to uninspiring wind-swept beaches and, with no domestic football to discuss for two months, the same old transfer rumours splashed across the tabloids.

One of the summer's main targets will be Everton's Marouane Fellaini. After significant speculation over the past two years, it seems that he'll finally bid farewell to Goodison Park this summer. With various Premier League clubs in need of a physical midfielder, only Yaya Toure is arguably as versatile in central positions as Fellaini. Offers are guaranteed to pile up, and after the departures of Mikel Arteta, Tim Cahill and Jack Rodwell in the past two summers, Fellaini might be next.

Brewin: Toffees' 'glass ceiling' could see Moyes leave

The Belgian fulfills a strange role at Everton. While he played a deeper position in Tuesday night's goalless draw at Arsenal, using his enormous frame to disrupt Arsenal's attacks, he has primarily been deployed higher up the pitch this season. There, he's somewhat unique -- he plays behind a main forward but appears more like a No. 9 than a No. 10.

Few other attacking midfielders are so based around physicality and aerial ability -- PSV's Ola Toivonen is a comparable player while Swansea's Michu replicates Fellaini's late movement into the box from his favoured deep-lying role, although Michu prefers to finish coolly with his feet rather than his head. The most obvious comparison would be to Fellaini's predecessor, Tim Cahill, who struck up a fantastic relationship with Leighton Baines. It was simple: Baines crossed the ball, Cahill headed it in.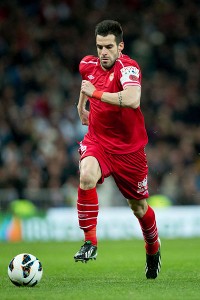 Jasper Juinen/Getty ImagesAlvaro Negredo could fill the unique void left by Fellaini and came close to joining Everton this past January.

Gradually, Cahill no longer scored goals, and it wasn't obvious what else he contributed. Fellaini hasn't yet reached that stage -- in fact, he's become increasingly prolific. But one can't help wondering whether he dominates the side too much and whether his goal-scoring threat compensates for the lack of incision from Everton's most advanced midfielder. Fellaini isn't purely physical but also isn't a player who provides through-balls for Everton's forwards. The season-long struggles of Victor Anichebe and Nikica Jelavic may partly be the result of insufficient service -- statistically, Fellaini creates only as many chances as Gareth Barry or Glenn Whelan, despite his advanced role.

Everton supposedly considered selling Fellaini last summer before Manchester City approached with a staggering bid for Rodwell, meaning that Everton didn't have to sell both. Rumours suggest Everton manager David Moyes would receive around £25 million for the Belgian if he departed -- funds that, if reinvested wisely, could improve the club significantly.

That money could comfortably buy two good players. Rather than replacing Fellaini with a like-for-like replacement (some say it would be impossible to find one), Moyes could strengthen two positions. One could be a reliable centre forward. Alvaro Negredo -- the top goal scorer in Spain behind Lionel Messi, Cristiano Ronaldo and Falcao -- wasn't far away from joining in January. The other could be a genuine No. 10, a creator who can roam between the lines -- Southampton's signing of Gaston Ramirez was a good example of the type of player Everton might approach.

Besides, Moyes has alternative options for that No. 10 role. At Tottenham last weekend, with Fellaini suspended, Moyes could have selected an old-fashioned strike duo of Anichebe and Jelavic. Instead, he played Leon Osman behind Anichebe, and Everton's entire feel was different as the pair combined nicely on the break -- unusually, the attacks were varied and there was creativity from central zones. Steven Pienaar, too, has played that role nicely, although it would be a shame to disturb his relationship with Baines on the left.

In the 0-0 draw with Arsenal on Tuesday night, the performance of Ross Barkley was particularly encouraging. Interestingly, Moyes chose to deploy Barkley behind Anichebe with Fellaini deep in midfield, rather than vice versa. Many have encouraged Moyes to use Barkley more frequently, but the Scot insists that a slow development is crucial.

"We're picking the times and the right moments to play Barkley," Moyes said after the game. "There's been a lot of talk, but we have to bring him along slowly, and he's yet not ready to be a regular." Moyes also discussed how the tempo of the Arsenal game suited Barkley, whereas when playing on the right at White Hart Lane, the game was too quick.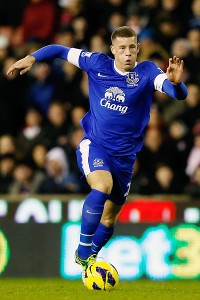 Paul Thomas/Getty ImagesRoss Barkley is another man who can star in the post-Fellaini transition, although David Moyes is intent on developing the youngster slowly and with care.

Moyes spoke about Barkley's positional future, too. "He might suit that role higher up – he's got a goal in him," the Scot said. Barkley demonstrated that on Tuesday with an excellent curling shot just past the far post -- one of four attempts, more than any other player. Barkley also showed an ability to drift past opponents on the ball and intelligent spatial awareness to create a couple of chances for teammates. He's one for the future and might help ease the pain of Fellaini's absence even if he isn't a direct replacement.

If Fellaini leaves, Everton would receive a cash injection unrivaled since Wayne Rooney's departure in 2004. That transfer still holds up as a perfect example of how to release a star man, evolve and rebuild. Rooney was inconsistent and playing better for England than for Everton, but did finish as Everton's top goal scorer in 2003-04. However, the team wasn't working as a whole -- Everton finished 17th -- and following Rooney's departure, Moyes reinvested in Marcus Bent and Tim Cahill immediately, signed Mikel Arteta and James Beattie in the January transfer window, and made Leon Osman into a regular starter. Everton finished fourth. From fourth-bottom to fourth-top: The departure of Rooney was a major factor in their progression.

Nine years on, it's time for something similar. Fellaini is a fine player having an excellent season, but with a couple of clever signings and with existing squad members becoming more crucial, Everton can improve without him.