Focus on philosophy hardly a factor in Liverpool's progress
For a club frequently mocked by rivals because of its supporters' supposedly unrealistic expectations, it's been surprisingly tough to ascertain Liverpool's Premier League objective during the past three seasons.

The 2009-10 campaign saw Liverpool finish seventh, a drop from second the previous season. In the modern-day English top division, with all of its financial inequalities, top sides rarely fall (or rise) so significantly within one season. When combined with Manchester City's new wealth and Tottenham's re-emergence as a genuine contender for the Champions League places, it was a significant blow from which the club has yet to recover. Liverpool finished eighth last season and appears set for seventh this campaign.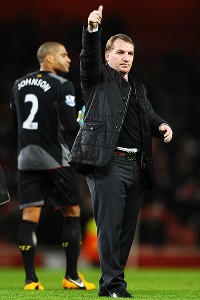 Laurence Griffiths/Getty ImagesGetting tough matches out of the way early has worked in Brendan Rodgers' favor, who is picking up easy victories as the fixture winds down.
Each season, it has been difficult to form a consensus about the club's target. When Roy Hodgson took over in 2010, Liverpool had no more than an outside chance of finishing in the Champions League places. When Kenny Dalglish splashed out on English talent, the top four still appeared unlikely. Brendan Rodgers inherited a similar situation last summer. So, especially with the Europa League now regarded as a questionable reward, what was Liverpool playing for?

The key this season, more than Liverpool's final league position, or performance in cup competitions (which compensated for Dalglish's poor league finish last season), was obvious signs of improvement. Hodgson was a veteran coach who appeared to be a "minding the shop" appointment rather than a long-term choice, while Dalglish was a returning legend but wasn't going to drag Liverpool into the modern era.

Rodgers is different: He's young, he's media-friendly, he gushes about the current Barcelona and Dortmund sides who have built excellent teams from the bottom up.

Few current managers are as insistent upon a "philosophy" as Rodgers. At Swansea, he was utterly committed to ball retention, a successful strategy that resulted in an inexperienced group of players finishing solidly in midtable. Their stylish dominance of individual matches often appeared more important to Rodgers than the result, with the Northern Irishman aware of his potential to jump into a bigger job at the end of the season. Swansea was superb the first few times you watched it, then grew gradually more frustrating -- the team is significantly more efficient with Michael Laudrup's insistence upon more direct football.

The talk of a "philosophy" is strongly linked to the view that coaches should be given time at a football club. A philosophy is grander than "tactics" or "strategy," implying a complete revolution in terms of fundamental concepts. By casting himself as such an ideologue, it was easy for Rodgers to excuse early poor results and direct attention to possession statistics, insisting that Liverpool was learning a new style of play. His two major signings were technical players who understood, and had appreciated, his coaching style at former clubs. Joe Allen and Fabio Borini are probably not the individuals to take Liverpool back into the top four, but might have set an example to the rest of the group.

Liverpool's early fixtures this season were dreadful. Preseason, there was speculation about whether Liverpool would collect a single win from its opening five matches. In the end, it didn't. For Rodgers, this unquestionably was a difficult period: Even such a confident man would have been intimidated by the pressure of collecting a first win.

However, such a difficult fixture list played into Rodgers' hands wonderfully. Every club plays the same 19 sides home and away, and by facing the big clubs first, Rodgers could emphasize the importance of his "project." Was a 2-2 result against Manchester City more promising than, say, a scrappy 1-0 win over Norwich? Probably. Points were lacking in significance this season, and Rodgers is being judged on what he might achieve in the future, not on what he's currently doing.

By suffering at the start of the campaign, Liverpool is enjoying an easier end. Only two of its final nine games are against top-half sides -- Chelsea and Everton -- and both are at Anfield. The pattern of Liverpool's season has been about convincing performances against minnows but struggles against top opposition, so this is the period when Liverpool should be picking up easy victories and proving it's on an upward curve and carrying momentum into next season.

So here is the question: Has Liverpool actually gotten any better this season? Two consecutive 0-0 draws against West Ham and Reading have been a setback, but again, not decisive in terms of Liverpool's achievements this season because points are of little consequence. Against Reading on Saturday, in Rodgers' terms, Liverpool was superb: They dominated possession, they "won" the shots count 26-6, and they forced Alex McCarthy into one of the most remarkable goalkeeping displays of the season. Rodgers spent most of his postmatch news conference praising McCarthy (whom he'd known in his brief spell at Reading) -- the implication, of course, was that Liverpool had played brilliantly.

But isn't this precisely what Liverpool was doing under Dalglish? Dominating games, leaving its supporters complaining about the woodwork, goalkeeper heroics and marginal offside decisions? As frustrating as the continual near-misses is the insistence from Liverpool's manager that everything is going swimmingly. Rodgers is a relentless optimist, and in time that will serve the club well, but there must come a point when he finally snaps and insists, no, it's not enough to dominate games without winning. The most successful sides pick up points they don't truly deserve, not the reverse.

Oddly, Liverpool have a habit of winning games comfortably: 4-0, 3-0, 3-0, 5-0, 5-0, 4-0 in the past four months. The Reds also have a habit of not turning up: 3-1 defeats to Stoke, Aston Villa and Southampton, all bottom-half clubs.

Crucially, Rodgers' attacking options are significantly stronger than at the start of the campaign, when he was forced to depend upon Suso (surely at least two seasons away from being ready) and Raheem Sterling (technically and physically ready, but precisely the type of player who mentally needs to be eased into the first team). The immediate impact of both Daniel Sturridge and Coutinho, who both impressed within their first two appearances, has been crucial in demonstrating progress.

Luis Suarez, Sturridge and Coutinho are all highly versatile attackers, while Jordan Henderson and Stewart Downing, two men revived by Rodgers (although they've just returned to somewhere approaching the form that convinced Dalglish to sign them) also have been used in various roles. It's difficult to predict precisely where they'll play in any given match. It can confuse the opposition; it can also confuse Liverpool.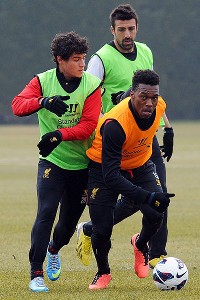 John Powell/Liverpool FC/Getty ImagesBrendan Rodgers' attacking options are much stronger at this point thanks to Coutinho, left, and Daniel Sturridge (in orange jersey).
Again, this is something that happened under Dalglish. Suarez was played upfront, then off Andy Carroll. Downing was used on the left of a three, then the right of a four, and so on. Liverpool used 4-3-3, 4-4-2, 4-2-3-1. The inconsistency was infuriating.

Rodgers is still at the stage of hopeful experimentation. In Saturday's draw at Reading, Henderson spent most of the game to the left, but Suarez, Coutinho and Sturridge were given license to rotate on the right. Patterns of play became clear: A consistent theme was Sturridge darting into the middle from the right, then Suarez running around into the space created when Reading left back Stephen Kelly was dragged inside. The majority of chances came from this method.

But then Rodgers spoiled things. Introducing Downing for Henderson shouldn't have been a problem, as Downing's natural position is in the left-sided midfield role Henderson was playing. But Rodgers meddled: Coutinho came to the left, Downing went to the right. Suarez and Sturridge were now up front together.

Liverpool had further chances and should have won. But again, two points wouldn't have made much difference -- Rodgers' focus is on the future. Wouldn't it have been better to persist with a strategy that looked consistently dangerous?

Some scoffed at Rodgers' intention to bring a new passing style to Liverpool this season. Dalglish played passing football, they claimed; Liverpool has been playing passing football for decades. That's true, but misses the point. Every top club passes the ball.

It's far more complex than that: What initially appears to be sporadic brilliance from fluid Barcelona players given freedom of movement are actually rehearsed patterns. They work beautifully because players are regularly deployed in the same positions and have formed reliable combinations. That's what Rodgers is supposed to be building, but his constant switches -- both in the format of the midfield triangle, and the positioning of the attacking players -- are holding Liverpool back.

Liverpool has improved during the course of the campaign, but mainly because of £22 million worth of extra attacking talent, and the quirks of Liverpool's fixture list, rather than a significantly increased understanding of Rodgers' style.