Lavezzi's energy picks its spots on the pitch
Barcelona's narrow away-goals victory over PSG was a fantastic tie, the type of contest European Cup football is all about. There were a variety of subplots: Zlatan Ibrahimovic against his former side, David Beckham's surprise start in Paris, Lionel Messi's fitness in the second leg. Barca emerged victorious, but the French league leaders enhanced their reputation and strengthened Carlo Ancelotti's chances of remaining in his job next season.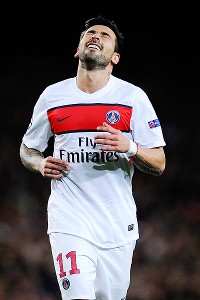 David Ramos/Getty ImagesPSG's Ezequiel Lavezzi gave polar opposite Sergio Busquets and Barcelona fits, but he can't be counted upon in decisive moments.
The most interesting on-pitch battle was between two very different players: PSG's Ezequiel Lavezzi and Barcelona's Sergio Busquets. Each summed up his respective side's approach perfectly: Lavezzi is direct and full of energy, while Busquets' main qualities are his impeccable positional sense and his supreme calmness on the ball. As soon as we witnessed the formations in Paris, it was obvious their battle would be crucial to the tie.

Neither player decisively won the individual duel, but few players have caused Busquets as many problems as Lavezzi. The Argentine played a dual role: He dropped back into midfield to pressure Barcelona's holding midfielder but also spun in behind, linking up with Ibrahimovic on the break. After just four minutes of the return leg, he nearly had a crucial impact. Xavi Hernandez rolled a square pass to the feet of Busquets -- one of the 96 passes Xavi played Wednesday night, each one finding its intended target -- and Busquets was immediately pressured by Lavezzi. The Argentine won the ball, sprinted away from Busquets, appeared to be through on goal -- but then got the ball stuck under his feet and didn't even manage a shot.

It might seem harsh, but it was a perfect demonstration of Lavezzi's strengths and limitations. There's another way he contrasts with Busquets: The first couple of occasions you watch the Barcelona midfielder, he appears a decent, straightforward and unspectacular defensive midfielder. Pep Guardiola was frequently criticised for favouring the La Masia product over the more powerful, mobile Yaya Toure. But over the course of a season, or an international tournament, Busquets' qualities become clear -- his positioning, his distribution, his marking.

Lavezzi is the opposite. Immediately, he appears to be an exciting player -- he's obviously quick and energetic, so it's tough to have a negative first impression. Ezequiel Lavezzi, the Argentine No. 11: His name, nationality and number feel attractive, merely from looking at the team sheets.

However, Lavezzi is a peculiar player, only consistently useful when deployed in specific, strict tactical roles. At Napoli, he hugged the left touchline in Walter Mazzarri's 3-4-3, stretching the play and providing pace in behind. By providing the width, and pushing the opposition defensive line back, he allowed Edinson Cavani to move closer to goal and opened up space for Marek Hamsik between the lines. Napoli, for all their brilliant moments under Mazzarri, are a very functional side.

When Lavezzi has a decision to make -- in front of goal, or in terms of playing an incisive pass -- he frequently gets it wrong. For such a highly rated forward -- a regular member of the Argentine national squad, at a time when they're blessed with an astonishing array of attacking talents and a €30 million signing for PSG -- his goal-scoring record is average. In three seasons at San Lorenzo and five at Napoli, his league goal-scoring tally hasn't once reached double figures, despite the fact that he's averaged 30 matches per campaign. At the international level, he's scored twice in 21 caps.

Which isn't to say Lavezzi isn't a useful player. In fact, while Barcelona forwards have often struggled to have an impact in a side dominated by Lionel Messi, Lavezzi would be the perfect player for Tito Vilanova's side.

In terms of raw quality, Lavezzi might be lacking -- but he knows the runs to make, and he understands the nature of playing wide in a front three. In the 2011 Copa America in Argentina, when Sergio Batista openly stated he was attempting to get the best from Messi by replicating Barcelona's system, Lavezzi was a natural option for the wide forward role, even ahead of Sergio Aguero.

Again, it was classic Lavezzi. In the opening game, a 1-1 draw with Bolivia, Argentina's best move came when Messi got the ball between the lines and slipped the ball through the defence for Lavezzi, breaking in behind from wide. He was one-on-one with the goalkeeper, but the shot went wide. In the next match, the 0-0 with Colombia, exactly the same thing happened. Lavezzi was substituted and dropped, and he played only a minimal role the rest of the tournament. Tactically he was perfect; technically his contribution wasn't good enough.

On a PSG squad packed with talented but individualistic attackers, Lavezzi is something different altogether. Ancelotti wouldn't have been able to field another fancy player alongside Ibrahimovic, Lucas Moura and Javier Pastore against a side as strong as Barcelona, but Lavezzi was the perfect player to play between those three, connecting midfield and attack, providing the energy high up the pitch.

Indeed, Champions League football might suit Lavezzi best. Last season at Napoli, he was the star player in the 3-1 win over Chelsea, staying high up the pitch in behind Branislav Ivanovic and scoring two important goals (inevitably, he also missed another fine chance). This season at PSG, he's better-suited to the tactical demands of their European matches. In Ligue 1, sides defend deep against PSG and prevent conceding space in behind. Ibrahimovic is capable in either situation -- in Ligue 1 he's a target man, in the Champions League he becomes a playmaker-forward (he created six chances last night, more than any other player, and leads the Champions League in terms of assists).

Lavezzi is less adaptable, and while his pace is crucial in behind-opposition defences in Europe, against domestic sides that park the bus, he's limited. His Champions League record is five goals in nine games -- in the league, he's managed just three in 22.

"It's a very difficult league, very physical and very tough," he admitted.

He's often playing high up against defenders in Ligue 1 -- at Napoli, he thrived in a counterattacking side, where he picked up the ball on the run.

Lavezzi isn't a bad player -- in fact, he can be a very good player. But it's an alarming illustration of the importance of money in modern day football: Lavezzi is basically a disciplined, energetic attacker who plays as a permanent decoy, and yet he cost nearly €30 million.