Keep calm and hang onto Berba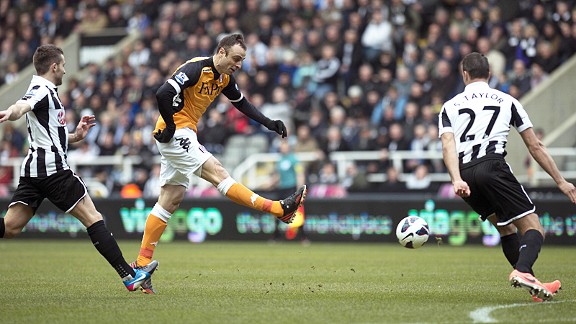 GettyImagesDimitar Berbatov: Without his strikes Fulham would be 12 points worse off
When Mladen Petric scored two goals and set up another in an opening day 5-0 victory over Norwich, it seemed, right away, as if Fulham had found an instant replacement in the goalscoring department for the Tottenham-bound Clint Dempsey. Then, less than two weeks later on transfer deadline day, the purchase of Dimitar Berbatov seemed rather unusual, though there was of course no doubting the Bulgarian's credentials and potential to improve the Cottagers. Berbatov is now a key cog in Martin Jol's Fulham machine and, as WhoScored.com's statistics tell us, when Berbatov performs, results mirror his efforts.

- Lambert wary of Berbatov threat

Berbatov has always been a rather controversial figure. He is not your typical footballer, though he certainly has the arrogance that is often associated with players of the game. He sulked at Tottenham until he was allowed to leave for Manchester United and he has been also pictured smoking a cigarette, also retorting critics of his low-intensity playing style with an incredible show of that arrogance: "If someone has great qualities, they don't need effort".

His most recent outburst came after scoring against Southampton, when he revealed a shirt with the message "keep calm and pass me the ball". In a country where fans laud strikers who track back to help out defensively and show a desire to earn their place in the team, it is an indictment of Berbatov's quality that he has been so successful here.

In his latest career move, he has been reunited with Jol and to great effect. Berba was an instant hit, scoring twice in the 3-0 win over West Brom in early September, before scoring three and setting up three more in his next five appearances as Fulham found themselves eighth in the table after 11 games. At that stage they were most certainly looking up the table, with fans hopeful of continental qualification and another foray into the Europa League, the competition in which they had such an impressive run to the final only three years ago. At that point in the season, Fulham had only lost three times - two of which came in comeback defeats to the Manchester clubs - and only Robin van Persie, Luis Suarez, Marouane Fellaini and Juan Mata had directly contributed to more Premier League goals than Berbatov (8), who had played fewer games than any of those above him in the rankings.

Then Berbatov hit a drought. And Fulham hit a rough patch.

In seven matches between November 11th and Christmas Day, Fulham scored only four times, winning only once and losing five times. Berbatov played every minute, yet managed not a single goal or assist. By the time Christmas rolled around, Fuham were 13th in the league and only five points off the relegation zone. At the start of that run of games, Bryan Ruiz was injured, and Berbatov was forced into playing a more withdrawn 'number 10' role, which would arguably suit his gameplay more. However, in the five games that Berbatov has started in an attacking midfield role behind a lone striker, Fulham have won none and scored only two goals. That might well say more about Mladen Petric's inefficiency in front of goal, as well as the importance of Bryan Ruiz in creating the Cottagers' chances, but more than anything, it shows that Berbatov is needed as their frontman.

Ruiz returned around the turn of the year and so did Berbatov's goalscoring touch. He netted on New Year's Day in a Man of the Match performance in an impressive win at West Brom, which was at the time only their third home loss in the league all season. Confidence was building again and Berba and Ruiz were finding their feet once more.

The Bulgarian netted the first in a 3-1 win over West Ham to begin a run in which he has scored six goals in his last seven outings, including the only goal in wins at home to Stoke and at Tottenham. Fulham's improved form when Berbatov scores has continued. In fact, in 2013, Martin Jol's side have only lost three Premier League games, two of which came against the Manchester clubs (and Berbatov missed the United loss). Meanwhile, since the turn of the year, only Christian Benteke (10), Luis Suarez (9) and Gareth Bale (8) have scored more goals in England's top flight than Berbatov.

The latter two are likely to go head-to-head for the player of the year award, while Benteke is certainly up there for many people's signing of the season, with his goals looking likely to keep Aston Villa in the Premier League. Given Fulham's lofty position in the top half of the table, few would place as much importance on Berbatov's goals.

However, without his strikes Fulham would be 12 points worse off and therefore in the relegation zone above only QPR and Reading. When Berbatov has scored for Fulham, they have never lost, winning six times and drawing four. In fact, even when Berbatov sets up a goal, his side do not lose, with Fulham picking up two draws and a win in those games he has provided assists. All of this can be seen on his WhoScored match history page.

Dimitar Berbatov is widely regarded as good enough to play for one of the Premier League's bigger clubs. While Sir Alex Ferguson deemed him surplus to requirements at Old Trafford, he was expected to become the main man at Fulham and he is now just that. It is pleasing to see a player of his ilk enjoying playing regularly and not happy to be a bit-part player at England's biggest club. If he can keep up his rich vein of form, Fulham should manage a top-half finish. Hopefully they can build on that for next season and hang on to their number 9 for at least another year. All they need to do, is keep calm and pass him the ball.

All statistics courtesy of WhoScored.com, where you can find yet more stats, including live in-game data and unique player and team ratings.