The problems with 'Messi dependence'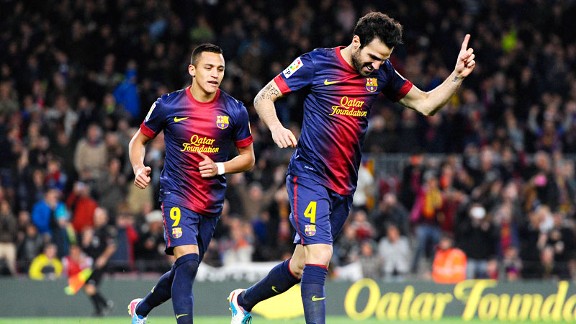 David Ramos/Getty ImagesBoth used to being focal points at previous clubs, Alexis Sanchez and Cesc Fabregas are still adjusting to life behind Lionel Messi at Barcelona.
Barcelona's major problem with "Messi-dependencia" is how to cope when their No. 10 is unavailable. It doesn't happen very often, but the injury that Lionel Messi suffered in Barcelona's 2-2 draw at Paris Saint-Germain on April 2 kept him out of the weekend win over Mallorca and puts him in doubt for this week's return fixture against the French league leaders.

In his absence, Barcelona performed excellently against Mallorca with two players in particular playing starring roles: Cesc Fabregas and Alexis Sanchez. Both arrived in the summer of 2011 to bolster Barcelona's attack, and while there have been flashes of brilliance from the pair -- particularly toward the beginning of their Barcelona careers -- 2012-13 has been an underwhelming campaign for the duo even as they prepare to collect their first league winner's medal.

- Tomas: To Messi or not to Messi?
- Johnson: The curious case of Jeremy Menez

On Saturday, it was a different story. After 20 minutes, Fabregas played a one-two with Sanchez, before calmly slotting in to open the scoring. Sixty seconds later saw Sanchez double the lead, scoring a rebound from Fabregas' initial shot. On 36 minutes, Fabregas played another one-two with Sanchez to score his second -- then two minutes later, Fabregas chipped a ball over the top for Sanchez to convert.

At halftime it was 4-0, with Fabregas assisting Sanchez twice and Sanchez assisting Fabregas twice. It was the best partnership the Camp Nou had seen in years, so much so that it was a shame that Fabregas completed his hat trick with a pass from Andres Iniesta and not the Chilean. However, it's no surprise that both Fabregas and Sanchez starred in Messi's absence.

The secondary issue with "Messi-dependencia" is that he dominates Barcelona too much and to the detriment of their other attacking talents. Of course, as problems go, this isn't particularly troublesome -- every other club in world football would thoroughly enjoy having "the world's best player being a little too dominant" as a major discussion point. It's the equivalent of having so many $100 bills that you're forced to leave some $20 bills at home, simply to make space in your wallet -- you wouldn't exactly complain to your friends.

As Messi continues to score with supreme regularity -- registering against every other league opponent, even doing it in 19 successive league games, is an absurd record -- this isn't a problem for Barcelona.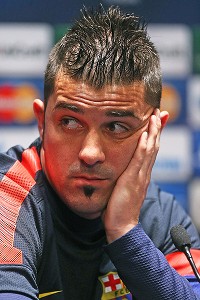 John Berry/Getty ImagesDavid Villa has been on the Barca periphery given Messi's dominant role, though he does work to open up space for his strike partner to thrive.

However, it's a problem for Fabregas, and it's a problem for Sanchez. In Pep Guardiola's first campaign as Barcelona coach, Messi was the major talent but didn't dominate the side to this extent. Generally roaming the infield from a right-sided starting position, Messi was still a long way from his prolific goal scoring of 2013.

In 2008-09, Samuel Eto'o scored 30 league goals, Messi 23 and Henry 19: the balance was perfect. Last season, Messi hit 50 -- Sanchez was next with 12. This season, Messi's on 43 and Fabregas is his closest challenger with nine. Messi's development is the major cause, but the drop off from others is not insignificant. Barcelona aren't a one-man team -- there's too much quality in midfield for that to be the case -- but when Messi plays, they often appear to have a one-man attack.

While rightly considered a modest and humble player, Messi prefers to be at the centre of things. He looked unhappy when Guardiola moved him to the right flank a couple of times last season, having explicitly expressed his dissatisfaction when Zlatan Ibrahimovic joined in 2009. So the story goes, it was a text message to Guardiola while both were traveling on the Barcelona team coach that alerted Barcelona's manager to Messi's unhappiness at the Swede's sudden dominance.

"It started well," recalls Ibrahimovic in his explosive autobiography. "But then Messi started to talk. He wanted to play in the middle, not on the wing, so the system changed from 4-3-3 to 4-5-1. I was sacrificed and no longer had the freedom on the pitch I need to succeed."

It was the correct decision from Guardiola as Messi became even better, but Ibrahimovic's game was compromised and he left Barcelona after a single season.

David Villa experienced something similar. Accustomed to being the key man in Valencia's side, he arrived at Barcelona and was initially disappointed when fielded wide on the left. Supposedly, he was advised that attempting to compete with Messi would be unwise -- and Villa got the message. "I know that one day, when images of Leo appear and I am nearby, I can say: 'I played with him,'" Villa told El Pais.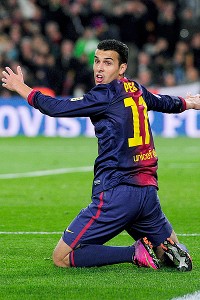 Josep Lago/AFP/Getty ImagesOne player who hasn't labored alongside Messi is Pedro, a La Masia graduate who understands his role in Barca's system.

Villa's most important contribution this season was in the 4-0 home win over Milan -- he did little on the ball but was deployed as a permanent decoy, pushing back Philippe Mexes from a central position and allowing Messi to find space just behind. Villa remains most useful when used to multiply Messi's talent, but there's always been a hint of tension between the two and frustration from Messi when Villa doesn't make the correct runs.

You never get that from Messi toward Pedro Rodriguez, even when the winger is off form -- as was the case throughout 2011-12. But Pedro is different -- he came through the Barcelona youth system and Guardiola picked him almost exclusively to make the runs (and provide the service) to get the best from Messi.

"Sometimes in training, you can tell which players didn't come through La Masia," said Pedro, shortly after Villa's arrival. Pedro is less talented than Eto'o, Henry, Ibrahimovic and Villa -- and probably Fabregas and Sanchez too. However, not only was he schooled perfectly in a tactical sense, but psychologically he came into the side knowing he would play as a functional attacker, not a star man.

But for Fabregas and Sanchez, it's different. Fabregas was the key player at Arsenal, inheriting the captaincy and increasingly moving further forward to become the Gunners' chief playmaker and a prolific goal scorer. With increased importance in the side came a bigger ego -- some suggested Fabregas became arrogant and aloof in his final season.

Sanchez's situation was similar. At Udinese he played as the central playmaker in a counterattacking 3-5-1-1 and had license to roam the pitch wherever he pleased: He could drop into midfield, move forward into attack or drift to either wing.

Both thrived in a "free role" at clubs perennially attempting to qualify for the Champions League. Now, both are struggling in a functional role at a club perennially attempting to win the Champions League.

So what is the solution? Deliberately reduce Messi's influence? Of course not -- he's performing as consistently as any footballer in history.

Sell Fabregas and Sanchez? Probably not. Fabregas still has a role to play, perhaps once Xavi Hernandez winds down, while Sanchez demonstrates flashes of brilliance to suggest that the potential is there.

The lesson is that other forwards must accept their tactical role at Barca, and not expect the freedom they enjoy elsewhere. As rumours continue to link Barcelona with Neymar -- an extraordinary talent, but an enigmatic, flashy youngster accustomed to being the centre of attention -- it's certainly something to consider.