Tactics Board: 10-man QPR undone by Wigan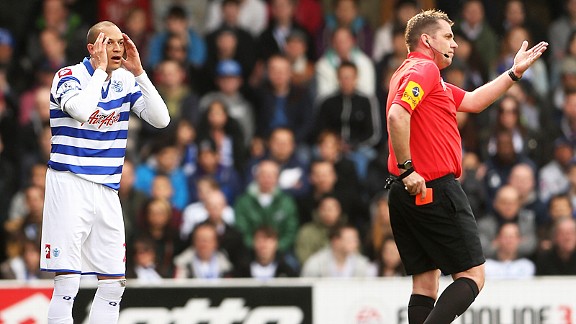 GettyImagesBobby Zamora's early dismissal put Wigan on the backfoot and forced a change in formation from Redknapp
QPR 1-1 Wigan

One of football's great clichés is that it is hard to play against 10 men. It is still tougher, however, to play with 10 and more difficult again when you have to win.

So Harry Redknapp was in a particularly unenviable position for 70 minutes. His QPR have had various incarnations in his comparatively brief reign, going from defensive to counter-attacking and finally attacking. His initial gambit was to play 4-4-2, which entailed dropping Adel Taarabt, who is not suited to the system, playing with out-and-out wingers and hoping that Stephane Mbia and Jermaine Jenas had the pace and stamina to compensate for Wigan's numerical advantage in the midfield.

Then Redknapp's plan to be bold was put on hold. Instead of playing like the home side, QPR adopted the approach of many an away team; rather than the progressive group of late, they resembled January's 0-0 specialists, just with one fewer player. Because, when reduced to 10 men, a team satisfied with the scoreline will often play 4-4-1. While 0-0 was not enough for Rangers, with a striker sent off, that was the formation they adopted after Bobby Zamora's dismissal.

The aim was for that to become 4-2-3 when they had the ball. The onus was on the wingers to lead the breaks, with the other wide man coming off his flank to join lone forward Loic Remy in the box for the cross. Indeed, they attacked almost exclusively on the sides, largely through the excellent Andros Townsend on the right. He had more successful doubles than the rest of his team-mates combined and a focus on finding him was a particularly successful ploy as his was a duel – against Jean Beausejour, a wing-back but not a natural defender – where QPR appeared to have identified a weakness in the Wigan side.

It was just as well that Townsend has speed because the distance between attack and defence had widened. Rangers dropped deep, something Clint Hill's lack of pace means they are often liable to do anyway, ensuring there was no room behind their back four but allowing Wigan huge amounts of possession. They had the ball 68% of the time, which is exceedingly rare for an away team, and seven Athletic players completed more passes than the first QPR player on the list, Jenas.

It amounted to an unusual battle: Rangers had two banks of four, Wigan a more fluid, flexible system. They are a rare team to play two men between the lines, in Shaun Maloney and Callum McManaman, which, along with the two more conventional central midfielders, can give them an overload in that department. With the QPR centre-backs in their own box at times, Wigan's threat came from long-range shots from the middle.

It was a pattern of play that lasted until the 57th minute. Then Rangers' need for three points led Redknapp to gamble and remove left winger Junior Hoilett for Taarabt, sent on to play the same position, but more likely to come infield and give Remy some support.

The more significant tactical switch, however, came from Roberto Martinez, who changed, unusually for him, to 4-4-2. The logical move was to move Maynor Figueroa, initially the left-sided centre-back, across to full-back to mark Townsend. It didn't nullify the on-loan Tottenham man - indeed the Honduran was booked for fouling Townsend – but Wigan had not needed three centre-backs to mark one striker.

Wigan didn't play 4-4-2 the way QPR had, partly because they lack orthodox wingers. With Jordi Gomez, moved to the right of midfield, playing in more of an inside-right position, right-back Emmerson Boyce had to offer width on that side. He was aided by the fact his immediate opponent, Taarabt, was rarely on the touchline, but Wigan were weighted towards the left, where Maloney was the principal threat, and, struggling to adapt to an unfamiliar formation, they only really attacked on that side.

Thereafter, however, Redknapp stuck with the same shape and, until the 89th minute, the same personnel. Particularly in his West Ham days, there are times when he has been reluctant to make substitutions and has preferred to trust in his players. Here, a seemingly negative gameplan brought a goal in the only way possible: on the counter attack. Because of the speed in their team and because of Remy's finishing, they were able to score without committing many men forward.

Indeed, for their goal, there were only two: Mbia, leading the break, and Remy, finishing it. There were parallels with Everton's winner against Stoke, covered in last week's Tactics Board, when a side taking a free kick only left one man – the backtracking Paul Scharner in Wigan's case – on the half-way line and were caught out.

At which point, it seemed the classic smash-and-grab raid. And yet, besides Maloney's fine free kick, Rangers' undoing came from a policy that had suited them well. The problem with camping on the edge of their box is that any fouls committed are within shooting range. So it was for QPR as Maloney scored the goal that may send them down.