A renewal of acquaintances for Adkins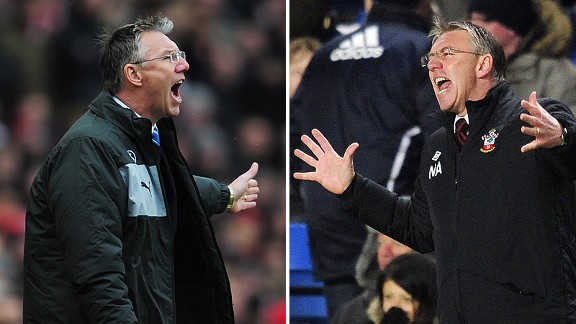 Glyn Kirk/AFP/Getty ImagesNigel Adkins, left as Reading manager and right as Southampton manager, will be the center of attention on Saturday when the two sides meet.
Since July last year, Nigel Adkins had targeted this weekend as a crucial fixture in his 2012-13 campaign. Two newly promoted sides, Reading and Southampton, face off just eight games from the end of the season. It was always going to be a six-pointer. What Adkins didn't realise, of course, was he'd be in charge of Reading.

It has been a peculiar couple of months for Adkins, the former Scunthorpe physio who rose through the ranks, and up the divisions, with impressive ease. His sacking from Southampton was unquestionably harsh -- the Saints had lost just two of Adkins' last 12 matches -- but he probably believed his performance hadn't been impressive enough to secure another top level job. The only Premier League side that might reasonably have taken a chance on him, Reading, dismissed Brian McDermott two months later.

- Adkins handed Reading job
- Adkins manager profile

Some have questioned Reading's wisdom in swapping one manager for the other -- "Adkins is just McDermott with hair," as one cynic put it -- but there are two crucial differences between the coaches.

First, their general demeanour is completely different. McDermott is a calm, slightly gloomy character that speaks slowly in a monotone voice, relying upon the meaning of his words rather than the delivery. Adkins is a more media-friendly coach -- upbeat and positive; a man who once, unprompted, recited poetry in a Southampton press conference.

More importantly, Adkins has adapted more comfortably to the strategic demands of the Premier League. In the opening months of the season, both Adkins' Southampton and McDermott's Reading appeared naive and unsuited to England's top division -- Southampton weren't getting their wide players back to protect the fullbacks, while Reading were dropping too deep without the ball, making little attempt to win possession higher up the pitch, and were also frequently outnumbered in midfield.

Both sides improved, but whereas Reading appeared to pick up points in slightly fortunate circumstances (even McDermott couldn't have guessed Adam Le Fondre would become such a reliable supersub), Southampton played good football and earned their points through fine overall performances. Adkins certainly had a better squad than McDermott, but tactically he appeared superior, too. The obvious question is whether it was worth Reading destabilising the club for a marginal upgrade in coach.

Adkins is an odd character. Following last week's 4-1 defeat away at Arsenal, he refused to answer any specific questions on the match -- as if it was all a blur. He repeatedly insisted he wanted to re-watch the game again, to "analyse and debrief," before making any comment. He also consistently said he and his players needed "to go through the process of what it takes to win a football match," a phrase he used frequently at Southampton. Whether this involves Reading's general approach, motivation, belief or specific tactics is unclear.

This weekend Adkins faces his successor, Mauricio Pochettino. Interestingly, all three of the Argentine's wins have come against good sides: Manchester City, Liverpool and Chelsea. They've failed to beat the likes of Norwich, Wigan, Newcastle and QPR, so Adkins will be hoping Pochettino's formula works exclusively against top-half clubs.

In a tactical sense, the two sides have completely different strategies without the ball. Pochettino's emphasis upon a high defensive line and heavy pressing has been obvious, although Adkins would argue it's not a significant departure from his preferred approach.

Reading's game plan is the opposite: They drop into their own third without the ball. They possess a feisty midfield duo of Jem Karacan and Mikele Leigertwood, two combative players that naturally want to 'get involved' rather than play a passive game. However, maybe because of the lack of pace in the backline, Reading sit alarmingly deep. Against Arsenal last weekend, their defence specialised in blocking shots inside the penalty area -- Mikele Leigertwood blocked four goal-bound attempts, while Stephen Kelly and Adrian Mariappa blocked three apiece. It shows admirable bravery, but such a defensive strategy isn't conducive to keeping clean sheets. Reading haven't prevented the opposition from scoring in 2013.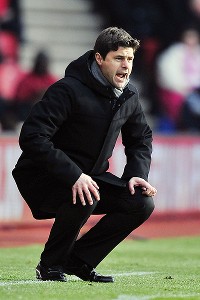 Glyn Kirk/AFP/Getty ImagesUnder Mauricio Pochettino, Adkins' successor, Southampton are attempting more tackles and interceptions in trying to win back possession.
Amazingly, Reading average the least possession per match (39.5% -- no other side averages less than 43%) and yet record the fewest tackles in the division (15.8 -- no other side manages fewer than 17.2). It's a bizarre situation: By spending so long without the ball, a large part of a side's game plan is logically about winning it back. Of course, you can also look at from the opposite point of view -- maybe Reading see so little of the ball because they're not winning it in the first place. Either way, as top-level football has become increasingly based around pressing, Reading's strategy seems more suited to the Championship.

The contrast with Southampton will be stark, since Pochettino's side attempt the highest number of tackles in the Premier League -- 22 per match -- and also the highest number of interceptions, 20. Both figures have risen since Pochettino took charge, and while there's no fundamental value in winning the ball frequently in itself, it sums up the positive approach.

Reading and Southampton are similar clubs in terms of status, their objective in 2012-13 and their recent managerial history, but they're at opposite ends of the spectrum without the ball. Southampton concentrate on winning possession quickly, Reading don't win it often enough.

The rivalry between Adkins and Pochettino is an easy, predictable way to frame the clash, but Pochettino has stressed his "full respect for [Adkins] and for what he achieved at Southampton", while Adkins' bitterness will be directed at the Southampton board, rather than the Argentine.

Instead, this will be an interesting demonstration of what it takes to succeed in the Premier League without the ball -- Southampton have moved towards a proactive strategy and appear likely to escape relegation, while Reading's approach lends itself better to a promotion push under Adkins next season.