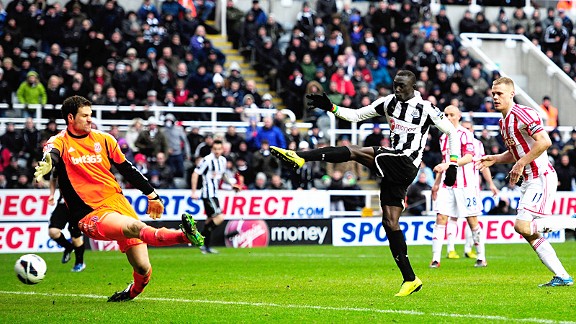 GettyImagesPapiss Cisse scored the winner against Stoke, but he has struggled all season
While there have been countless individual success stories in the Premier League this season a number of players have flopped when compares to their efforts from the previous campaign.

In this piece, WhoScored.com examines the vital statistics of some of those who have been unable to recreate their form from last season, focusing on players who finished in the top 5 with their respective clubs last season.

Papiss Demba Cisse

We start with Newcastle's frontman, who was never likely to continue the blistering form in which he began his career on Tyneside. Nevertheless, a return of just seven league goals having started 28 of the Magpies' 31 games thus far is not good enough, particularly given the fact that he has been the side's only real option up front since the departure of Demba Ba.

Alan Pardew would have hoped that the sale of Cisse's compatriot to Chelsea would have sparked the 27-year-old back into life, but it hasn't really happened all season. The forward's game is all about finishing. He's weak in the air in terms of duels with opposition defenders, winning under 27% of those that he has competed in, and he doesn't really bring those around him into play, averaging just 0.9 key passes per game.

He didn't create many chances last season - in fact he has picked up a meagre tally of two assists in 43 league appearances for the club thus far - but he did bury the chances that presented themselves to him, as well as those that didn't seem like chances at all. His conversion rate has plummeted from a remarkable 33.3% last season to a decidedly unspectacular 11.5% this time around and, if Newcastle are to avoid drama on the final day, they need Papiss Cisse to offer more.

Emmanuel Adebayor

Another striker who has failed to deliver is Tottenham's Emmanuel Adebayor. The former Arsenal frontman was pivotal to the side under Harry Redknapp last season and was the only Premier League player to rack up double figures for both goals (17) and assists (11). This season has been a completely different story, however, as injuries coupled with the form of Jermain Defoe kept him out at the start of the campaign and his failure to forge a working partnership with his fellow forward continuing to see his chances limited now he is fit.

Nevertheless he's made 19 league appearances this season, with 13 from kick-off, and netted just twice. The 29-year-old seems to be going through a familiar pattern in his career; unbeatable one season and then disinterested the next. While his conversion rate is down from 17% last season to just 7% this; the striker just isn't getting into effective positions, averaging half as many shots per game (3 to 1.5).

His overall play has been a shadow of what it was last season, failing to set up a single goal thus far, with his average key passes cut from 1.8 to 1.1 per game, and while his pass accuracy is identical over this season and last (80.8%), he's not nearly as involved. Of all regular starting strikers in the league last season, only Peter Crouch averaged more passes per game, but Adebayor's figure is down to 22.5 from 34.3 and the anonymous striker may be set for another move sooner rather than later.

Antonio Valencia

Moving on to more creative types, it's fair to say we could have focused on a number of United wingers despite their dominance in the league this season. We've opted to analyse the player who was arguably at their best behind Rooney in the previous campaign, with Valencia less hampered by injury than the likes of Nani and Ashley Young this time round.

The Ecuadorian could easily end up making the same number of appearances as he did last season - racking up 22 in the league thus far compared to 27 in 2011-12 - but his figures are way down from the excellence he provided from wide areas last year. Only David Silva picked up more assists than Valencia (13) in that campaign, with his tally of four to date even below team-mate Patrice Evra this time round.

The winger has also failed to find the net this season, having done so four times last, with his shots per game average having halved (1 to 0.5). He's created one fewer chance per game (2.4 to 1.4) and his crossing figures have unsurprisingly diminished, averaging 1.7 accurate deliveries per game last season (25.3% accuracy) and 1.2 (21.1% accuracy) in the current campaign. While Fergie's men are set to stroll to the title, their wingers have certainly been in second gear all season.

Samir Nasri

The form of Samir Nasri is something that City manager Roberto Mancini has bemoaned this season, having been somewhat of a passenger for the champions up to now. Against Newcastle last time out, however, he showed glimpses of his best form, with the WhoScored ratings from that game seeing him just miss out on the man of the match award.

He picked up only his fourth assist of the season at the weekend, having made 21 league appearances, and he's found the net just once in that time. In comparison, he notched up five goals and nine assists in 2011-12, and his averages for shots (0.9) and key passes (1.9) per game this season have dropped from 1.9 and 2.5 respectively.

Although it's not what the 25-year-old is there for, Nasri's work rate has also dropped, which led to his manager questioning his efforts this term, and his interception average in particular is considerably worse off (0.9 to 0.3). It's fair to say if City are to catch up with their neighbours once again next season, they need some of their 'luxury' players to be a little less precious and Nasri certainly falls under that bracket.

All statistics courtesy of WhoScored.com, where you can find yet more stats, including live in-game data and unique player and team ratings.