Sneijder, Drogba cherish fatherly connection with Mourinho
Jose Mourinho is a clever coach on the training ground and a shrewd strategist from the dugout, but his major quality as a football manager is the emotional bond he develops with players.

He spent his early 20s studying for a degree in sports science, where he was particularly fascinated by the psychological side of football. He believes the most difficult part of management is leading a group of players from different backgrounds, cultures and nationalities, communicating with them individually yet treating them as one group.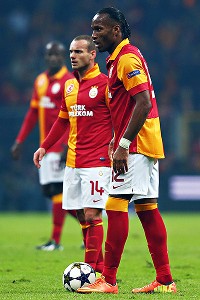 Alex Grimm/Getty ImagesGalatasaray's Wesley Sneijder and Didier Drogba, who face Jose Mourinho's Real Madrid in Champions action, are but two examples of the close ties that the manager builds with his players.
"I don't know how he does it," says Karim Benzema. "He has some sort of trick, and everybody listens to him."

There are countless examples of Mourinho's amazing connection with otherwise unflappable players. Witness his emotional goodbye to Marco Materazzi in an underground car park shortly after Mourinho announced his departure from Inter, or consider the way Michael Essien continually referred to him as 'daddy' in his first press conference as a Real Madrid player. When Andre Villas-Boas was struggling to get Chelsea's senior players onside, they were frequently being texted by Mourinho.

In January, Galatasaray splashed the cash on two established, world-famous players to bolster their attack. They already had Burak Yilmaz, the joint top goal scorer in the competition, but both Wesley Sneijder and Didier Drogba were signed to offer Champions League experience. Sneijder was Inter's key player for their 2010 European Cup triumph, while Drogba led Chelsea through the knockout stages for their sensational victory last year.

Both players sought the advice of their former coach before agreeing on a move to the Turkish champions.

"I called him before my decision because he's an important person in my career," Sneijder said at his unveiling. "I've asked his opinion and he gave me really good advice."

Drogba's message was similar. "Before signing, I talked with Emmanuel Eboue a lot," he said. "I talked with Mourinho and some other guys too."

Sneijder hadn't been coached by Mourinho for two-and-a-half years, Drogba not for twice that period. Still, both felt they needed to approach Mourinho before committing to such a big move. Perhaps it was inevitable that Galatasaray would face Mourinho's Real Madrid.

Ahead of this contest, both players have subscribed to the Essien approach of referring to Mourinho as a paternal figure.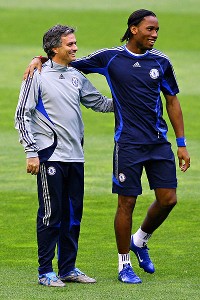 Stu Forster/Getty ImagesJose Mourinho enjoyed great success at Chelsea before his 2007 departure
"Mourinho is like a second father to me," Sneijder told Marca. "He is not like the other coaches, he is special. The difference lies in how he persuades you, how he helps you if you're not on form. He pays attention to everything and always knows how to come to the assistance of the players."

Sneijder once moved Mourinho close to tears when thanking him in an acceptance speech in 2010.

It was a similar message from Drogba.

"I am going to play against my father, Mourinho," the striker opened. "He has a special place in my heart, he changed my life. He is a person who looks after his players and who does his utmost to get the best out of them."

Mourinho has been in constant contact with Drogba, even during the Ivorian's ill-fated spell in China. Again, text messaging was the Portuguese coach's favoured method of communication -- Drogba complains Mourinho constantly woke him up, assuming his former coach was unfamiliar with the concept of time difference. An extravagant attempt at hypnosis is a more believable theory.

Both players have special memories of the Bernabeu, too. Sneijder spent two years as a Real Madrid player, winning La Liga in his first campaign -- and more importantly, he returned there in 2010 to win the European Cup under Mourinho. Drogba, meanwhile, made his European debut at the Bernabeu nearly 10 years ago, opening the scoring for Marseille in an eventual 4-2 defeat.

"It will be very special for me," Drogba told Galatasaray's club magazine. "I will never forget that day."

Neither player has returned to the Bernabeu since those key moments in their careers -- Wednesday will be an emotional occasion.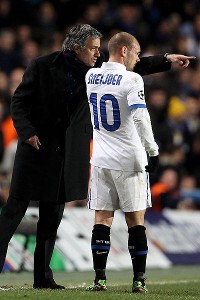 Phil Cole/Getty ImagesWesley Sneijder has called Jose Mourinho a "second father," praising the manager's powers of persuasion.
Of course, when Mourinho faces his former players, he doesn't rely upon old memories, he emphasises the bond. Before his return to Chelsea in 2010, Mourinho kept referring to Chelsea's squad as 'my players,' pointing out the minimal turnover in playing staff since he departed.

This time around, he's made a particular effort to praise Drogba. Shortly after the draw for the quarterfinals, when asked by Real Madrid's official site (don't rule out the possibility of a planted question) who his favourite player was, Mourinho's response was predictable.

"If I had to choose one, perhaps I would choose Didier -- he is a player from another world."

The love-in continued in Tuesday's press conference -- "Drogba and Sneijder were important players for me. They are my friends, I respect and care about them."

He greeted his former charges after a recent scouting mission to see Galatasaray -- and another familiar face, Hamit Altintop, was there too.

Mourinho has even played upon his close personal relationships during matches. In the Champions League semifinal between Inter and Barcelona three years ago, the entire tie seemed to revolve around Zlatan Ibrahimovic, playing against his old team and old coach. Mourinho offered some 'friendly' advice to Pep Guardiola midway through the second leg, when Ibrahimovic was anonymous.

"You are s---ing yourself because of him!" Ibrahimovic claims he shouted at Guardiola after the match.

Of course, Real Madrid have superior individuals than Galatasaray and are better as a unit too, making them strong favourites to progress to the semifinals. Mourinho doesn't need to distract his former players -- but that won't stop him from exploiting every single possible advantage.