Tactics Board: Flexible Everton punish Potters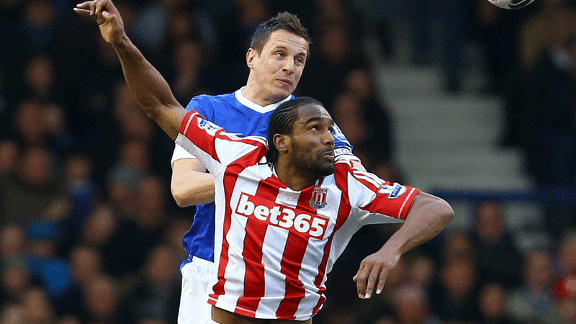 GettyImagesPhil Jagielka was part of Everton three-pronged aerial defence against Stoke
EVERTON 1-0 STOKE

It was Everton, but not as most people recognise them. Deprived of two of their most influential players, Steven Pienaar and Marouane Fellaini, by suspension, David Moyes ditched his usual 4-4-1-1 formation, 4-4-1-1, and defeated Stoke.

In doing so, he ensured a third successive meeting of very different shapes. Rare as they are in England, back threes have become a feature of recent games at Goodison Park. Wigan won convincingly while fielding one; Manchester City switched shape to incorporate one and lost equally emphatically. Everton followed suit and flourished.

It is a tactic others have used to counter Stoke's height – Kenny Dalglish, during his second spell at Liverpool, was particularly fond of it – and means that, if the Potters win the initial header, there are two remaining central defenders to try and secure the second ball. By bringing Johnny Heitinga into the side, Everton also ensured they added another taller player in Fellaini's absence. That said, they preferred to use Phil Jagielka and Sylvain Distin in aerial duels, with the Dutchman as the spare man.

The other reason why Stoke find themselves facing a team playing 3-5-2, or a variant of that shape, is because their full-backs are less attacking than most; a lone wing-back is less likely to be outnumbered by two City players advancing on the same flank. In addition, as much of Everton's width comes from Leighton Baines and Seamus Coleman anyway, Moyes was not discarding orthodox wingers.

Normally there is a trade-off when swapping shape so radically: by gaining in one area of the pitch, you lose in another. Not for Everton, who experienced only benefits.

Indeed, Kevin Mirallas, who often plays as one of the nominal wide men, was put in perhaps his preferred position. When choosing to play 3-5-2 (or something similar) against 4-4-2, the hope is that the spare man going forward is the most progressive of the central midfield trio. So it proved for Everton and with the added bonus that the other two, Darron Gibson and Leon Osman, were the game's most prolific passers, which often happens when Stoke's pair in the middle encounter three opponents.

However, Mirallas had a dual role: operating in the hole when Everton had the ball as it was 3-4-1-2, and funneling out towards the flanks when they didn't, making it 3-4-2-1. Victor Anichebe did likewise, ensuring that, in the absence of a direct opponent, the Stoke full-backs were not always left completely free.

Yet the passing statistics indicated why Everton could risk allowing the Stoke defenders the ball: left-back Marc Wilson and centre-back Ryan Shawcross both had pass completion rates under 60%. Without a winger to mark, Wilson broke forward more than usual – indeed, a player who puts in an average of 0.6 crosses per game delivered eight – but a foray into the home side's half had major consequences as Everton turned a Stoke strength into a weakness.

City's set-piece expertise usually brings them goals. Here it cost them one, and in a manner Everton may recognise. When Moyes' men drew at Oldham in the FA Cup in February, they conceded after their own corner when three of the back four were deep into enemy territory: Baines to take it and the two central defenders as targets in the box.

Stoke, too, send their centre-backs up at every dead-ball opportunity. The difference here was that Wilson was 30 yards further forward than normal to work a short free-kick and subsequent cross. When Tim Howard punched clear and Mirallas latched on to it, it left Geoff Cameron as the only out-and-out defender back. It also showed why, when bringing everyone back to defend a set-piece, the ideal man to leave on the edge of your box is a player with genuine pace. Mirallas is possibly Everton's quickest player, as he showed on his 80-yard run.

Stoke couldn't catch him but, as they chased the game, they looked to exploit the three-man back line. Tony Pulis' 79th-minute double change involved a swap to 4-3-3, hoping to get wingers Jonathan Walters and Cameron Jerome in behind the Everton wing-backs. Had the move been made earlier, it could have forced an Everton rethink because, confronted by out-and-out wingers, if wing-backs retreat, they condemn their team to playing with a back five. For a team with a lead in the last few minutes, however, that is less of a problem.

So Everton secured three points, but their shape may be a one-off. With Tottenham next, and the probability they will face genuine wingers, expect Moyes to revert to a back four next game.