Five emerging international talents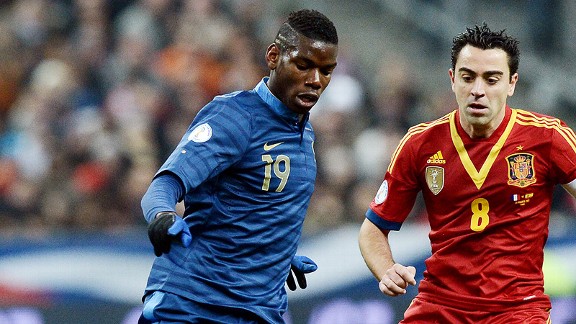 Franck Fife/AFP/Getty ImagesUp until his second half red card, France's Paul Pogba more than held his own against Xavi and Spain in their Tuesday World Cup qualifier.
The serious business of World Cup qualifying meant the majority of international managers named conservative starting line-ups this week -- but a few were brave enough to experiment in crucial matches. Here are five emerging talents who cemented their place in their national starting XI this week:

Mateo Kovacic, Croatia

Croatia's home match against Serbia was an incredibly eagerly anticipated contest. This was the first meeting between two countries once at war -- an incredibly detailed account of the hostilities between the two nations, and the fiery relationship between the two managers, Igor Stimac and Sinisa Mihajlovic, is outlined in this excellent summary.

This was, therefore, an extraordinarily tense meeting. No Serbian fans were allowed to attend the game and an extremely heavy police presence was obvious around the ground. Cuneyt Çakir, the Turkish referee who controversially dismissed Nani against Real Madrid recently, was preparing for a busy afternoon.

This wasn't the ideal setting for an international debut -- especially for an 18-year-old ball-playing central midfielder, but Stimac had no hesitation in using Inter's Mateo Kovacic for the first time. His club manager, Andrea Stramaccioni, recently said that Kovacic "doesn't give you protection in front of the backline", but against Serbia he was deployed in the holding midfield role in Croatia's usual 4-1-3-2 formation. Fielded just behind Luka Modric, Kovacic was outstanding.

The youngster's confidence on the ball was remarkable -- whereas others would have kept their distribution simple, Kovacic played forward passes into the attackers, and was capable of confidently striding away from opponents shutting him down. Croatia controlled the game from start to finish in midfield and the combination of Kovacic and Modric ensured a potentially violent contest was neat, tidy and technical.

"It's not easy to play from the start in a game like this," Kovacic admitted after the game. "But I cancelled out the pressure thanks to help from my more experienced teammates." He was only a substitute as Stimac shuffled his pack for the 2-1 win in Wales, but Kovacic has emerged as a key player for Croatia.

Paul Pogba, France

It's rare that a player sent off in a crucial qualifier has enhanced his international reputation, but that sums up how commanding Paul Pogba was for France this week -- first in a 3-1 win over Georgia, then in the narrow 1-0 defeat to Spain.

The dismissal was rather harsh. The first booking came following an aerial challenge with Xabi Alonso -- Pogba's feet were high, but primarily because of his tremendous leap. He showed his inexperience when collecting a second booking 90 seconds later for a foul on Xavi Hernandez, but Pogba insists it shouldn't have been a second yellow. "I hardly touched him," the Juventus midfielder insisted. "Yes, there was contact with his foot, but he started screaming and only then did the referee pull out the second yellow card." Once Pogba's suspension is served, he'll surely return to the side immediately.

Didier Deschamps, a holding midfielder himself, will have thoroughly enjoyed Pogba's display against Spain. Against the most renowned midfielders in the world, Pogba's positional sense was faultless and his tackling was -- until his red card -- calm and effective. Spain dominated possession, of course, but very few of their opportunities came from central positions in Pogba's zone -- they either hit the ball over the defence to Pedro Rodriguez and David Villa, or attacked through left-back Nacho Monreal's overlapping runs. With Yohan Cabaye and Blaise Matuidi scrapping ahead of him, Pogba helped nullify Spain's most talented players.

Like Kovacic, his positivity in possession was also striking, and this helped France counter-attack. Spain's pressing often scares opponents into panicked forward passes, but Pogba had the confidence to slalom past the likes of Xavi and Andres Iniesta.

Fernando Aristeguieta, Venezuela

Venezuela are unique as the only CONMEBOL side never to have qualified for a World Cup -- but with neighbours Brazil hosting the tournament next summer, 2014 would be the perfect time for Cesar Farias' side to make their debut. As recently as qualification for the 1998 tournament, Venezuela were the whipping boys. Back then they finished with no victories, 14 points adrift of the rest. Now, they're a genuinely dangerous side.

Farias has built a solid, disciplined team in his five years as coach. His 4-2-2-2 system means Venezuela concentrate on getting men behind the ball, but retain two men upfront to offer a counter-attacking threat. Progress has been steady: Venezuela may have finished eighth in qualifying for 2010, but were only three points behind fifth-placed Uruguay, and their run to the 2011 Copa America semifinals was extremely promising.

Farias has plenty of options upfront. Rubin Kazan's Salomon Rondon is mobile, powerful and lethal at his best, while Celtic's Miku has also played well in recent years. But for Tuesday's 1-0 win over Colombia, Farias selected 20-year-old Fernando Aristeguieta, currently on loan at Nantes from Caracas. He's had an instant impact in France, scoring four times in seven starts as Nantes chase an expensively-assembled Monaco side for promotion from Ligue 2.

Aristeguieta didn't score, but he offered something different. Rondon drew his centre-back wide before sprinting behind for the game's only goal, but Aristeguieta's role was also crucial -- he held up play, waited for midfield runners, and helped Venezuela ease the pressure. It's not the type of forward Farias has traditionally preferred, but with Venezuela playing on the counter-attack and perennial underdogs, the youngster is likely to get more opportunities to help Venezuela. They currently sit in the playoff position in fifth, level with fourth-placed Chile on 15 points.

Mario Gotze, Germany

Gotze isn't exactly a new addition to Germany's squad. He made his debut back in 2010 as an 18-year-old. He's already made 22 appearances for the senior side and although Jogi Low hasn't yet found a permanent position for the Dortmund attacker, he's become a key part of his thinking.

Although a 4-2-3-1 system -- the formation favoured by most of Germany's top clubs -- still seems to be Germany's most natural system, Low has been keen to experiment. Often, getting Gotze into the side has contributed to the tinkering; the desire to use two central playmakers (with Gotze alongside Mesut Ozil) prompted a 3-4-2-1 against Ukraine in 2011, a 4-1-4-1 against the Faroe Islands in September and then, this week, Gotze as a false nine against Kazakhstan.

Germany were always likely to win comfortably, of course, and triumphed 3-0 in Astana -- but Gotze's role worked particularly well. His movement dragged defenders out of position, and distracted opposition full-backs to allow Germany's wingers space.

"[Playing as a false nine] is a lot of fun," said Gotze after that game. "But you have to ask the coach about that -- it's a model to remain flexible." That was the key. With Gotze, Ozil, Thomas Muller and Julian Draxler as Germany's front four, the mobility and interchanging of positions was crucial as Kazakhstan sat deep.

On Tuesday, in the return fixture, Gotze again started upfront despite the introduction of Marco Reus, who played on the left. He played a more 'fixed' role, but Germany again performed well, and Gotze scored his second goal of the week.
The likes of Miroslav Klose, Lukas Podolski and Muller have combined excellently for Germany in the last three years, but Gotze's clearly more talented than those attackers, and he has a natural understanding with Ozil -- it's just about getting the system right.

Omar Gonzalez, United States

Jurgen Klinsmann's side were forced to withstand constant pressure in Mexico City this week, but in Omar Gonzalez, they had a commanding centre-back who ensured Mexico rarely looked likely to score. He was 'man of the match by a clear margin', as Jeff Carlisle put it.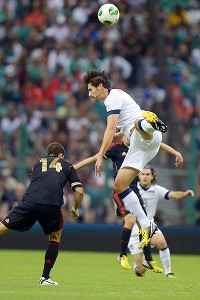 Kirby Lee/USA TODAY SportsThe towering Omar Gonzalez, right, played a major role in the U.S. draw at Mexico on Tuesday night.
Mexico attacked primarily down the flanks, but the constant crosses were dealt with superbly by Matt Besler and, in particular, Gonzalez. They were up against Javier Hernandez, who caused problems with his intelligent movement and sudden sprints in behind the defence, But good communication and some towering headers from Gonzalez frustrated the Manchester United forward. Mexico looked badly short of a striker who could challenge in the air.

"[The training camp] gave us a chance to have Matt and Omar working every day, side-by-side," Klinsmann said after the game. "There was already a great understanding because they trained for a month together."

For Gonzalez, it was a particularly important performance. He holds both Mexican and American citizenship, and even after his U.S. debut against Brazil, he'd kept open the possibility of representing Mexico. "Why not?" Gonzalez said in 2011. "Mexico is strong right now, very strong. If something were to come along, I'm definitely going to listen."

But there's no doubt about Gonzalez's loyalties now. As Mexico fired an amazing succession of corners -- 15 in total -- into the U.S. penalty box, the six-foot, five-inch Gonzalez stood tall and cleared the danger. It's just a shame the U.S. didn't win more than two corners themselves -- in the form Gonzalez was in, given more opportunities, he surely would have scored a trademark thumping header.