Don Fabio's Russian experiment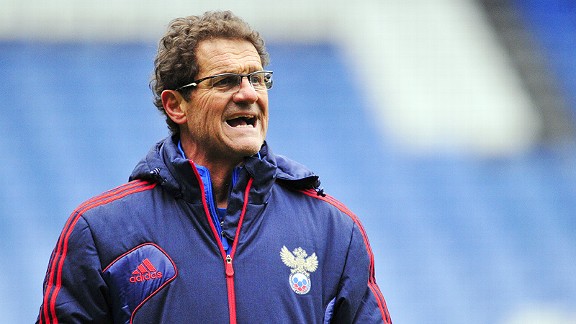 Glyn Kirk/AFP/Getty ImagesFabio Capello's Russia is starting to resemble his Champions League-winning Milan side.
Sometimes, a foreign coach and a national team fit together naturally. Sven-Goran Eriksson's love of structure, discipline and a boring 4-4-2 meant he adapted swiftly to the England job -- although he wasn't, of course, offering anything new -- while Felipe Scolari's transition from Brazil to Portugal was easy, in terms of language and football style.

On other occasions, it feels more awkward, and Russia doesn't appear an obvious home for Fabio Capello. He's barely started to learn the language; Russian football is very different from Serie A, and the national team has recently been coached by two Dutchmen -- Guus Hiddink and Dick Advocaat. You can read too much into nationality, of course, but the switch from a Dutch football mentality to an Italian identity is challenging.

Russia are an unusual football side. They were eliminated in the first round of Euro 2012, despite starting the tournament with an excellent 4-1 victory over the Czech Republic, one of the outstanding performances of the competition. The attacking department is largely based around a Zenit St Petersburg core, which prompted former Zenit coach Advocaat to play roughly the same style of football. Zenit are more fluid and creative than Russia, but the counterattacking threat remains.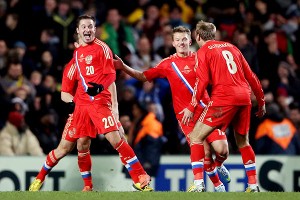 Scott Heavey/Getty ImagesViktor Fayzulin celebrates after scoring Russia's first goal, but his side ended up conceding against Brazil in a friendly that ended 1-1 on Monday.
Although Capello has previously assembled extremely adventurous, attack-minded sides in his coaching assignment with England, he became increasingly defensive and reactive. Of course, Capello was never able to complete his work with England, but in his final matches as their manager he seemed to be building a very cautious team. The 1-0 victory over Spain at Wembley was achieved with a solid 4-1-4-1 system boasting only sporadic counterattacking down the flanks and a reliance on set pieces for goal-scoring chances.

Maybe that was inevitable, given that England were facing the most astute passing side in international football history. However, the performance a few days later against a weaker Sweden side confirmed the shift in emphasis: A midfield trio of Phil Jones, Jack Rodwell and Gareth Barry is as functional as you'll find among the bigger international teams. Capello identified solid defending and rapid counterattacking as the keys to success, possibly after Germany's 4-1 thrashing of England in the World Cup second round in 2010.

Clearly, Capello has unfinished business at the international level (although the reported £8m salary was also a decent reason for taking the Russia job), and considering his tactical development as England manager, it's fitting he takes charge of a group of players accustomed to defending deep before playing on the break.

Monday night's 1-1 draw against Brazil was a decent test of Russia's current level. Playing against an extremely creative, if ramshackle, Brazil side featuring Hernanes, Oscar, Kaka and Neymar, Russia spent the majority of the match sitting deep behind the ball, in a 4-1-4-1 system.

- Match report: Brazil 1-1 Russia

Throughout the game, Russia's positional discipline was highly impressive. The back four are unglamorous but solid and dependable, but particularly notable was the role of Denis Glushakov, sitting extremely deep in front of the back four, tracking first Neymar, then Kaka. Usually, injured Russia captain Igor Denisov would play that role, and Glushakov is, on paper, unsuited to the task, being used to a significantly higher position at Lokomotiv Moscow. But his defensive work in front of the back four was crucial -- his positioning was intelligent, his tackling well-timed.

Curbing natural attacking instincts was a feature of Russia's game. Goal scorer Viktor Fayzulin, usually a wide player with Zenit, played a disciplined central midfield role alongside makeshift skipper Roman Shirokov -- who is perfect for Capello's Russia. A central midfielder who played as an emergency center back in his early days at Zenit before gradually becoming a Frank Lampard-esque goal-scoring midfielder, he epitomises the approach -- caution, then counter.

On the flanks, the wide players tracked Marcelo and Dani Alves manfully. Vladimir Bystrov protected Aleksandr Anyukov (yet another Zenit partnership) down the right, while Aleksandr Kokorun, accustomed to a center forward role with Dynamo Moscow, was happy to defend the left flank. Overall, Russia's shape was excellent, and Brazil took 89 minutes to score, through Fred.

Capello had an interesting excuse for the concession. "My only disappointment is that after a supporter came on the pitch my players lost their concentration," he said. "Against Brazil you cannot lose your concentration."

What about the attacking? Well, set pieces played a big part, but the most interesting part of Capello's side is his center forward. Aleksandr Kerzhakov replicated his Euro 2012 performance, combining sublime movement and intelligent link-up play with woeful finishing. Again, his drifts into wide positions, particularly the left, dragged defenders out of position and created space for his teammates to break into. He and Fayzulin combined for the best move of the game, when Kerzhakov received the ball toward the left, held it up while drifting inside, then played a reverse pass for Fayzulin to smash into the side-netting. Fayzulin's goal was, unfortunately, much scrappier.

In basic terms, Kerzhakov isn't a typical Capello striker. This is the coach that favoured Emile Heskey over Jermain Defoe; the coach who persisted with the gangly, awkward Marco Delvecchio at Roma when the nippy Vincenzo Montella was on fire. Kerzhakov, at 5-foot-2, is hardly the target man Capello likes.

But that rather misses the point. Heskey and Delvecchio were favoured because of their all-round game; their ability to hold onto the ball and bring others into play. In a different way, that's precisely what Kerzhakov does. He's more of a false nine than a target man, but in a way the function is identical -- distract center backs, bring in midfield runners.

Besides, Capello has previously favoured players in that mold. At Roma he sometimes used Antonio Cassano and Francesco Totti together, while in his early days at England, Wayne Rooney spearheaded a 4-1-4-1 formation. Throughout 1993-94 -- the season ended with Capello's "masterpiece," the 4-0 European Cup victory over Barcelona -- he used Daniele Massaro, a converted winger, as his major forward.

That match was the culmination of a season where Milan won Lo Scudetto despite scoring only 36 goals in 34 games. They conceded just 15. Capello is building something similar at Russia: his qualifying results have been 2-0, 4-0, 1-0 and 1-0. Russia are the only side in the European qualification section not to have conceded a goal. Only the Netherlands also boast a 100 percent record.

Defensive and counterattacking, with an unusual forward -- surprisingly, Russia suits Capello nicely.