Valbuena has earned his chance with France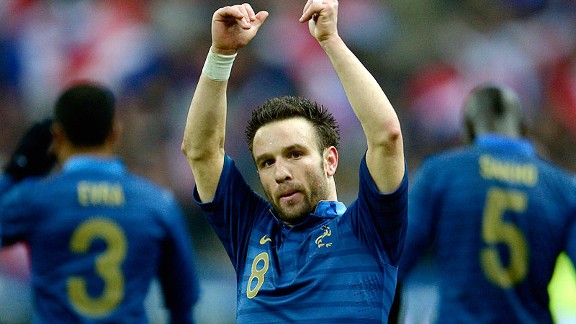 Dennis Grombkowski/Bongarts/Getty ImagesMathieu Valbuena has worked hard to get a chance at the international level. So far, he's proven to be worth it.
France doesn't share Argentina, Brazil or even Italy's relentless obsession with the number 10, but having boasted the most celebrated creative midfielder of recent times, Zinedine Zidane, the number has since taken on extra importance.

Since Zidane's theatrical retirement in 2006, France's No. 10s have hardly fit the mould. Sidney Govou, the speedy winger who never fulfilled his vast potential, wore it at Euro 2008 and World Cup 2010 while striker Karim Benzema inherited it for last summer's European Championships. In all three tournaments, France disappointed: two group stage exits and a quarterfinal elimination.

Perhaps they need a proper No. 10. And that's where Mathieu Valbuena comes in.

The Marseille playmaker is something of a late developer; unlike the majority of his international teammates, he was never capped at youth level and only now, at 28, is he an international regular. This week, against Georgia, he will wear his favourite shirt number for the first time with Les Bleus.

"I'm playing in a position I love, the number 10, and I have a lot of responsibilities," Valbuena says. "It's something I never imagined would happen. I'm incredibly proud to be playing for France, so to do so wearing the No. 10 is something amazing." Clearly, he appreciates the history that comes with football's most famous number.

France coach Didier Deschamps was famously the "water carrier" who played alongside Zidane for both Juventus and France, sitting deep and allowing Zidane to express himself in the final third. He more than most knows what makes a classic number 10 but intriguingly, he didn't initially appreciate Valbuena's talents.

Deschamps was appointed Marseille manager in 2009. Valbuena had become a regular at the club the previous season, when Marseille had finished second -- only Deschamps immediately attempted to sell him.

Deschamps phoned Valbuena shortly after his appointment and outlined his belief that Valbuena wasn't compatible with the 4-3-3 system he wanted to implement. Marseille had previously used a 4-2-3-1 system, or sometimes a diamond midfield, under predecessor Eric Gerets. Instead, Deschamps wanted powerful, quick players such as Bakari Kone and Mamadou Niang on the flanks, while Benoit Cheyrou and Lucho Gonzalez would play the central midfield roles ahead of holder Edouard Cisse.

His agent Christophe Hutteau outlined the situation. "Valbuena will leave Marseille, not because he wants to, but because they don't want to keep him." He also stressed Valbuena's previous good performances on the right wing, albeit not in the advanced position Deschamps wanted.

However, Marseille's board disagreed with Deschamps and eventually, Valbuena stayed. For the first half of the season he was barely used but whenever Deschamps gave him an opportunity, Valbuena responded -- for example, he scored within five minutes of his first start. Still, he unsuccessfully tried to engineer a move away from the club in the transfer window, with Liverpool and Arsenal both rumoured destinations. By the end of January 2010, he'd started only four games all season as Marseille had dropped to seventh place in Ligue 1.

Then, striker Brandao suffered an injury, meaning that Deschamps moved Niang upfront. Suddenly, Valbuena became a starter and soon made sure that he became a regular. From the start of February, he began 15 of Marseille's remaining 17 games -- one of the other two was Marseille's only defeat during that period -- as Deschamps' side recorded an astonishing title victory, roaring past their rivals with a late sprint. Meanwhile, Marseille also won the French League Cup, with Valbuena scoring two in the final.

From being cast aside by Deschamps at the start of the campaign, Valbuena suddenly became a key man. The Marseille boss soon admitted he was wrong and praised Valbuena's contribution. "I let him have freedom on the pitch and he has given great effort on his side. He has good chemistry with the other technical players," he said. "He loves football, and he works hard."

Fast-forward two years -- past the bitterness and hostility that dominated France's World Cup or the underwhelming Euro 2012 campaign (Valbuena traveled to both tournaments, but only made one substitute appearance, against Mexico in South Africa) -- and Deschamps left Marseille to become Valbuena's manager once again, this time at international level.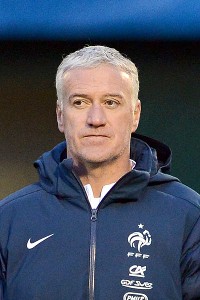 Franck Fife/Getty ImagesDidier Deschamps has been slow to integrate Valbuena at both the club and national team level, yet the Marseille playmaker seems to be winning him over.

Unsurprisingly, Valbuena welcomed Deschamps' arrival. "He hasn't changed; his opinions on life and on the game remain the same," he said. "He likes to create a winning culture -- that's what he did to win titles with Marseille." But once again, Deschamps took time to appreciate Valbuena. His first five appearances, against Uruguay, Finland, Belarus, Japan and Spain, were all as a substitute. His sixth appearance, a friendly against Italy, was as a starter -- and Valbuena scored. Then, for last month's friendly in Italy, he started again and scored again. Not bad for a player who considers goal scoring his major weakness.

In both friendlies, Valbuena was used in the centre of a 4-2-3-1 and that's where he'll hopefully be used again in this round of fixtures. "I'm used to playing in a central role, where my job is to pull the strings and play my teammates in," Valbuena says.

Yet he's not a typical number 10, and the fascinating thing about Valbuena is his constant movement. Playmarkers for other major international sides are predictable when used "in the hole" behind the striker -- Wesley Sneijder will always drift left and Xavi Hernandez will always drop deep into his more familiar Barcelona role while Diego Forlan will stay higher up, close to the forward.

But Valbuena can move in any direction. He can drop deep to become the third midfielder, drift to the flanks to provide overloads or work crossing situations and is capable of moving forward into attack to link play. He's always on the move, always providing a presence in different zones. He's not always decisive but he is always dangerous.

Statistically, Valbuena's contribution is often amazing. In Marseille's recent 2-0 defeat at PSG, Valbuena played the most passes (81), created the most chances (5) and had the highest pass completion rate (98%). It's the combination of the final two that is most remarkable – a desire to play intricate, creative passes often means conceding possession – but not in Valbuena's case.

Wearing the No. 10 shirt isn't a guarantee that Valbuena will be used as the central playmaker. Some reports suggest he'll be fielded on the right, with both Olivier Giroud and Karim Benzema upfront in a 4-4-2. But Deschamps would be foolish to continue overlooking Valbuena's talent -- use him as a proper No. 10 and you get a creator, a reliable passer and a tricky winger all in one.