England's centre back problem
It seemed inevitable that when Roy Hodgson had to choose between John Terry and Rio Ferdinand last year, the manager would eventually end up with neither.

Whatever your views of Terry's international retirement, or Ferdinand's decision to turn down his call-up this week, citing an "intricate pre-planned programme," this is typical England. When forced to choose between two options, England always gets the worst of both worlds.

When Steven Gerrard and Frank Lampard were battling for the primary midfield role, England got the best from neither. When it was clear England should either build a 4-3-3 around those two, or select a 4-4-2 to take advantage of Michael Owen and David Beckham's talents, a fruitless compromise was the solution. Terry and Ferdinand is yet another issue with a similar nonresolution.

- Video: Rio Ferdinand withdraws
- Michael Owen to retire

This has become such an enormous story because of the status of the duo and the reason for their falling out, but also because Hodgson's centre back options are extremely unimpressive. Steven Taylor was drafted into the squad to replace the injured Gary Cahill, but Hodgson will surely select two from Joleon Lescott, Chris Smalling and Steven Caulker, despite none being automatic first choices at their respective clubs. From 30 league games, Lescott has started 11, Caulker 15 and Smalling 14.

More troubling is the lack of genuine quality -- none of these are anything close to world-class players. Taylor and Lescott are near their peak but somewhat underwhelming, Smalling and Caulker are more talented but lack experience. The likes of Michael Dawson, Gary Cahill and Phil Jagielka, all injured, fall into the first category, Phil Jones the latter. Hodgson doesn't have a single outstanding centre back.

Worryingly, this was previously England's great area of strength. Ferdinand developed a fantastic relationship with Sol Campbell a decade ago, before John Terry provided competition. At roughly the same time, Jamie Carragher -- a regular for a European Cup-winning side -- barely got a look-in, while Ledley King and Jonathan Woodgate, when fit, were also commanding centre backs. The quartet selected for World Cup 2006 -- Ferdinand, Terry, Campbell and Carragher -- was arguably the strongest in the competition.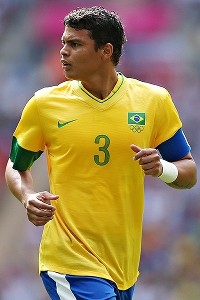 Julian Finney/Getty ImagesThiago Silva has been one of the best defenders in recent years, but he's also been hobbled by injury.
However, the decline in quality of defenders is not a pattern restricted to England. How many centre backs across Europe have played top-class football consistently over the past three seasons? Thiago Silva, Mats Hummels, Gerard Pique, Giorgio Chiellini and Vincent Kompany would probably be the five outstanding candidates, one from each major league, but even they have their limitations. Silva has been injury-prone, Hummels lacks a bit of pace, Pique's form wobbled during Pep Guardiola's final season, Chiellini has often been a left back rather than a centre back, and Kompany's form has dipped since last season (and he can struggle when defending high up the pitch).

Compared to a decade ago, it's a weak field. Then, the likes of Fabio Cannavaro, Paolo Maldini, Jaap Stam, Alessandro Nesta, Lucio, Lilian Thuram, Roberto Ayala and Walter Samuel -- in addition to the English brigade -- were genuinely top-class. Let's not view this with rose-tinted specs. These players weren't perfect: Maldini had a poor 2002 World Cup, Nesta was prone to the odd shocker, Ayala lacked pace. But the truth is that, for a variety of reasons, playing centre back has become more difficult.

First, increasingly strict rules governing tackling have had a significant impact. The tackle from behind and the two-footed challenge have long since been outlawed, but there has also been a slow, subtle shift in the level of physicality permitted. Increasingly, attackers are looking for contact, and there seems to be a prevailing mood that in some situations, players have "a right go to ground." Centre backs have to be increasingly careful and patient when challenging for the ball.

Second, the pace of the game has increased significantly. Even matches from a decade ago were noticeably slower -- the tempo of the game, the pace of individuals, the speed of the passing. Mistimed tackles have become much more common.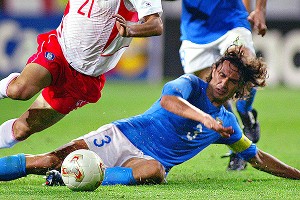 Jimin Lai/AFP/Getty ImagesA decade ago, world-class players such as Paolo Maldini did the business at the back, but playing centre back has become much more complicated since then.
Third, strikers have become cleverer. The best forwards no longer place themselves up against opposition centre backs, waiting for long balls and crosses. Instead, they focus more on movement, link-up play and timing of runs. The "false nine" concept has become mainstream, and although it has influenced rather than revolutionised centre-back play, the change in emphasis shouldn't be underestimated. Luis Suarez, Robin van Persie and Michu, the three top-scoring centre forwards in the Premier League, all started in much deeper positions and retain their positional unpredictability.

Fourth -- and a related concept -- there is more mobility, energy and goal-scoring threat from attacking midfielders. The increased popularity of the 4-2-3-1 system (and to a certain extent, the 4-3-3) creates more fluid systems capable of interchanging attackers -- there are more options, more for defenders to think about. When playing against Chelsea 10 years ago, centre backs would be concerned almost solely about Jimmy Floyd Hasselbaink and Eidur Gudjohnsen. The likes of Jesper Gronkjar, Mario Stanic, Qique De Lucas and Bolo Zenden weren't going to provide a goal threat (because of their role in the side as well as their lack of raw ability) nor was Lampard in a flat midfield four. Now, as well as a primary striker, defenders have to watch Eden Hazard, Oscar and Juan Mata – plus Ramires and Lampard bursting forward from. Strikers contribute a lesser percentage of goals, which has made defending more complex.

Fifth, the increased popularity of squad rotation hasn't helped cohesion. Traditionally, centre back is where you want consistency, but the likes of Sir Alex Ferguson, Rafael Benitez, Andre Villas-Boas and Arsene Wenger have frequently swapped their defenders this season. Do we know any of these managers' first-choice centre-back duo for certain? With less familiarity, reliable relationships are more difficult to build – and good centre-back play is all about partnerships.

Sixth, centre backs are expected to do more. Ten years ago, it was an extravagant bonus to possess a centre back who was comfortable in possession. Now it's vital. The most extreme passing sides have started naming midfielders as centre backs – Barcelona have played Yaya Toure, Sergio Busquets, Javier Mascherano and Alex Song there, refusing to buy a traditional backup centre back. The more the focus on technicality, the less pure defensive ability will shine through.

The flip side? Teams defend better as a unit. Whether through heavy pressing or staying deep and protecting the back four, the demands upon midfielders and forwards when the opposition have possession have increased significantly. Getting the entire starting XI into a reliable, discipline defensive shape is supposedly Roy Hodgson's main strength – he can't use a lack of top-class centre backs as an excuse.