Desperately seeking scoring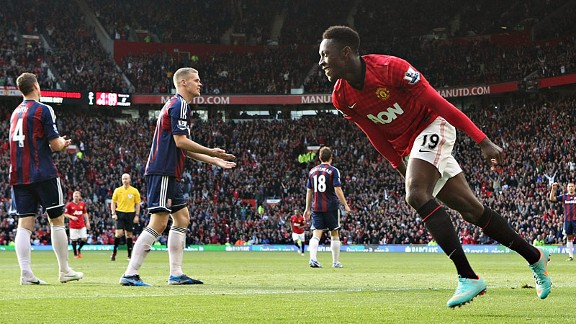 John Peters/Getty ImagesIt has been almost 12 hours since Danny Welbeck's last Premier League goal which came last October versus Stoke.
There is little worse -- in a footballing sense at least -- than seeing your team's star striker devoid of confidence, sharing the fans' increasing frustration at his seeming inability to find the back of the net. The pressure that the media builds on players lacking in form does little to help the situation, as everyone is made all too aware of the rather bleak situation. Goal droughts are attention grabbing statistics, and with Robin van Persie currently on a poor run that has seen him score only once in his last 11 appearances in all competitions, there will be football fans aplenty ready to pounce on the Manchester United striker. It is surely only a matter of time before the Dutchman rediscovers his goal-scoring touch, though, and there are several worse dry patches among Premier League strikers at the moment, and WhoScored.com has the statistics to prove it.

The relief on the face of Nikica Jelavic was plain to see this weekend as he ended his terrible run without a Premier League goal against Manchester City, and he needed the little luck of a big deflection to take it past Joe Hart, but that could be all it takes for the Croatian to embark on a scoring streak in the run-in.

And it is another Manchester United forward that needs the help of an opposition defender if he is to end his barren spell, currently up there with the longest goalless runs in the league.

Danny Welbeck, despite netting at the Bernabeu in the Champions League, has gone 702 minutes since his last Premier League goal -- and his only one all season -- which came in the 4-2 win over Stoke back in October. After his nine goals last season made him United's third top scorer in the league, the Englishman was widely expected to flourish this season and establish his place in the England national team. However, he has suffered from the arrival of van Persie, whose position as the lone striker is largely unquestioned, and Welbeck has resultantly been made to play deeper and less frequently. In those 11 hours and 42 minutes since he last netted in the league, he has only had 20 attempts on goal; a rate of a shot every 35 minutes, which is possibly an indication of a lack of confidence as well as a less attacking role.

Next up is a rather unsurprising inclusion, who has exhibited the simultaneous looks of despair and frustration at a lack of goals far too many times since his big-money move to London. Fernando Torres, with no Premier League goals in his last 682 minutes on the pitch, might have been back to form since scoring in the Europa League last week, but his penalty miss shortly after, and the fact he was subsequently an unused substitute at the weekend might be a better indication of his future form. It is tough to see how Torres will ever get back to how he used to perform in his Liverpool days, and the patience of the fans, and even his mentor Rafa Benitez, could well be running out.

Tottenham's performance at home to Fulham this weekend was a typically inept one from the North London side, who looked jaded and tactically lost after going to extra time at Inter Milan in midweek. Much has been made of their lack of a striker good enough to drive them into the top four, and the recent reliance they have had on the goals of Gareth Bale seems to show that. What is more, both Emmanuel Adebyor and Jermain Defoe have struggled with injuries in recent weeks, but that is not sufficient excuse for their distinct lack of goals. They have respectively, gone 386 and 649 minutes without a Premier League goal, while Defoe has had a rather astounding 28 shots since netting at Aston Villa on Boxing Day.

That dearth of goals up front at White Hart Lane might be the downfall of Spurs in the race for the final Champions League spot, but their main challengers, Arsenal, are giving them a run for their money in these stakes. Olivier Giroud is now 476 minutes and 23 shots without a Premier League goal, while Theo Walcott -- though not a central striker -- has gone 464 minutes and 20 shots since his last goal. Gervinho made a return to league action at the weekend, playing for the first time in over two months, also scoring his first goal since September. He could be a rather unlikely saviour for the Gunners in the run in if the likes of Defoe, Adebayor and Giroud all continue to struggle in front of goal.

Find yet more statistics at whoscored.com.